About Caesars Suites Atlantic City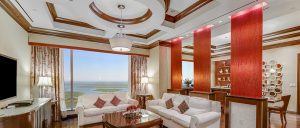 Best Atlantic City Suites

Atlantic City suites aren't just for high rollers. With the Caesars Suites collection, anyone can live the luxurious lifestyle.
This is Atlantic City – upgraded. We have the perfect suite for you whether you are here for a family trip, a business meeting or a special celebration.
With VIP perks and opulent amenities, Caesars Suites will elevate your Atlantic City vacation.
Create your own special experience in one of our wide variety of one and two-bedroom Atlantic City suites. The suites feature spacious living areas, well appointed bathrooms and premium entertainment systems. Many suites boast breathtaking views of the ocean, the Boardwalk or the bay from floor-to-ceiling windows.
Our Caesars Suites collection offers something to fit every lifestyle and budget.
Book a stay in one of our suites today and transform your Atlantic City vacation from ordinary to epic. Your unforgettable Atlantic City experience begins here.
About Your Caesars Suites Atlantic City Amenities
With the Caesars Suites program, guests will enjoy the best suites in Atlantic City and a variety of VIP amenities during their stay, including:
• Scenic views of the ocean, marina, bay or Atlantic City skyline
• Suite-wide wall-to-wall, floor-to-ceiling windows offering panoramic views
• Stylish and airy living rooms featuring a premium entertainment system
• VIP check-in
• Complimentary shuttle service
• Select suites with a full-size bar and marble flooring