Atlantic City Table Games: Baccarat, Blackjack & More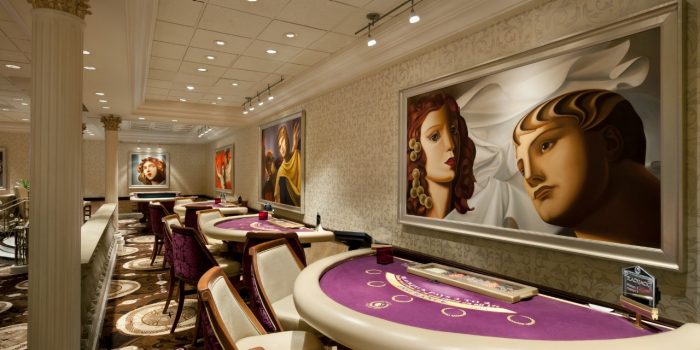 Book A Room
Feel the excitement playing Atlantic City table games
Feel the excitement playing hot Atlantic City table games from Blackjack to Craps, all on the most thrilling gaming tables on the Atlantic City Boardwalk. So grab the dice, double down, or place your bet on red or black; there's never a dull moment on the immense Caesars Atlantic City casino floor.
Earn 10 Tier Credits and Enjoy Free Parking in our Self-Park Garage!
Credits must be earned in one gaming day.
Swipe your Caesars Rewards card at a promotional kiosk then present your voucher and garage receipt to the casino cashier to receive free parking.
Not valid for valet parking.
Our progressive jackpot brings the life-changing progressive jackpot experience of the slot floor to the table games pit. The current jackpot is over $799,000 on our new poker derivative tables with linked progressives. Try your luck on twenty Let It Ride, Four Card Poker, Mississippi Stud, Carabbean Stud Poker, Texas Hold'em and Ultimate Hold'em tables now linked between Caesars Atlantic City and Bally's.
An optional progressive side bet for Blackjack based on the number of 7's a player and/or dealer receives. The more 7's, the more you WIN!
big six
The Wheel of Fortune at Caesars Atlantic City is affectionately referred to as the "Big Six." Select where the wheel will stop and you're a winner! In the game, a wheel festooned with US currency and eye-catching icons is spun by a dealer. Place your wager and root for a winning spin!
ez baccarat
No commision Baccarat is played the same way as traditional Baccarat. The draw rules have NOT been changed. There is no longer a 5% commision on a winning banker wager. Instead, a winning banker hand having a three card total of seven ( The Dragon 7 (Trade Mark) is a push. The Dragon 7 (TM) bet pays 40 to 1 in the event that the bet is made when the banker recieves a winning three card total of seven. The Panda 8 (TM) bet pays 25 to1 in the event that the bet is made when player receives a winning three card total of eight. Player bet pays 1 to 1.
midi baccarat
Baccarat has long been among the most popular casino games in Europe and Latin America. While many associate this elite game with sophistication, surprisingly, baccarat may be the simplest of all Atlantic City table games to play! We invite you to sit down at any of our Baccarat games including Mini-Baccarat, where our dealers will be happy to show you the game and answer any questions.
mini baccarat
An elegant version of James Bond's chosen game, Mini-Baccarat is a simple casino table game with only one decision to make – whether to wager on the "player" or the "bank." Two hands are dealt, you place your bet and whichever hand comes closest to 9 wins. Easy to learn, fun to play, and the ultimate in sophistication – it's no wonder casino baccarat is a favorite Caesars Atlantic City table game.
ez pai gow
No commission at any time. No side bet requirements. EZ Pai Gow™ is no commission, plain and simple. A winning $5 main bet pays $5 or a winning $100 main bet pays $100! The dealer pushes the main bet with a Queen-high Pai Gow and ONLY a Queen-high Pai Gow. Wagers placed on any side bets are always active. Any exact copies of a hand are won by the dealer. THE SAME GAME, ONLY FASTER AND WITH MORE ACTION!
fortune pai gow
Fortune Pai Gow is an optimal bonus bet that considers the best hand possible among your seven cards. You may bet any amount within the table limit; however, a Fortune bet of at least $5 qualifies you for the Envy Bonus payout. You win the Envy Bonus when someone else at the table receives a four-of-a-kind or higher. Hit a seven-card straight flush on Fortune Pai Gow and you could win up to $40,000!
spanish 21
Spanish 21 is like regular Blackjack, but played with a few exciting twists. Eight Spanish decks with the 10s removed are used. Player's Blackjack always beats dealer's 21 and pays 3 to 2. Spanish 21 also pays off for five-card 21s, three 7s, and other hands. Catch suited sevens to win a Super Bonus! Players can also make a side bet of $1 up to the amount of the basic wager that matches the dealers up card with one or both of the first two cards.
pai gow tiles
Pai Gow Tiles is a casino table game steeped in folklore and tradition. Also known as Chinese Dominoes, this challenging and rewarding Caesars Atlantic City table game lets players create two hands out of four tiles and square off against the dealer.
three card poker, six card bonus
Win $100,000 at Caesars Atlantic City with a 6-card Royal Flush at our exclusive Three Card Poker Total AC table game. This game uses most traditional poker rankings with some twists. You only need three consecutive cards to make a straight and three of a suit to make a flush – and a straight is higher than a flush. The payoffs are determined by the pay schedule printed on the table layout – and getting a nine through ace in any suit is worth $100,000. This Atlantic City table game is a Total Rewards exclusive.
sic bo
Sic Bo is played with an electronic board and three dice in a sealed shaker. Atlantic City gamblers place their bets on a variety of dice combinations with odds that increase with the difficulty of the bet. Payoffs can be as high as 180 to 1! The dealer shakes the dice and punches up the 3 numbers and the board lights-up the winning spots.
craps
When players at a Craps table in an Atlantic City casino win big, the whole casino knows it. You'll hear the cheers erupt and see strangers high five when the dice are hot. Don't let the many betting options or the slang of the Craps table intimidate you – this is one of the most dynamic, popular and social of all Atlantic City table games. Learn the very basics of the game and after a few minutes, even novice players begin to appreciate the unparalleled excitement of the Craps tables. Try your luck playing the exciting Fire Bet (with odds up to 999:1) and the Bonus side bet (with odds up to 175:1).
let it ride
Let It Ride is a popular Five Card Stud Poker spin-off where you can hit a winning hand at Caesars Atlantic City casino and go home with a bundle of cash! Play for fixed payouts rather than against other gamblers or the dealer. In this Atlantic City table game the player is dealt three cards and uses the dealer's two cards as a community hand. Let It Ride offers the possibility of winning up to $25,000! Make your bets, and if you've got a good hand, just Let It Ride. The optional progressive bet can pay up to 100% of the progressive jackpots!
Mississippi Stud
Mississippi Stud Progressive is a five-card game where you compete against a pay table not the dealer and you win if you have a pair of jacks or better. The top payout is 500 to 1 for a royal flush and it pays on all bets. The optional progressive bet can pay up to 100% of the progressive jackpots!
four card poker
Four Card Poker offers Atlantic City table game players a new twist on poker with many bonuses and an optional "Aces up" side bet. Four Card Poker is similar to Three Card Poker with one major difference: you may bet up to three times your ante when staying in the game. The object when playing against the dealer is for you to form a four-card poker hand higher than or equal to the dealer's hand. Atlantic City casino players use the best four of five cards dealt, whereas the dealer uses the best four of six cards dealt. The optional progressive bet can pay up to 100% of the progressive jackpots!
Heads-Up Hold'Em
Heads-Up Hold'em is a Texas Hold'em variation designed specifically for the table games pit and not the poker room. Heads-Up Hold'em is played by forming the best five card hand using your two cards and any combination of the five community cards. This is a betting pattern popularized in Texas Hold'em while incorporating additional side bet options and a Bad Beat Bonus.
ultimate texas hold 'em
Ultimate Texas Hold 'Em™ has made its way to the Caesars Atlantic City casino floor! This new table game features head-to-head play against the dealer and an optional bonus bet that pays odds if your final five-card hand is a three-of-a-kind or better. By letting you check the river, Ultimate Texas Hold 'Em™ beats other Hold 'Em games hands down. The optional progressive bet can pay up to 100% of the progressive jackpots!
21 + 3 XTREME
BLACKJACK JUST GOT MORE INTERESTING. Introducing a new side bet in Atlantic City. 21+3 Extreme combines 3-Card Poker and Blackjack into one exciting game. The player's first two cards and the dealer's up card are used to make a 3-Card Poker hand. And with the best odds in the market, it's one more reason to play with us!
High Card Flush
Unlike traditional Poker, High Card Flush is a "suits based" card game played with a standard 52-card deck featuring two (2) optional BONUS bets: Flush and Straight Flush. The object of the game is to get a better Flush hand than the Dealer. BEST FLUSH WINS!
Roulette
Played in every major casino worldwide, Roulette is perhaps the most popular table game on earth. The game consists of a wheel marked with numbers 1 through 36, and on American wheels, a 0 and 00. Bet your favorite numbers for big payouts on the inside portion of the layout, or take a better-odds bet on red or black, odd or even columns of numbers. It's always fun when your number comes up playing Roulette at Caesars on both our double zero and single zero wheels!
Asia Poker
Asia Poker is based on an ancient Chinese game called "13" and combines elements of Pai Gow with American Poker. As in Pai Gow Poker, the game is played with a traditional deck of 52 cards, plus one joker. The joker may only be played as an Ace, or to complete a straight, flush, a straight flush, or a royal flush. The object of the game is for the player to win any two of hte three hands against the dealers' three hands. So come on in to Caesars Atlantic City and try your luck at Asia Poker!
blackjack
The quintessential casino gambling experience is 21, also known as Blackjack. One of the most popular card games of all time, Blackjack has been played across the globe for generations. The object of the game is to get your hand closer to 21 than the dealer's, without ever going over. Everyone at the Blackjack table plays against the dealer. While Blackjack is basically a simple game, its strategy can be complex and often reflects each player's personality. Side bets like Match the Dealer, Buster Blackjack, and Lucky Ladies add variety and excitement to Caesars Atlantic City Blackjack!
Let It Ride, Fortune Pai Gow Poker, Casino War, and Three Card Poker are trademarks used under license from SHFL entertainment, Inc.