Caesars Palace Table Games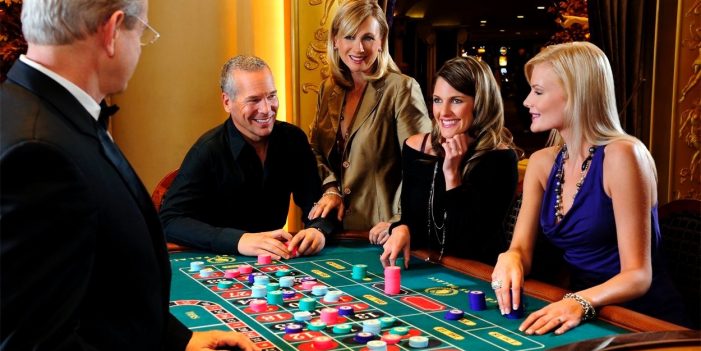 Book A Room
Win in spectacular fashion playing your favorite Las Vegas casino table games at Caesars Palace Las Vegas. When you're gambling in Las Vegas casinos, the excitement rises as you face off with lady luck and test your skill with games of chance such as Blackjack, Craps, Roulette, Baccarat, Pai Gow TIles, Pai Gow Poker, Free Bet Blackjack, Three Card Poker, High Card Flush, Crazy Four Poker plus many other exciting poker variations.
BLACKJACK
The quintessential Las Vegas casino gambling experience is 21, also known as Blackjack. One of the most popular card games of all time, Blackjack has been played across the globe for generations. The object of the game is to get your hand closer to 21 than the dealer's, without going over. Everyone at the Blackjack table plays against the dealer. While Blackjack is basically a simple game, its strategy can be complex and often reflects each player's personality.
CRAPS
When players at a Craps table in a Las Vegas casino win big, the whole casino knows it. You'll hear the cheers erupt and see strangers high five when the dice are hot. Don't let the many betting options or the slang of the Craps table intimidate you – this is one of the most dynamic, popular and social of all casino table games. Learn the very basics of the game and after a few minutes, even novice players begin to appreciate the unparalleled excitement of the Craps tables.
ROULETTE
Roulette is perhaps the most popular game played around the world. You'll find this popular table game in every major casino, especially in Europe, where it is the best-loved of all Las Vegas casino games. The game consists of a wheel marked with numbers 1 through 36; in Las Vegas casino gambling, Roulette also has a 0 and 00. Choose your lucky numbers, or bet on red, black, even, odd – the possibilities are endless, and the payouts can be large.
BACCARAT
James Bond's casino table game of choice, Baccarat is a longtime mainstay in Monte Carlo and may be the simplest game to learn. There is only one decision for a player to make - whether to wager on the "player" or the "bank." Two hands are dealt, you place your bet and whichever hand comes closest to 9 wins. Easy to learn, fun to play and the ultimate in sophistication – it's no wonder Baccarat is a favorite among Las Vegas table game players.
THREE CARD POKER, SIX CARD BONUS
Come play Three Card Poker at Caesars Palace! This poker variation uses most traditional rankings with a few twists. Three consecutive cards make a straight and three of a suit make a flush; of the two a straight is higher. Payouts are determined by the pay schedule printed on the table layout – and getting a 6-Card Royal Flush is worth $100,000. This casino table game is a Total Rewards exclusive.
PAI GOW POKER
Pai Gow Poker combines the familiarity of poker with the strategy of the ancient Chinese game of Pai Gow. Caesars Palace Las Vegas Pai Gow players are dealt seven cards from which they form two poker hands – one with five cards and one with two. Both hands go head to head with the dealer's to create a casino table game with multiple layers of excitement.
PAI GOW TILES
Also known as Chinese Dominoes, this is one of the more challenging and rewarding games on the Las Vegas casino gambling floor. Create two hands out of four tiles and square off against the dealer.
*Let It Ride, Fortune Pai Gow Poker, Casino War and Three Card Poker are trademarks used under license from SHFL entertainment, Inc.