Absinthe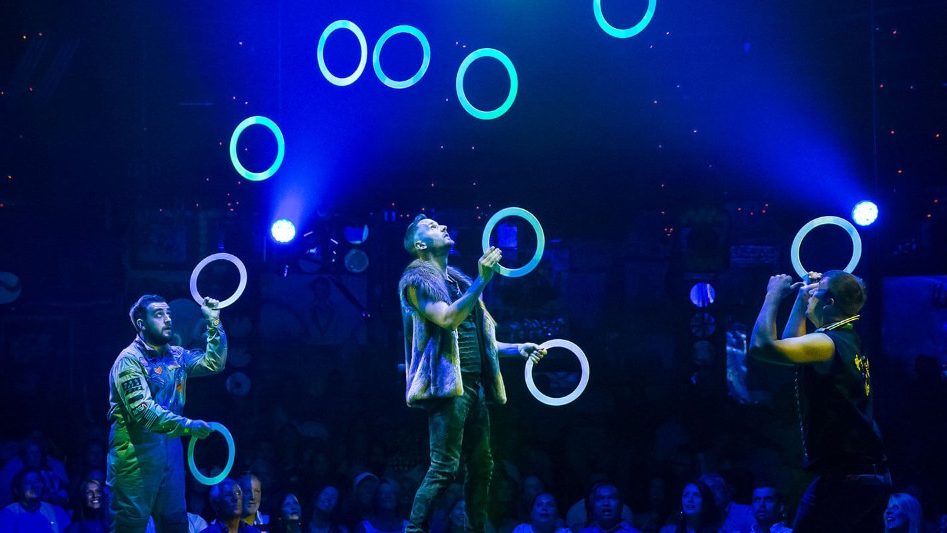 Buy Tickets
Facts
Type of Event
Production
Price
Starting from $99 (Plus Tax)
Times
8:00 PM, 10:00 PM
Days
Sunday, Monday, Tuesday, Wednesday, Thursday, Friday, Saturday
Contact
(855) 234-7469
Venue
The Roman Plaza at Caesars Palace
Buy Tickets
ABOUT THIS VEGAS SHOW
Recently named by Las Vegas Weekly as "the #1 greatest show in Las Vegas history", Absinthe is the provocative but unforgettable variety show which delivers that 'only in Vegas' experience you came looking for.
Absinthe at Caesars Palace is a fantastical blend of carnival and spectacle, featuring wild, outlandish acts performed on an intimate, circular stage where the audience is as close to the action as you can possibly get.
Grab a drink and enter Spiegelworld's wondrous tent, an immersive adult playground which transports you to another dimension. Not for the faint-hearted, these ridiculously talented and sexy performers from across the globe mix outrageous comedy with jaw-dropping feats of virtuosity and danger.
Hosted by the filthy rich (and just plain filthy) Gazillionaire and inspired by the absinthe-drenched cabarets of late 19th century Europe, Absinthe is an intoxicating cocktail of circus, burlesque and vaudeville for a 21st century audience. The New York Times said "Imagine Cirque du Soleil as channeled through The Rocky Horror Picture Show."
Though this racy, adults-only show is downright hilarious, it's definitely not for timid audiences. It has all the elements of an R-rated movie, but with more glam and laughs.
NEW YEAR'S EVE 2018 PARTY PACKAGE
For an all-inclusive celebration, The Gazillionaire has a huge package for you. Arrive from 8.30pm for a complimentary glass of champagne in the Absinthe forecourt. Then enjoy a performance of ABSINTHE from 9.30pm to 11.00pm. After the show, you will have exclusive access to a private outdoor party in the Absinthe forecourt, on Stripside at Caesars Palace, which includes an open bar, light hors d'oeuvres, DJ and one of the best views of the fireworks. The party will conclude at 1am.
The all-inclusive Show & Party ticket prices are (including taxes and fees):
VIP Seating – $599
Reserved A seating – $499
Reserved B seating – $299
Book HERE for the 9:30pm Show & Party Package.
An early evening 6pm show is also on sale HERE at regular ticket prices.
This will be an unforgettable way to kick off the new year. With the show concluding at 7.30pm, you'll have time to make after-show dinner plans, get home early or head off into the night!
EXPERT TIPS
Rated #1 Greatest Shows in Las Vegas History - Las Vegas Weekly.
Park in the front valet. The red and white tent theater space is located outdoors on the Roman Plaza, right on the Strip.
Come with an open mind, as the show definitely goes beyond most comfort levels. For ages 18 and above.
Ideal for someone who can't decide what to see in Las Vegas, Absinthe has it all from outrageous comedy to seductive burlesque to jaw-dropping acrobatics.
No seat is more than 11 rows from the stage.
Select a Premium VIP or Impressario's Reserve ticket to sit really close to the action with a cushioned seat and a complimentary drink of your choice. (Some restrictions apply)
Orders of 10 or more can contact our Group Sales department at: 866-574-3851 or
send us an email
.
REVIEWS
"Rated #1 Greatest Show in Las Vegas History"
"One step inside and you're transported to the Moulin Rouge. The walls are decorated with colorful stained-cut glass, mirrors and kitschy artifacts. In the center of the tent is a tiny stage with seating situated around it. It's the perfect setting for Absinthe, an adults-only, circus-style spectacular that combines old-world burlesque with specialty acts and outrageous comedy."
"Audiences will be treated to a night of imagination and excess with performances that will amaze and inspire."
"If you see one show in your entire life, make it Absinthe!"