Omnia - Caesars Palace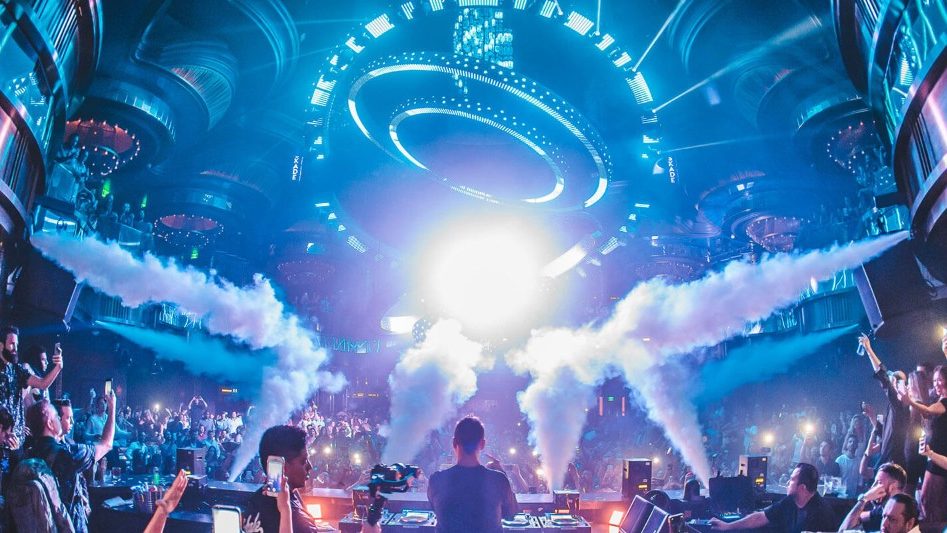 Book A Room
Designed by the internationally renowned Rockwell Group, OMNIA spans a total of 75,000 square feet. The multi-level venue encompasses a seductive ultra-lounge, a high-energy main room and mezzanine, as well as a breathtaking rooftop garden, showcasing panoramic views of the Las Vegas Strip. Voted "Best Visual Extravaganza" by Vegas Seven; "Best New Nightclub" by Las Vegas Review Journal; and 2015's "Best New Nightclub" in Vegas Magazine Awards.
Read more about OMNIA on Total Vegas Blog.
OMNIA's Main Room features multiple layers, an expansive dance floor, antique mirrors, and seats of rich leather – all underneath a gigantic kinetic LED chandelier that ascends, descends, morphs and transforms to the beat of the night.
Heart of OMNIA - Slipping into the ultra-lounge is like discovering your detour is a destination in and of itself. Explore antique brass, mirror panels, embossed vinyls and rich draping velvets – with tech-forward LED panels integrated throughout for an ever-evolving scene.
Terrace - Overlooking the action of the famed Las Vegas Strip, the outdoor terrace transports guests to the splendor of an outdoor escape with a splash of technological marvel. Open air commingles with modern luxury, with inset lighting in glass floor tiles pulsing to the beat from the LED-laced DJ booth.
Wild at Heart is a weekly Tuesday concept to release that mid-week, built-up energy. Time to let loose and be a little wild.
Complimentary entry with room key card on Thursdays & Sundays.
November
Tuesday, November 14: Party Favor
Friday, November 17: Afrojack
Saturday, November 18: Matoma
Tuesday, November 21: Burns
Friday, November 24: Cash Cash
Saturday, November 25: Steve Aoki
Tuesday, November 28: Fergie DJ
December
Friday, December 1: Nervo
Saturday, December 2: Afrojack
Tuesday, December 5: Burns
Friday, December 8: Fergie DJ
Saturday, December 9: Nervo
Tuesday, December 12: Fergie DJ
Friday, December 15: Mark Eteson
Saturday, December 16: Jeff Retro
Tuesday, December 19: Mark Eteson
Friday, December 22: Mikey Francis
Saturday, December 23: Mondo
Friday, December 29: Zedd
Saturday, December 30: Travis Scott
Sunday, December 31: Calvin Harris
Why You'll Love It
Complimentary entry with room key card on Thursdays & Sundays
Calvin Harris Fridays
Thursdays & Sundays in the Heart
Start of dialog window.
Why You'll Love It
End of dialog window.