Qua Baths & Spa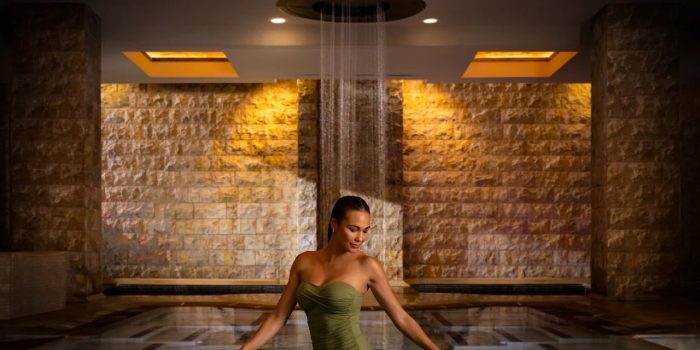 Book A Room
Facts
Type of Activity
Spa & Fitness
Hours
Qua Baths and Spa Thursday-Sunday 9a-6p; Monday-Wednesday 9a-4p
Color Salon Thursday-Sunday 10a-6p; Monday-Wednesday 10a-4p
Fitness CenterFriday-Sunday 6a-4p; Monday-Thursday 8a-4p
Christmas Eve, Christmas DayColor Salon & Qua Spa: 10a-5p, Fitness Center: 6a-4p
Contact Number
866-782-0655
For additional information or reservation questions please contact us at CLVSPASALONCONCIERGE@CAESARS.COM
Behind the doors at Qua Baths & Spa, an elevated spa experience like no other awaits you. Caesars Palace's renowned sanctuary garnered numerous awards since its 2007 opening. With its retreat-like feel, unmatched amenities, and a more holistic approach to spa-ing, the experience at Qua is an all-encompassing ride to relaxation
Envelop yourself in Qua's sprawling, 50,000-square-foot spa grounds that include a Laconium Room. Three Roman baths use the ancient healing powers of water, while the snowing Arctic Ice Room is the only one of its kind in the world.
Playing off its water motif, cooling blue tones, slate and stone set the mood as you explore Qua's many amenities or retreat to a chair in the Tea Room.
Award Winning Spa
Qua Baths & Spa received the following awards:
Desert Companion, Best of the City - Best Luxury Spa 2017
Spas of America - Spas of America's Top 100 Spas of 2016
Las Vegas Review Journal - Best Spa - 2015
Trip Advisor - Certificate of Excellence - 2015
Trip Advisor 2015 Hall of Fame - 5 consecutive years of winning Certificate of Excellence
Spa Treatment Picks
Solo Journey: Hydratherapy Facial
Parties and groups: Nobu Nagomi Ritual
Expert Tips
Only spa in the world with official Nobu brand treatments
Seasonal treatments complement popular holidays
Add on the crystal-free diamond tip microdermabrasion to facials
Snowfall in the Arctic Ice Room
Why You'll Love It
The natural healing powers of water
Treat your mind and body
A relaxing environment
Free yourself from the common day
Start of dialog window.
Why You'll Love It
End of dialog window.
MASSAGES
FACIALS
TREATMENTS
EXPERIENCES
COUPLES
Our popular stone massage at QUA Baths & Spa incorporates in-house custom blended aromatherapy and basalt volcanic rocks hand selected for their ability to transfer heat and diffuse therapeutic precious essential oils into the air to compliment the journey leaving you perfectly balanced and tension free, from head to toe.
Spa Artisans use Swedish techniques during this popular full-body massage at QUA Baths & Spa intended to relax your entire body and improve circulation. From our Artisan's palette, select an Epicuren massage lotion to suit your mood. Succumb to the sensual indulgence of luscious vanilla, lavender, coconut, lemongrass, orange blossom, rosemary or papaya-pineapple.
Surrender to our Las Vegas spa as slow, deliberate massage techniques using elbows, forearms and knuckles relieve tightness from the overuse and tension of muscles. Deep tissue is popular among athletes and frequent massage goers, who prefer a firm touch to a gentle one.
Turn the hourglass and select facial and body treatments custom designed to meet your specific needs. Our talented Las Vegas spa Artisans create a personalized signature experience at QUA Baths & Spa combining facials, body treatments, hot stones, aromatherapy, chakra balancing and energy work.
Chakras are our energy centers. Our customized chakra balancing treatment uses energy work and warm oils to relax your physical body and align your chakras. This amazing treatment concludes with a special gift - a chakra necklace. Your Body Artist will carefully select a stone charm necklace as your departing keepsake of your visit to the Caesars Palace spa.
Tantalize your senses and deepen your awareness as you enter the Native American Tradition of Sacred Plants, Oils and the Four Directions. Relax as a sacred space is set with a sage smudging, then welcome in positive energy and send your intentions onward with sweet grass. Relax as detoxifying and balancing essential oils are cascaded along your back and feet. Then, allow one of our artisans to sooth away any remaining tension with a harmonizing Las Vegas massage and balancing energy work. Treat yourself to this truly unique and blissful massage at QUA Baths & Spa at Caesars Palace.
Non Guest - Weekday (Mon - Thurs): $65
Non Guest - Weekend (Fri - Sun): $75