Qua Baths & Spa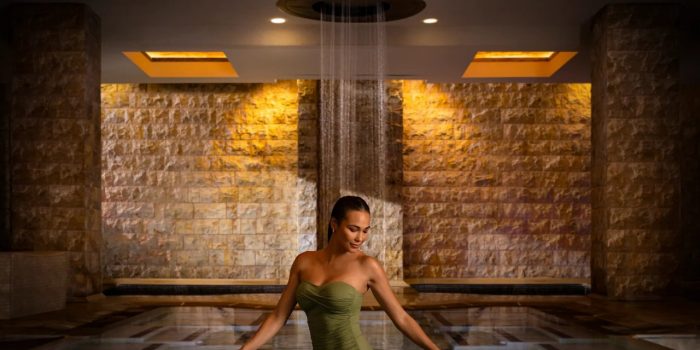 Book A Room
Facts
Type of Activity
Spa & Fitness
Hours
Spa: Daily6 AM - 8 PM
Fitness Center: Mon. - Thurs.:6 AM - 7 PM
Fitness Center: Fri. - Sun.6 AM - 8 PM
Contact Number
866-782-0655
Additional Info
Spa Services and Facility access provided to adults 18 years and older. Qua Spa is gender separate, clothing optional and cellphone usage is not permitted for the safety of our guests.
Behind the doors at Qua Baths & Spa, an elevated spa experience like no other awaits you. Caesars Palace's renowned sanctuary garnered numerous awards since its 2007 opening. With its retreat-like feel, unmatched amenities, and a more holistic approach to spa-ing, the experience at Qua is an all-encompassing ride to relaxation
Envelop yourself in Qua's sprawling, 50,000-square-foot spa grounds that include a Laconium Room. Three Roman baths use the ancient healing powers of water, while the snowing Arctic Ice Room is the only one of its kind in the world.
Playing off its water motif, cooling blue tones, slate and stone set the mood as you explore Qua's many amenities or retreat to a chair in the Tea Room.
Award Winning Spa
Qua Baths & Spa received the following awards:
Desert Companion, Best of the City - Best Luxury Spa 2017
Spas of America - Spas of America's Top 100 Spas of 2016
Las Vegas Review Journal - Best Spa - 2015
Trip Advisor - Certificate of Excellence - 2015
Trip Advisor 2015 Hall of Fame - 5 consecutive years of winning Certificate of Excellence
Spa Treatment Picks
Solo Journey: Hydratherapy Facial
Parties and groups: Nobu Nagomi Ritual
Expert Tips
Only spa in the world with official Nobu brand treatments
Seasonal treatments complement popular holidays
Add on the crystal-free diamond tip microdermabrasion to facials
Snowfall in the Arctic Ice Room
Why You'll Love It
The natural healing powers of water
Treat your mind and body
A relaxing environment
Free yourself from the common day
Start of dialog window.
Why You'll Love It
End of dialog window.
MASSAGES
FACIALS
TREATMENTS
EXPERIENCES
COUPLES
Non Guest - Weekday (Mon - Thurs): $65
Non Guest - Weekend (Fri - Sun): $75