Vanderpump Cocktail Garden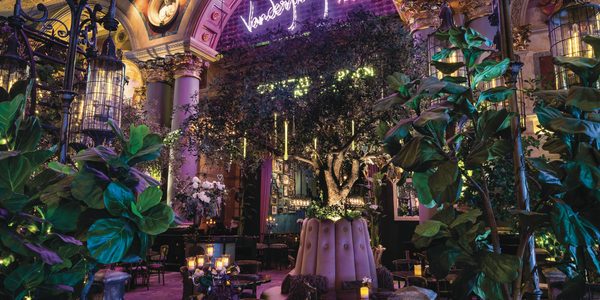 Book A Room
Facts
Type of Activity
Announcements
Attire
Casual
COMING SOON
"Life isn't all diamonds and rosé... but, in Caesars Palace, it will be!" - Lisa Vanderpump
Lisa Vanderpump and Caesars Palace will partner to open Vanderpump Cocktail Garden, set to debut early 2019. Bringing a taste of Los Angeles to Las Vegas, the cocktail garden will take a page from Vanderpump's highly successful restaurants and lounges, Villa Blanca, SUR, Pump and Tom Tom.
"I have always loved Las Vegas --it has always been a dream of mine to see our brand in lights at the iconic Caesars Palace," said Lisa Vanderpump. "Vanderpump Cocktail Garden will combine the sexy atmosphere of our other establishments injected with the Vegas energy that brings millions of guests who visit year after year."
Marrying natural elements with industrial touches, Vanderpump Cocktail Garden will have an indoor patio welcoming guests upon arrival, transporting them to an al fresco-style garden with towering trees and romantic lighting. Inside, the romantic elements continue, including Lisa's signature touches of pink, with contrasting masculine details. The lounge area will feature booths as well as a full bar that focuses on craft cocktails, Vanderpump branded Sangria and Rosé as well as a carefully selected wine list. Small bites will be available to be shared or perfectly paired with libations.
Vanderpump Cocktail Garden is sure to be a Vegas hotspot, perfect for a casual gathering or for a big night out. Guests may even run into their favorite stars, including Lisa or cast members from her hit reality shows. The design inspiration for the space comes from Lisa, husband Ken Todd and creative director Nick Alain, who collaborated on their newest LA hit, Tom Tom. Vanderpump will be located in between The Colosseum and the entrance to The Forum Shops.
VANDERPUMP COCKTAIL GARDEN IN THE NEWS
US Magazine, Bravo TV, Vogue and Daily Mail are all talking about this can't miss cocktail garden!
Stay tuned for more updates as Vanderpump springs to life at Caesars Palace, opening in early 2019.
ABOUT LISA VANDERPUMP
Businesswoman, TV personality, author, and philanthropist, Lisa Vanderpump hails from London, England. Lisa and her husband Ken Todd have been entrenched in the restaurant and nightclub industry since they started their partnership over 30 years ago. Vanderpump Cocktail Garden will mark their 35th restaurant and bar; Vanderpump has most recently become known for the hit Bravo TV series, The Real Housewives of Beverly Hills, as well as her spin-off show Vanderpump Rules.