Table Games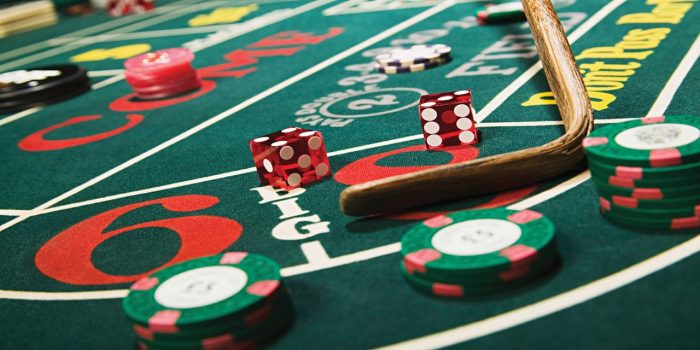 Book A Room
There's no better place to play table games than Caesars Southern Indiana, where we offer the best odds and highest limits. Play the largest variety of Indiana table games, including Blackjack, Roulette, Craps, Mini Baccarat, and more. Once you've conquered those, choose from fun specialty games like Pai Gow Poker, Crazy 4 Poker, 21 +3, High Card Flush and more.
Be sure to use your Caesars Rewards card every time you sit down at a Caesars Southern Indiana table to earn valuable Reward Credits, special offers, comps, invitations and more.
CRAPS
Craps is a game so unique it has its own language. The action you'll find at Caesars Southern Indiana is the real deal, with the 20x odds that serious gamblers seek. Craps is a wildly popular and extremely gregarious game – don't be intimidated by the specialized lingo and numerous betting options. The rules are simple to pick up and within your first five minutes at the table, even first-time Craps players will be caught up in the excitement!
BLACKJACK
Get in on authentic gambling action at Caesars Southern Indiana with a fast-paced game of 21, also known as Blackjack. In any casino in the United States, Blackjack is the most popular table game. The object of the game is to get a hand closer to 21 than the dealer's without going over, or busting. Everyone at the table plays against the dealer, and Blackjack's strategy, while simple to master, can often reflect the personality of each player.
ROULETTE
Simple and fun to play, Roulette is a favorite in every major casino across the globe – perhaps the most popular table game on earth, in fact. Play at Caesars Southern Indiana Casino and you'll find a wheel marked with red and black numbers 1 through 36, and as in most American Roulette games, a green 0 and 00. Bet your favorite numbers for big payouts on the inside portion of the layout, or take a better-odds bet on red or black, odd or even, or even full columns of numbers. It's always a rush when your number comes up at Caesars!
MINI-BACCARAT
Baccarat has long been among the most popular casino games around the world, especially in Europe and Asia. While many associate this elite game with sophistication, it may just be one of the simplest table games to learn and play! Plus our Dragon Bonus feature adds an extra dose of excitement. Mini Baccarat is a simple, straightforward way to enjoy the action of Baccarat at Caesars Southern Indiana. We invite you to sit down at any of our games where our dealers will be happy to show you how to play and answer any of your questions.
"Fortune Pai Gow Poker, and Three Card Poker are trademarks used under license from SHFL entertainment, Inc."