Golf at Chariot Run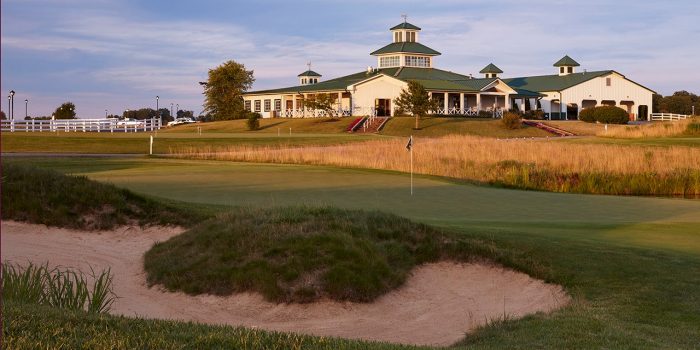 Book A Room
Facts
Type of Activity
Golf
Hours
Monday - SundaySunrise to Sunset (Varies by season)
Contact Number
(812) 578-3355
Additional Info
One of the region's top public championship courses, Chariot Run is a spectacular equestrian-themed golf course with 18 holes and more than 7,200 yards of exciting golf. This course features bent grass greens, sparkling lakes, lush fairways, and beautiful trees. Both the serious player and the novice will appreciate Chariot Run's stirring beauty and unique challenges. In addition, guests will also enjoy the state-of-the-art clubhouse complete with a pro shop and dining room.
COURSE RATES
All rates include golf for up to 18 holes, shared golf cart, access to the practice facilities, and tax.
All rates and dates are subject to change, and without notice.
Chariot Run recognizes and welcomes Caesars Rewards customers, offering handsome golf fee discounts based on tier status. Verification required.
Off-Season Rates | November 2-March 27
Monday-Sunday - $45 per person
In-Season Rates | March 28-November 1
Monday-Friday – Rates as low as $45 / Twilight only $35 (after 3:00pm)
Saturday-Sunday – Rates aslow as $59 / Twilight only $45 (after 3:00pm)
*Rates may vary on designated holidays. Call the golf shop to confirm rates on specific dates.
Promotional Rates
Senior Discounts (valid to guests 50+ years old)
Monday-Thursday - $42 per person
Replay Rates
Monday-Friday - $35 per person
Saturday-Sunday - $45 per person
Junior Discounts (valid to guests 17 years and younger)
Monday-Sunday - $42 per junior
Military Discounts (active military verification required at check-in) Only valid Monday-Thursday
Off-Season (November-March) - $29
In-Season (April-October) - $39
Rental Fees
Club Rentals - $35 per set
Shoe Rentals - $10 per pair
Guests are not permitted to share club or shoe rentals.
Dress Code
All guests that are on the golf course must adhere to the club's dress code. Inappropriate clothing includes tank tops, tee shirts, body shirts, gym shorts, and cut-off shorts. Shorts are allowed as long as they are Bermuda-length. Men must wear a collared shirt. Soft spikes are mandatory and available at the pro shop.
Accolades
2019 #1 Top Courses in State – Indiana… Golf Advisor
2019 #3 Best Courses You Can Play - Indiana… Golfweek
2018 #5 Best Courses You Can Play - Indiana… Golfweek
2018 #3 Top Courses in State – Indiana… Golf Advisor