Corporate Giving
Since the beginning, Caesars Windsor's Corporate Giving Program has proudly supported the tireless efforts of local charitable and not-for profit organizations that work towards building a better future for our community and its citizens.
OUR COMMUNITY IMPACT
Caesars Windsor is proud to invest in local non-profit organizations to enrich the community where we do business, where we live and where we play.
OUR HEROS
We believe that donating our time, talent and resources are equally important. Our HERO (Helping Employees Reach Out) employee volunteer program enables, encourages and empowers employees to be leaders in our community by embodying the spirit of People, Planet, Play. We are continually overwhelmed by the passion, dedication and generosity of our employee HEROs. Each year our HEROs give thousands of hours volunteering in our community to help improve the lives of others.
OUR FOCUS
Caesars Windsor Cares is focused on allocating funding to positively impact the greatest number of individuals possible. Our program's primary focus is on Health and Wellness, Environment Sustainability and Conservation, Community Enrichment and Seniors.
Seniors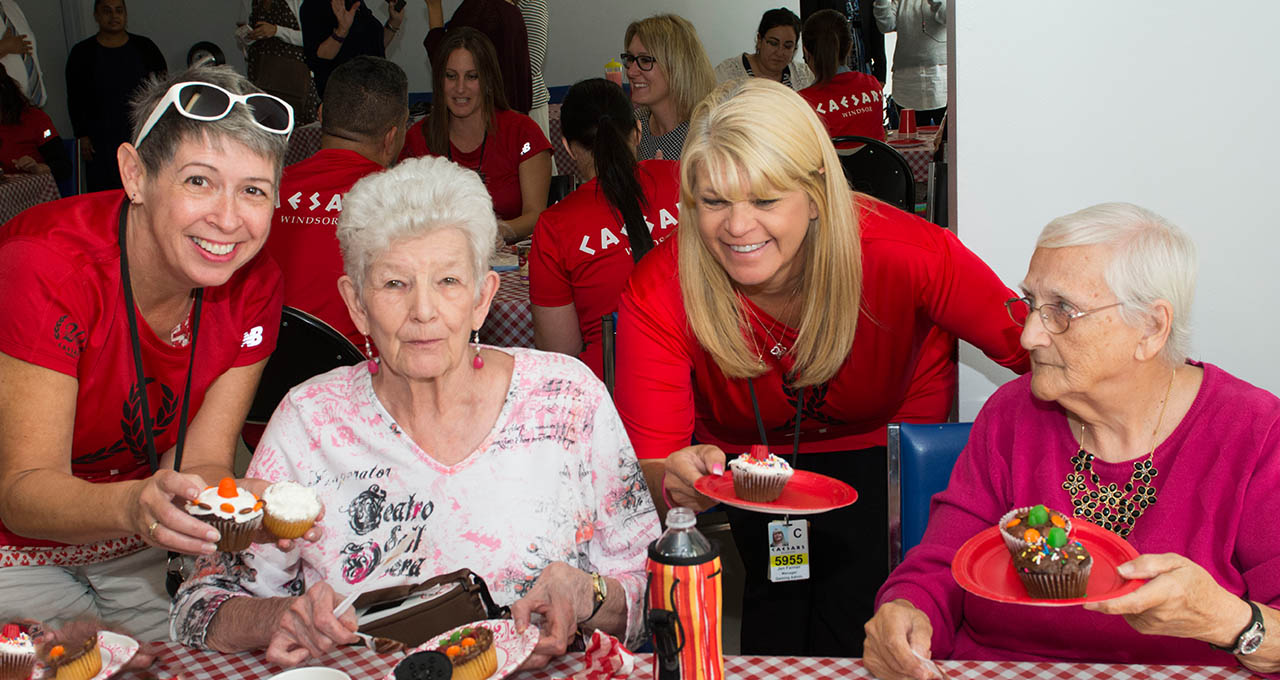 United Way Windsor-Essex - Promoting Seniors Independence
Caesars Windsor made a corporate donation to United Way Windsor-Essex's Promoting Seniors Independence program. This program is an outreach service offered to seniors in the Windsor area that strives to reduce and prevent isolation, physical mobility, and other health issues that seniors living in low income may experience. This strategy engages seniors living in low-income apartment buildings, where "vertical poverty" exists and brings the programs and services to them. Outreach workshops include Active Aging, Mental Health, Technology & Computers, Anti-Fraud Awareness and Nutrition.
Currently over 73 programs have been delivered to 17 senior buildings and over 1,600 seniors have benefited. This program provides a sense of community to the residents of these buildings and an opportunity for more seniors to become involved in their surrounding community.
Health & Wellness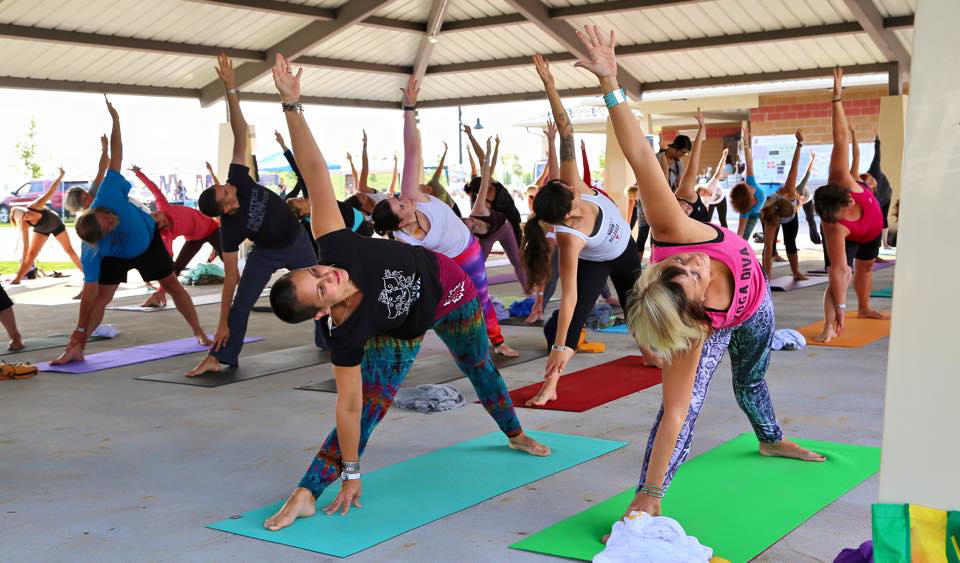 Pajama Angels – Wing Power Fund
Pajama Angels is a Windsor-Essex grass roots non-profit organization dedicated to creating awareness, action and advocacy for all cancers and chronic diseases through integrative health initiatives. Caesars Windsor Cares made a donation to their Wing Power Fund which provides financial assistance to applicants affected by cancer allowing for an additional 13 individuals to receive assistance during their healing journey with treatment, palliative care and survival. The Wing Power Fund is intended to help people who experience financial hardship as a result of their cancer/chronic disease diagnosis and treatment.
Community Enrichment
Unemployed Help Centre – Caesars Windsor Cares Kitchen
Unemployed Help Centre supports the unemployed and underemployed in reaching their employment goals by providing programs and services that move people to independence. Caesars Windsor partnered with the Unemployed Help Centre in support of their Community Kitchen and Apprenticeship Program with a generous $45,000 donation. Facilitated by a Red-Seal Chef, this program provides hands-on experience in the food service and hospitality industry. The program is open to students and apprentices to learn valuable skills, become a certified Red Seal Chef and support food distribution to after school programs, community agencies and food banks. Last year, 128,000 adults and children had access to an abundant amount of healthy and nutritious food. Additionally 2.7 million pounds of nutritional food was rescued through the Plentiful Harvest Food Rescue Program and cleaned and packaged in Caesars Windsor Cares Community Kitchen to be distributed throughout Windsor and Essex County.
CodeGreen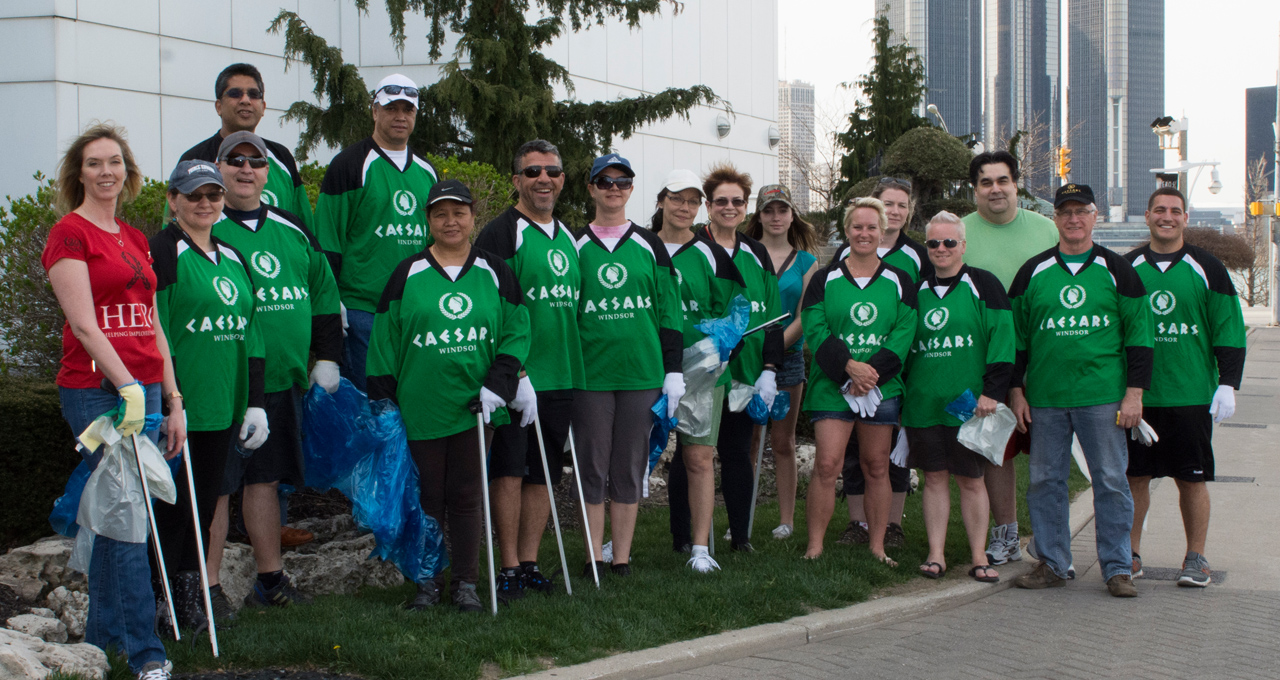 Essex Region Conservation Foundation – Gold Level Sponsor
Caesars Windsor is proud to support the Essex Region Conservation Foundation's community fundraising efforts, encouraging residents and visitors to connect with the environment in a healthy, active lifestyle. With Caesars' multi-year sponsorship, these fundraising events are attended by 1,000 participants and have raised over $100,000, a significant increase to support conservation efforts in our region. Partnering with the Conservation Foundation is part of our broader environmental strategy, CodeGreen, to engage and educate our employees and guests in an effort to reduce our company's carbon footprint in all of our business practices.
Corporate Giving Guidelines
GIVING GUIDELINES
We are proud of the thousands of charities we have supported since our inception in 1994. We are focused on allocating funding to positively impact the greatest number possible and where there is the greatest need. Our program's primary focus fall under these tenets:
Health and Wellness
Environment Sustainability and Conservation - CodeGreen
Community Enrichment
Seniors
CAESARS WINDSOR IS UNABLE TO SUPPORT THE FOLLOWING:
Individuals or grants/sponsorships to individuals
Partisan, political, religious or denominational organizations
Endowment funds, bursaries or scholarships
Operational funding
Events or activities focused primarily on attendees who are under 19 years of age
Athletic sponsorships for individuals or teams including little leagues
Government funded agencies or organizations
Conferences, congresses, seminars or meetings
National/Provincial organizations whose local chapters already receive our support
Generic requests: "To whom it may concern or Dear Sir/Madam" letters will not receive consideration.
REQUIREMENTS:
All charitable requests must be submitted 60 business days prior to the event or the date the funds are required. We appreciate your patience with this process and encourage you to plan ahead. Last minute-requests cannot be considered.
Please complete our Event Sponsorship Request Form and email it to WCLCorporateGiving@caesarswindsor.com along with your request on official letterhead.
When providing assistance we reserve the right to request copies of audited financial statements of the organization receiving the assistance or of the specific project, event or program that we supported for two years following the date of the contribution.
Due to very high demands for funds/sponsorships/donations, Caesars Windsor is unable to respond to all requests. Only successful applications will receive a written response.