Health and Safety Plan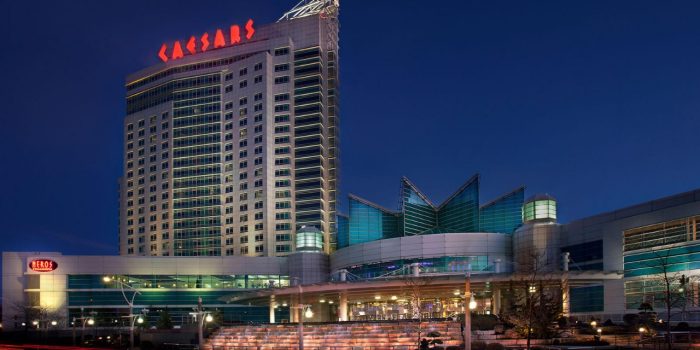 Book A Room
What follows is an overview of our multi-layered health and safety plan, which has been assessed and approved by an expert in infectious diseases to mitigate and reduce the risk of exposure to infectious diseases such as COVID-19. This plan serves as a guide for the safe reopening of Caesars Windsor, as well as for the ongoing maintenance of customer areas and employee workspaces. Operating guidelines with new rules for cleaning and sanitizing, social distancing and personal protective equipment (PPE) have been enhanced to comply with information provided by Municipal, Provincial and Federal public health officials.
Employee Protections
Employees will be screened to assess signs and symptoms of infection and the possibility of recent exposure to someone infected with COVID-19 by first completing a health assessment prior to attending work, and second by having their temperature checked prior to entering the property.
Employees will be required to stay home if they do not have a positive health assessment or will be sent home if they have a temperature at or above 37.8 degrees Celsius or are observed showing symptoms of COVID-19 and instructed to follow up with their health care provider.
Shifts will be staggered to minimize lines as employees enter the facility.
Employees will be required to wear face coverings that cover their nose, mouth and chin.
Employees will be trained on all health and safety guidelines before returning to work including proper cleaning and disinfecting, proper hand washing protocol, proper use and disposal of personal protective equipment (PPE), and social distancing requirements.
Employees will wash their hands with soap and water for at least 20 seconds at the start and end of their shift and during breaks and after certain activities including eating, using the restroom, coughing or sneezing etc. If soap and water is not available, employees will use an alcohol-based hand sanitizer.
Employees will be permitted to use front of house restrooms in order to wash their hands more frequently.
Hand sanitizing stations will be placed at key employee contact areas such as the employee dining room, employee entrance and locker rooms and signage will be posted throughout the property reminding employees on the proper way to wash hands, sneeze and to avoid touching their faces.
The frequency of cleaning and disinfecting will be increased in high traffic back of house areas with an emphasis on the employee dining rooms, employee entrances, employee locker rooms, employee restrooms, loading docks, offices and kitchens.
Employees will receive regular communication about best practices for protecting their health and the health of others.
Facilities
Hand sanitizing stations will be placed at key guest contact areas such as the hotel lobby, casino floor, restaurant entrances, and meeting and convention spaces.
Frequent cleaning and disinfecting of high-touch points on the gaming floor and common areas, such as slot machines, table games/chips, touch screen kiosks, counters, railings, escalator rails, elevator buttons, door handles, light switches, countertops, lobby check-in desk, and restrooms using appropriate disinfecting products.
A 2 metre physical distancing policy has been implemented with floor guides and signage serving as reminders throughout the property. Where maintaining this distance will be challenging, reasonable mitigating protocols will be implemented, such as barriers installed throughout the casino or face coverings for our employees.
Employees will encourage social distancing by asking guests to avoid congregation throughout the property including in queuing areas, around slot machines, and table games.
Slot machine banks will be arranged with chairs removed or covered to allow for social distancing.
Table games remain closed in accordance with Provincial regulations. • Capacities as mandated by the Province will be imposed and adhered to.
Seating capacities in restaurants and bars will be reduced to allow for social distancing between guests.
Signage will be posted throughout the property providing guests with health and hygiene reminders such as social distancing, use of PPE, proper and frequent handwashing, mouth covering when coughing or sneezing, and reporting any COVID-19 symptoms.
Buffet-style food service, room service, valet, entertainment venue, hotel towers, coat check, poker room and the pool and fitness center will not be available.
Maximize outside air intake into the building based on weather conditions and increase frequency of filter replacement and HVAC system cleaning.
Guest Protections
Guests are required to wear face coverings at all times except when eating and/or drinking while seated.
Guests will be educated prior to their arrival on these health and safety guidelines and on what to expect at the property during their visit.
Before permitting entry, or as requested by employees, guests will be required to attest to a health assessment and briefly lower face coverings for age and identification purposes in compliance with Ontario gaming regulations.
Incident response protocols have been developed to reduce the chance the infection will spread. In the event that there is a potential case of COVID-19 on property, these protocols will be activated to provide the guest with access to medical treatment, thoroughly disinfect exposed areas and provide any required notifications to those who have come in close contact with the guest. Security staff is trained to respond quickly in the event of an incident.
Contact tracing information will be gathered and retained for at least thirty (30) days.
Socially Distant Gaming
Slot machine banks will be arranged with chairs removed or covered to ensure that customers can maintain a physical distance of at least two metres from each other.
Slot machines and chairs are sanitized regularly.
Common Spaces
High-touch surfaces will be cleaned and sanitized on a regular basis.
Amenities that do not allow for social distancing are temporarily closed.
Where social distancing cannot be maintained, plexiglass barriers will be used to separate employees and guests including the Cashier Cage.