Add Promo or Package Code:
If you have Promo or Package code, click to enter it here to receive your discount.
Check Best Rates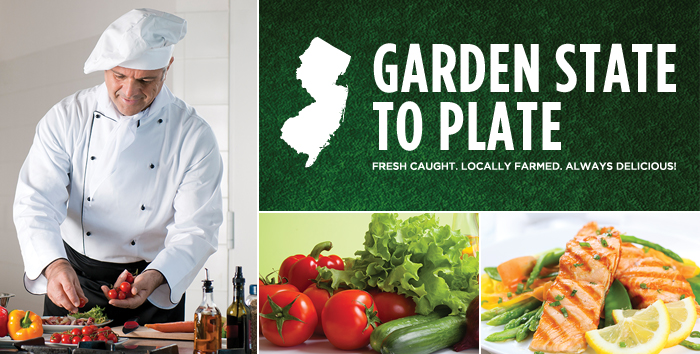 GARDEN STATE
tO PLATE

Caesars Entertainment's New Jersey Garden State to Plate initiative brings organic and sustainable produce to restaurant outlets in Caesars, Harrah's Resort and Bally's. Delicious fare is created from fresh local ingredients on a daily basis.
Participating Atlantic City restaurants include:

Caesars
* Nero's

Harrah's Resort
* The Steakhouse

Bally's
• Guy Fieri's Chophouse

This program was such a success last year, we've expanded our partnerships for 2014. Here is a list of a few of our vendors for this season

Masters Organic Farm is back again this year

Frank Donio Farms Hammonton, NJ
Donio Farms produces sweet corn, tomatoes, peaches, Strawberries, cucumbers, melons and peppers. All of the Harvesting at Donio Farms is done by hand. Since Dennis Donio wants to keep customers satisfied and coming back for more, he delivers directly to the store's doors. Donio Farms also has its own retail market called "Pete's Farm Market" located in Elm, NJ.

Flaim Farms Vineland NJ, ( growers of Panther Brand Romaine)
Flaim Farms produces romaine, kohlrabi, spinach, Mustard greens, collard greens, Swiss chard-green, red, Rainbow kale, turnips, Napa cabbage, squash, eggplant, Peppers, escarole, endive and scallions. One of their Specialties is romaine lettuce. To support the farm, look for the "Panther" brand romaine lettuce when it's in season. The brothers also grow "tomatillos" at the request of a local restaurant, Tortilla Press. Flaim Farms also has its own farm stand. Straight communication and consistent quality are two attributes that customers can expect from Flaim Farms.

Ferrucci Brothers Farms, Newfeild, NJ
Spring, Summer, and Fall: Cilantro, Basil, Dill Mint, Arugula, Metha, Diakon, Parsleys, Collards, Kale, Mustard Greens, Turnip Tops, Leeks, and Dandelion. Late Spring until mid-Summer: Cabbage. Late July until Frost: Yellow and Green Squash, Butternut Squash, Acorn Squash, Eggplant, Indian Eggplant, Chinese Eggplant, Cuban Peppers, and Long Hot Peppers. Spring Only: Red and Green Leaf, and Romaine. Spring and Fall: Escarole, Endive, Napa, Baby Bok Choy, Bok Choy, Green and Red Swiss Chards. Fall Only: Root Parsley and Black Radish.

Sun Valley Orchards, Glouster County, NJ
Sun Valley Orchards produces a large volume of freestone peaches, cucumbers, squash, pickles, peppers, cantaloupes and tomatoes. Joe and Russell Marino offer their personal quality assurance and make no excuses. They oversee the production process and maintain complete control all the way from planting to distribution. Since Sun Valley's number one goal is a guaranteed longer shelf life, they take steps to ensure the quality of their produce. They believe that temperature management is key in ensuring freshness.

Here are some great fresh selections from these New Jersey Partners

From Griggstown Farm NJ
Free Range Chicken
Poussin
Quail

Martin's Specialty Sausage - Mickelton, NJ
Specialty Fresh Sausages
Variety of
Pork
Turkey
Chicken

Samuels and Sons Seafood
Tile
Bluefish
Monk
Skate
Dayboat Scallops
Cape May Salt Oysters

Local Meat Vendors
Burlington Beef in Monroeville, NJ
Marcacci Meats in Vineland, NJ
Natures Own Farm in Columbus, NJ
Farview Farm in Flemington , NJ

Our Local Winery Partners
Amalthea Cellars, Atco NJ
Bellview Winery, Landisville, NJ
Heritage Vineyards, Mullica Hill, NJ
Executive Chef Keith Mitchell discusses use of sustainable and organic ingredients.
Participating Atlantic City restaurants include:
Caesars
Bally's
• Arturo's