Add Promo or Package Code:
If you have Promo or Package code, click to enter it here to receive your discount.
Check Best Rates
Book the best Gulf Coast deals
SHOWS
DJ Nick Cannon
DJ Nick Cannon performs live in Masquerade on Friday, September 14th!
Starting from: Cover Charge

---
---
DIVAS
Join us October 24-27 for an energetic show staring Las Vegas' longest running headliner, Frank Marino, and an all-star cast of superstar female impersonators ranging from Britney Spears, Cher, Diana Ross, Beyonce, Madonna, and more!
Starting from: $29.99 / $39.99
(Plus Tax & Fees)

---
Queen of Burlesque
The 5th Annual New Orleans Burlesque Festival is three nights of shows featuring the top burlesque performers from around the world. The Main Event brings the best classic striptease dancers together to compete for the title of "Queen of Burlesque."

---
Manning's: Football, Friends, Fun
Manning's is the place to eat, drink, and cheer for football season!

---
Crawfish in the Courtyard
Join us at Manning's for Crawfish in the Courtyard, Fridays at 4:30PM. Start your weekend off with ice cold beer, hot boiled crawfish with all of the traditional fixings, and live entertainment.

---
Shadows of the 60's
Travel back to the 60's at Harrah's New Orleans with Shadows of the 60's June 6th at Harrah's Theater!

---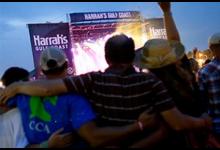 Live Entertainment
Harrah's Gulf Coast Casino presents some of the best bands on the Mississippi Gulf Coast year round at Casino Stage Bar and seasonally at Mix & Mingle and The Great Lawn.

---
Kellie Pickler
Kellie Pickler is kicking-off Harrah's Gulf Coast's 2015 Entertainment Series! Don't miss her live at The Great Lawn on May 9th! Doors open at 6pm; Kellie takes the stage at 7pm.

---
Abbacadabra
Abbacadabra, The Ultimate Abba Tribute Band, will headline a FREE two-day concert on May 22nd & 23rd at The Great Lawn at Harrah's Gulf Coast! No tickets are required.

---
Collective Soul
Collective Soul performs their smash hits June 6th at The Great Lawn at Harrah's Gulf Coast. Doors open at 6pm; Collective Soul takes the stage at 7pm. Tickets go on sale March 6th at 10am!

---
Lee Greenwood
Lee Greenwood will help the Mississippi Gulf Coast celebrate July 4th weekend on The Great Lawn at Harrah's Gulf Coast with famous hits including "God Bless the U.S.A."! Doors open at 6pm; Lee takes the stage at 7pm. Tickets to Lee Greenwood's July 3rd performance, go on sale March 6th at 10am.

---
ABBAcadabra - The Ultimate Abba Tribute
Don't miss the Ultimate Abba Tribute when ABBAcadabra comes to Harrah's New Orleans on April 18.

---
Blooming Multiplier
Every Monday and Tuesday in April, swipe your Total Rewards card to multiply your Reward Credits based on your Tier Level! Gold: 3X - Platinum: 4X - Diamond: 5X - Seven Stars: 7X

---
Harrah's Lotto
Every Saturday in April, join us to play Harrah's Lotto! Draw the winning Harrah's Lotto number to be one of the players to win $50 in free slot play every 30 minutes! You will receive a free Lotto number beginning at 3pm on Saturdays. Additional numbers are received for every 100 Tier Credits earned – up to four each promotional day!

---
Festival Gift Series
Every Thursday OR Sunday from April 2 - May 3, jjoin us to take home a gift in our Festival Gift Series. Simply earn 300 Tier Credits on Thursday from 3am – 7:30pm or on Sunday from 3am – 1:30pm. Gift pick-up at the Special Events Desk on Thursday is from 4pm - 8pm and from 10am - 2pm on Sundays

---
Bike Giveaway
From April 16 - 18, visit Harrah's Gulf Coast and earn 1,500 Tier Credits to receive a Men's or Women's Mantis 26" 15-Speed Mountain Bike! Earning period is from 3am on Thursday, April 16 to 9pm on Saturday, April 18.

---
Earth Day Play & Get
Join us on April 22nd for Earth Day Play & Get! Simply earn 200 Tier Credits from 12:01am to 7:45pm on Wednesday, April 22 and receive a five-piece Bamboo Utensil Set with Stainless Steel Rim. Gift Pick-Up | 4pm – 8pm

---