By Kelisha Garrett, Community Relations at Harrah's New Orleans
A decade ago, our country experienced one of the worst natural and humanitarian disasters in its history as Hurricane Katrina made landfall on the Gulf Coast. Our region is home to millions of people, including nearly 9,000 employees of three Caesars-owned casinos in New Orleans, Biloxi and Gulfport, Mississippi.
In the hours and days that followed, Harrah's New Orleans, its employees and its business partners marshaled their resources to assist affected colleagues. $6.6 million was raised for Harrah's hurricane victims through donations to the Harrah's Employee Recovery Fund from generous employees, business partners, community leaders and Harrah's entertainers and a $1.5 million commitment from the Harrah's Foundation (now called the Caesars Foundation). A total of $8.1 million in grants, loans and relocation assistance was provided to hurricane victims. We truly came together as one community, one that experienced both loss and hope.
On this 10th anniversary, Harrah's New Orleans came together again as a stronger, better community. As a team, we commemorated the 10th year anniversary of this life-changing event that has had and continues to have an impact on all of us who endured the storm. Just off of the steps of Harrah's New Orleans, we hosted a ceremony in which we were able to say "thank you" to those who ensured that the building that we are operating in today was preserved. As our Krewe members reflected on the days during and following the storm, they shared stories of how our location was used as a safe haven for first responders from near and far. It gave us the opportunity to commend everyone who gave their all during some of our darkest times.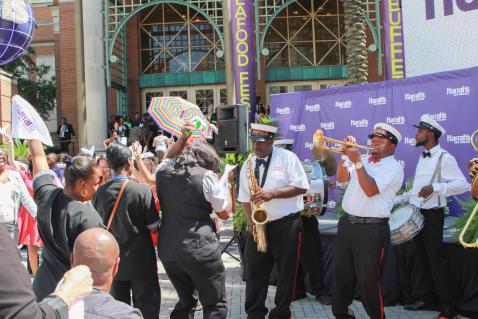 Leading up to our Katrina 10 event, the HERO (Harrah's Employees Reaching Out) Team supported various community organizations by volunteering with projects and attending symposiums focused on the recovery and resiliency of our great city. HERO volunteers helped with a landscaping project at Behrman Park in Algiers that was sponsored by Hike for KaTREEna, an organization dedicated to replanting and beautifying Greater New Orleans.
Although our community will probably never be the same as it was before Katrina, I believe we have become stronger from it. Harrah's is committed to New Orleans and looks forward to playing a key role in helping our communities build a brighter, better future. Caesars is proud to have played a part in the rebuilding effort, and we will always be proud to call New Orleans home.