The turkey is roasting in the oven, the potatoes are mashed, the cranberries are simmering on the stove… but what about dessert?
Our talented chefs at Caesars Entertainment are sharing their favorite recipes for Thanksgiving pies! Check out their spins on these turkey day staples.
Perfectly Easy Pumpkin Pie
By Guido Landolt, executive pastry chef at Harrah's Lake Tahoe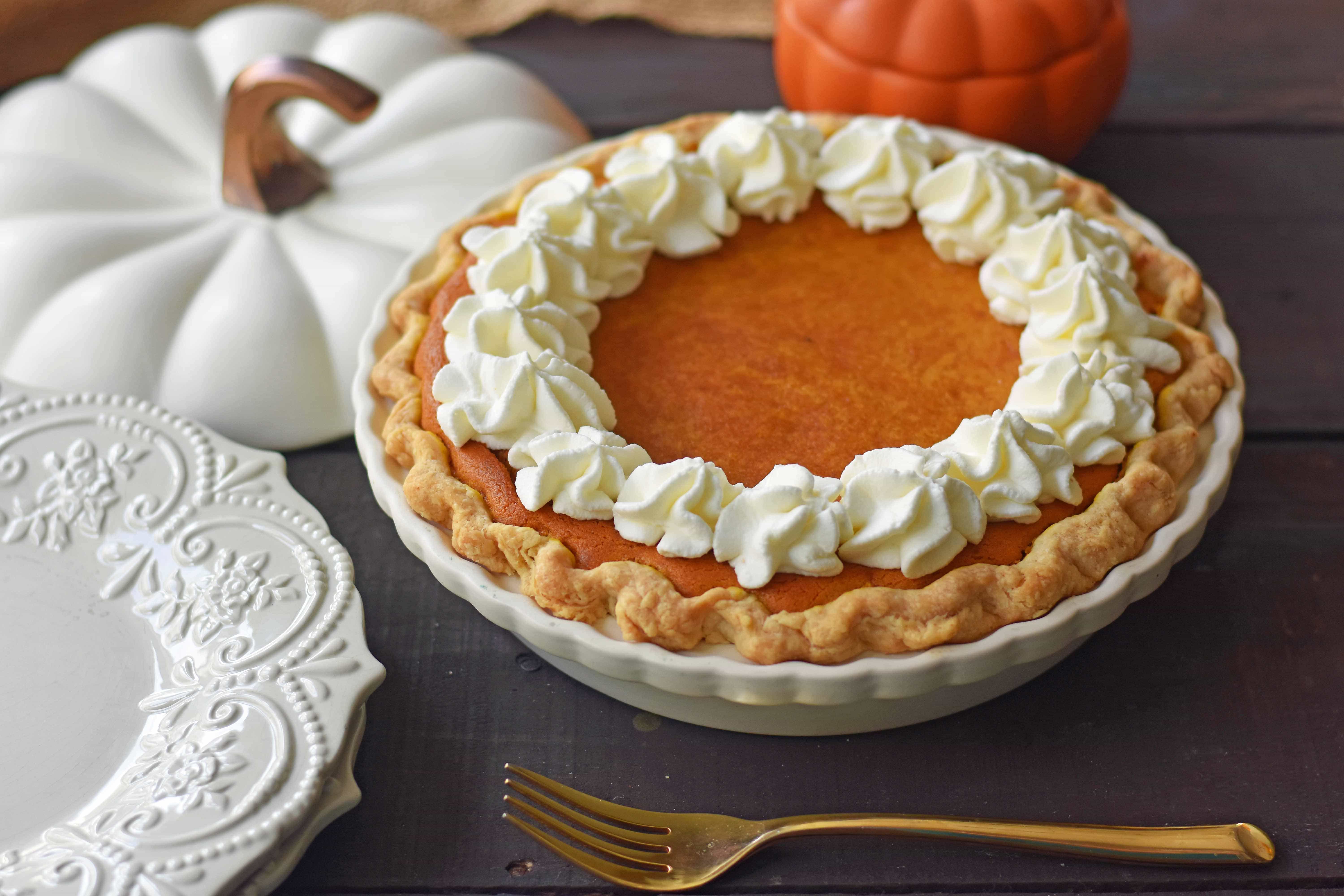 Ingredients:
1 - 9" unbaked deep-dish pie crust
Filling:
3/4 cup white sugar
1 teaspoon ground cinnamon
1/2 teaspoon salt
1/2 teaspoon ground ginger
1/4 teaspoon ground cloves
2 eggs
1 (15-ounce) can pure pumpkin
1 (12 fluid ounce) evaporated milk
Directions:
Preheat oven to 425 degrees F.
Combine sugar, salt, cinnamon, ginger and cloves in a small bowl. Beat eggs lightly in a large bowl. Stir in pumpkin and sugar-spice mixture. Gradually stir in evaporated milk.
Pour into the pie shell.
Bake for 15 minutes. Reduce temperature to 350 degrees F.; bake for 40 to 50 minutes or until knife inserted near center comes out clean. Cool on a wire rack for 2 hours. Serve immediately or refrigerate. (Do not freeze as this will
cause the crust to separate from the filling.)
Delicious Apple Cranberry Oatmeal Crisp Pie
By Darwin Denn, bakery supervisor at Harrah's Reno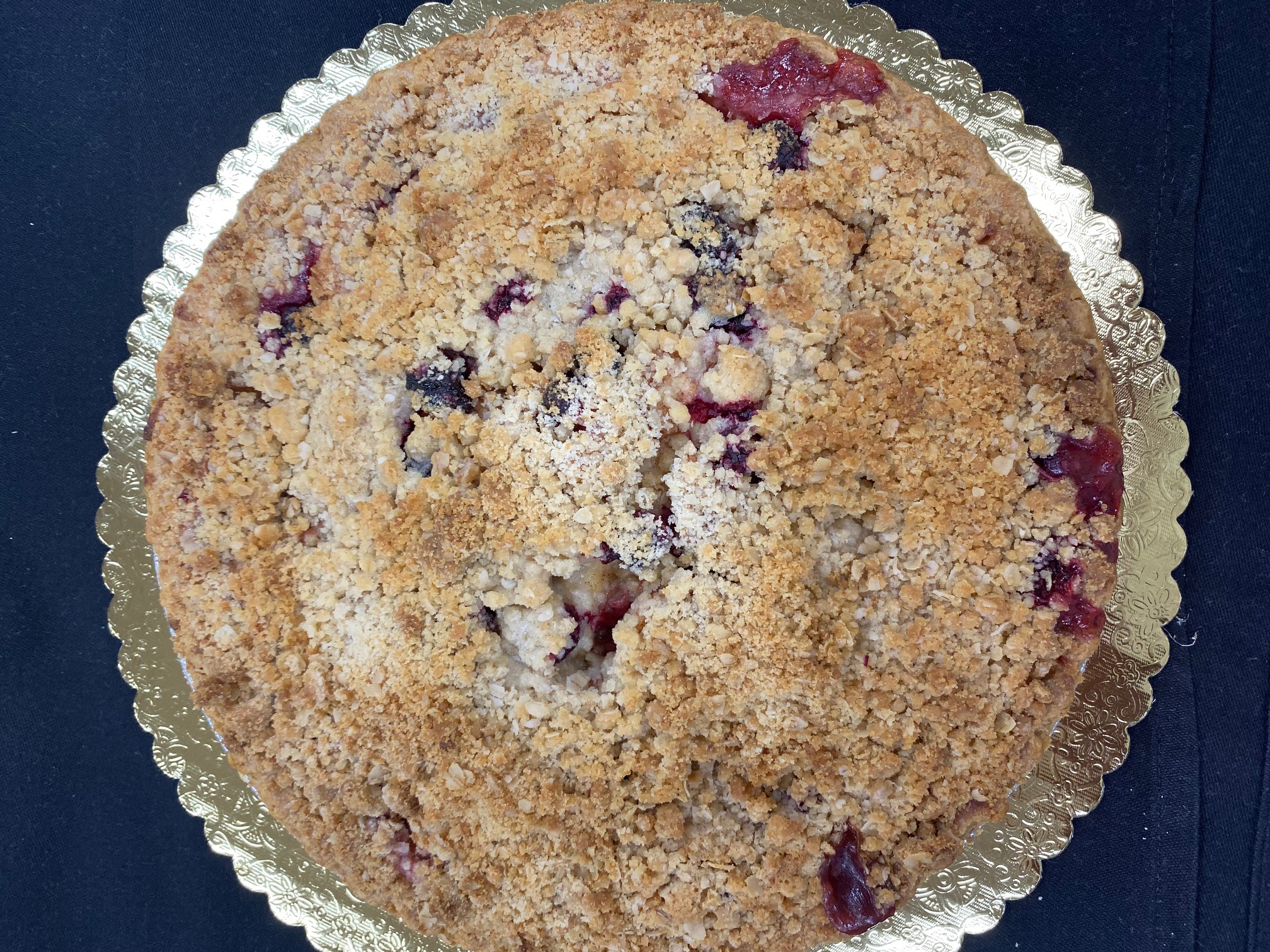 Ingredients:
Filling:
8 tbsp. Sugar
1 ½ tsp. Cornstarch
¾ tsp. Cinnamon
½ tsp. Nutmeg
3 tbsp. Lemon Juice
6 each Granny Smith Apples
1 ½ cups Cranberries
2 tbsp. Butter
Crisp:
3 tbsp. Butter
2 tbsp. + 1tsp. Sugar
4 tbsp. Brown Sugar
½ cup All-Purpose Flour
6 tbsp. Oatmeal
1 tsp. Vanilla
Directions:
Mix butter, sugar, vanilla and brown sugar until soft. Add flour and oatmeal, mix until incorporated and crumbly.
Core, peel and slice apples. Combine apples and cranberries with sugar, cornstarch, spices and lemon juice. Mound mixture into pie shell.
Top with butter and oatmeal crisp.
Bake in a 375-degree oven for approximately 50 minutes until golden brown and bubbly.
Perfect and Petite Pumpkin Tart
By: Jim McNamara, executive pastry chef at Paris Las Vegas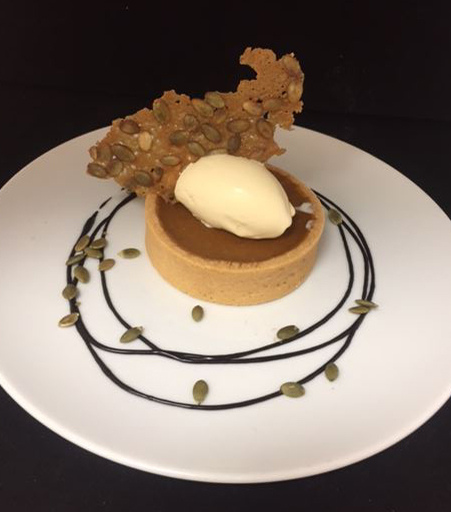 Ingredients:
3/4 cup granulated sugar
1 teaspoon ground cinnamon
1/2 teaspoon salt
1/2 teaspoon ground ginger
1/4 teaspoon ground cloves
2 large eggs
1 can (15 oz.) Pumpkin Puree
1 can (12 fl. Oz) Evaporated Milk
4 - 4 inch Tart Shells
Whipped cream
Directions:
Mix all ingredients together.
Pour mixture into tart shells.
Bake at 350F for 25 - 30 minutes.
Bourbon Chocolate Pecan and Peach Pie
By: Morgan Mays, baker at Horseshoe Bossier City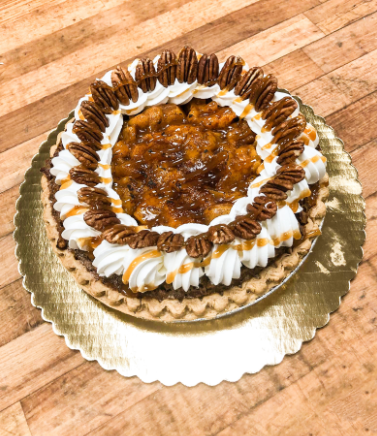 Ingredients:
1 unbaked pie crust
3 eggs
1 cup light corn syrup
1 cup sugar
2 tablespoons butter melted and slightly cooled
1 teaspoon vanilla extract
2 tablespoons bourbon
1-1/2 cups chopped pecans
4 ounces chocolate chips
Peaches- canned or frozen (If frozen, allow to thaw. If canned, drain.)
½ cup sugar
2 teaspoons cinnamon
Directions:
Lightly whisk eggs in a medium-sized mixing bowl. Mix in corn syrup, sugar, butter, vanilla, and bourbon and mix until well combined. Stir in pecans and chocolate chips.
Pour into prepared pie shell.
Bake for 60 to 65 minutes until center seems set.
Allow pie to cool.
Chop peaches coarsely. Place in the middle of the pie.
Mix the cinnamon and sugar together and sprinkle on the peaches.
With a Brule torch, torch the sugar until it starts to crystallize.
Decorate with whipped topping and pecan halves.
Made to Impress - Pumpkin Pie
By: Frank Sauvat, executive pastry chef at Flamingo Las Vegas
Ingredients:
1- 9" or 10" raw pie shell
Filling:
¾ cup 100% pure canned pumpkin
½ cup brown sugar
1 gram nutmeg
1 gram ginger
1 gram cinnamon
1.5 gram salt
1.5 fresh whole eggs
½ cup sweetened condensed milk
½ cup evaporated milk
Topping:
Chantilly cream or Whipped cream
Cinnamon powder (optional)
Directions:
Combined Pumpkin, Spices, Sugar and mix well.
Add the eggs and mix.
Add the Condensed milk and gradually the evaporated milk, until all combined.
Pour the mix in the pie shell and bake between 50 to 70 minutes at 330 degrees in a convection oven.
Let the pie set then dress with topping and serve cold.