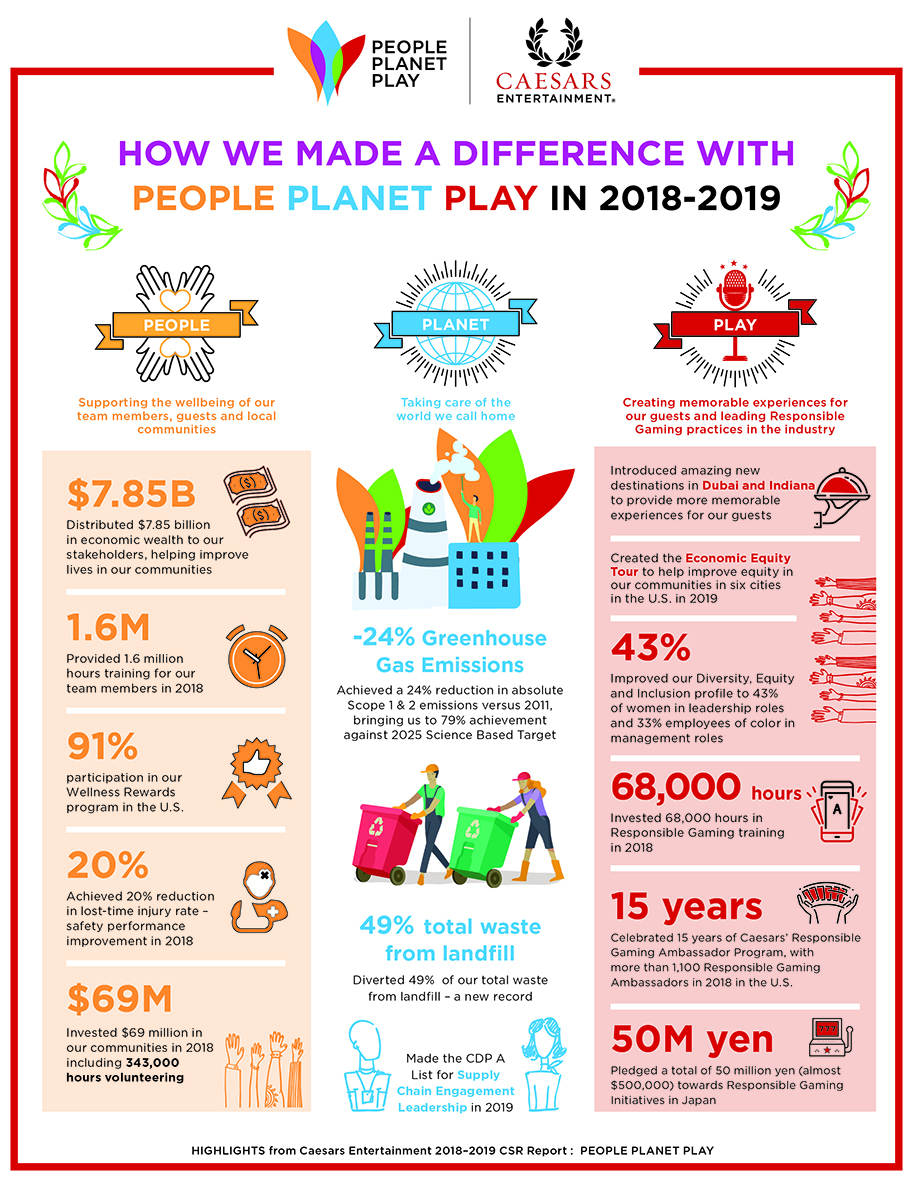 A better planet
In 2009, Caesars Entertainment joined the Environmental Protection Agency's Climate Leaders program which encourages organizations to achieve greenhouse gas (GHG) emission reductions. In the past ten years, Caesars Entertainment saved 7,680,796,000 gallons of water in the U.S., which is equivalent to 12,000 Olympic-sized swimming pools and saved or avoided 2,234,000 megawatt-hours of energy, which is equal to the average annual use of nearly 208,000 homes.
Caesars Entertainment participated in the Carbon disclosure project in 2009 and won the EPA WasteWise Gold Achievement New Partner Award.
Throughout the past decade, as the company continued to grow, environmentally friendly initiatives were put in place with every new structure and renovation. 2010 marked the opening of the expanded Octavius convention space, the first Leadership in Energy and Environmental Design (LEED) Silver-certified facility for Caesars Entertainment. Three years later, The LINQ opened with LEED Silver certification.
With 550,000 sq. ft. of meeting and convention space, CAESARS FORUM is one of the latest construction projects in Las Vegas to pursue the U.S. Green Building Council's LEED standards. The company contracted local Las Vegas vendors to encourage small and diverse businesses to take part in creating this innovative convention space. It's 23 percent more energy-efficient and 44 percent more water-efficient than a typical building and is expected to open next year.
In 2019, Harrah's Cherokee Valley River Casino and Hotel unveiled a new 700-kilowatt solar energy system. The power from the system will offset a portion of energy demand from the casino, hotel and two administration buildings.
Caesars Entertainment will continue to work toward mitigating the effects of climate change as the years' progress. By 2025, the company is committed to reducing absolute Scope 1 and 2 emissions by 30 percent, and by 95 percent in 2050.
Responsible Gaming
Thirty years ago, Caesars Entertainment established the industry's first Responsible Gaming program. Through innovative technology, awareness, training, development of standard protocols and academic research, it continues to expand on best practices for Responsible Gaming.
In 2011, Caesars Windsor became the first casino in Canada to receive accreditation from the Responsible Gaming Council. In 2014, Caesars Entertainment became the first in the U.K. to receive accreditation for Responsible Gaming from the National Casino Forum.
In 2018, 59,679 team members were trained in Responsible Gaming in the U.S. Today, the company has 1,100 Responsible Gaming ambassadors in the U.S.
The past year has allowed Caesars Entertainment to advance Responsible Gaming in Japan, where the company has been working with officials to develop responsible gaming best practices. In 2018, the company pledged 50 million yen or approximately $500,000 toward Responsible Gaming initiatives in the country.
Team member and community support
Caesars Entertainment understands team members are its greatest asset, so the company implemented programs to help team members grow, live healthy lives and give back.
In 2009, the company launched the Wellness Awards program and Wellness Centers. Just one year later, the company reported 77 percent team member participation in the program.
In 2018, team members spent 1.6 million hours in training programs to help them excel in their roles. Team members were supported in and outside of work to reach their goals. Between 2018 and 2019, 90 percent of Wellness Rewards Program participants engaged in meaningful health programs, and 90 percent completed their annual physical examination.
Caesars Entertainment knows employees do great work every day and the company does not want it to go unnoticed. It developed the Root For Me ecard program in 2013 to recognize team members for outstanding work.
Caesars Entertainment also wants its communities and the people residing in them to thrive.
Through the volunteer program HERO, team members have donated more than 2.2 million hours to their communities in 10 years. In total, the company has donated more than $743 million in charitable contributions to its local communities.
To help veterans adapt to civilian life, Caesars Entertainment established the Enlisting Heroes hiring initiative in 2013. The program focuses on hiring U.S. military veterans.
In 2017, Caesars Entertainment established a dedicated online portal for team members to combat human trafficking and appointed 120 volunteer Community Engagement Ambassadors as leaders in addressing sex trafficking and commercial sexual exploitation in Las Vegas.
Since 2012, Caesars Entertainment has invited poker players to share their winnings from the World Series of Poker (WSOP). By 2018, WSOP players brought the total amount raised for ONE DROP, a non-profit that ensures sustainable access to safe water and sanitation for vulnerable communities, to $23.17 million.
The Economic Equity Tour kicked off in 2019. The tour is scheduled to stop in six cities in the United States teaching in-person educational workshops and expert-led webinars on financial empowerment, workforce development, non-profit organization development, entrepreneurship and potential business opportunities with Caesars Entertainment.
As the company progresses through 2019, Caesars Entertainment has implemented a new diversity and inclusion program in its construction supply chain. Also, the company provides training in unconscious bias as it continues to move toward its goal to achieve gender and racial equity by 2025.
In 2018, Caesars Entertainment reported 99 percent of women at corporate headquarters in Las Vegas and 98 percent of women who work in non-union roles at U.S. properties had no meaningful difference in average pay when compared to men in the same positions. In the U.K., Caesars Entertainment closed the pay gap from 6.2 percent to 2.7 percent for full-pay relevant male and female employees. It was driven by property personnel being equally split by males and females as well as a high proportion of corporate skilled/senior-level roles being occupied by women.
Continued growth
Caesars Entertainment will continue to work toward diversity, equity and inclusion, inspiring team members and guests alike, protecting the planet, as well as building strong governance.
The company will continue to advance its work at new destinations which include Harrah's Hoosier Park Racing and Casino, Indiana Grand Racing and Casino, Harrah's Resort Northern California, Caesars Palace Bluewaters Dubai, The Residences at Caesars Palace Bluewaters Dubai, and Caesars Resort Bluewaters Dubai.