From Mississippi to New Jersey, older individuals recently received an extra dose of love from Caesars Entertainment properties and Caesars Foundation. To celebrate Senior Appreciation Month in May, three new meal delivery vehicles were donated so more older individuals can receive hot meals, happy smiles and safety checks. Each van was donated to an affiliate of Meals on Wheels, the oldest and largest national organization supporting community based programs dedicated to ending senior hunger and isolation.
In Mississippi, Harrah's Gulf Coast and Caesars Foundation presented a new meal delivery van to The Lord is My Help. The new vehicle will assist in providing 39,000 meals for around 150 homebound seniors in Jackson and Harrison Counties. The organization has been struggling to drop off hot meals to seniors but the staff are so dedicated that they have often used their own vehicles to transport the food.
"Caesars is dedicated to improving the quality of life in the communities where we operate – it's part of our Code of Commitment and at the very core of who we are as corporate citizens," said Jonathan Jones, general manager of Harrah's Gulf Coast. "One way we accomplish that goal is by partnering with organizations like Meals on Wheels America and The Lord Is My Help. Caesars Foundation is proud to provide this new delivery van along with continued support from Harrah's Gulf Coast employee volunteers."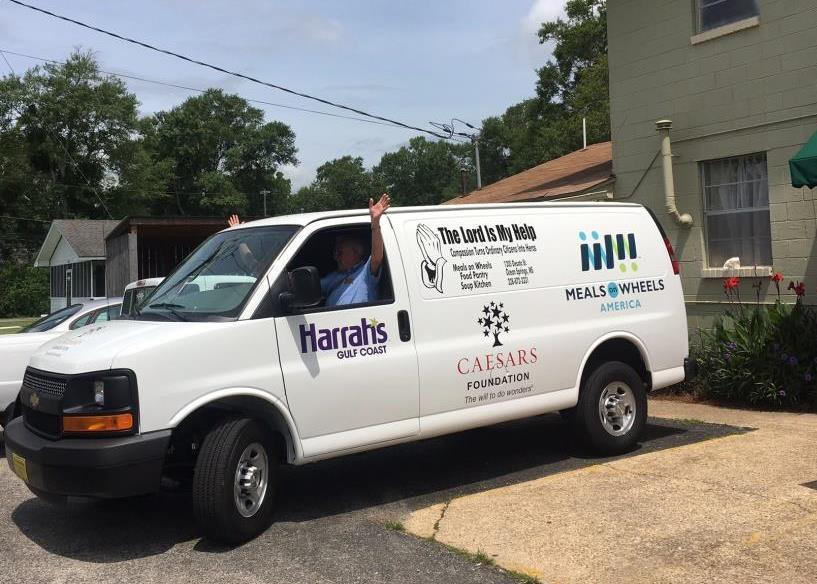 New Jersey's Bergen County Division of Senior Services also received a new meal delivery van thanks to the generosity of Caesars Foundation, Caesars, Bally's and Harrah's Resort Atlantic City. Now an additional 10,000 meals can be delivered to seniors in Bergen County. A third delivery van will be donated in Southern Indiana by Horseshoe Southern India and Caesars Foundation.
Since 2002, Caesars Foundation has contributed 58 vehicles to Meals on Wheels America members in 18 states. These donations equal over $5 million in donations from the Foundation.
"Caesars Foundation has been a generous and compassionate champion for America's seniors over the last 14 years," said Ellie Hollander, President and CEO, Meals on Wheels America. "Our impactful partnership enables seniors to live longer, healthier and more fulfilling lives by supporting local Meals on Wheels programs in their delivery of more nutritious meals, friendly visits and safety checks."