"It was nervous excitement," said Brett Norris, as he described his first Rock 'n' Roll Marathon in Las Vegas. "Once you get to the starting line, that nervousness goes away."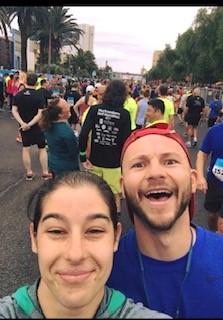 Brett Norris and a friend at the Rock 'n' Roll Marathon
Norris, senior, financial assurance, for Caesars Entertainment has completed his fair share of marathons, but the Rock 'N' Roll Marathon in Las Vegas is one of his favorites.
"I played basketball my whole life, but I was never really a runner. I was graduating from college, and someone asked if I wanted to do a marathon, so I did," said Norris."It was difficult, but I finished it, and it snowballed my love for running."
Norris said from then on he wanted to do a marathon every year. He ran the Rock 'n' Roll Marathon, the London Marathon, and he travels back home to Cincinnati for the Flying Pig Marathon."When I moved to Las Vegas, I had a friend who signed up for the Rock 'n' Roll Marathon in 2014, so I signed up too," said Norris.
Along with the encouragement from a friend, Norris has support from Caesars Entertainment. Through the company's wellness Rewards program, team members receive help in achieving their wellness goals and even save money on health care expenses.
Norris has run in the Rock 'n' Roll Marathon every year since then. Sadly, he isn't running this year due to an injury.
"The Rock 'n' Roll marathon is such a unique event," he said as he described the ambiance of the Las Vegas Strip completely shut down from cars.
"It is great to see how a community comes together," said Norris.
Norris said the first couple of miles go by so fast, but the rest of the marathon truly tests each runner's stamina. He said during the race he's seen runners get fatigued and those passing never hesitate to encourage them.
His advice for new runners? Norris said everyone is different, and there is a bit of trial and error to find out what works best to train, but he encourages anyone that is interested to get outside and start running.