In a room filled with bright-eyed, determined women, Bacchanal Executive Chef Leticia Nunez prepared beet and edamame hummus as she walked everyone through the recipe to her success.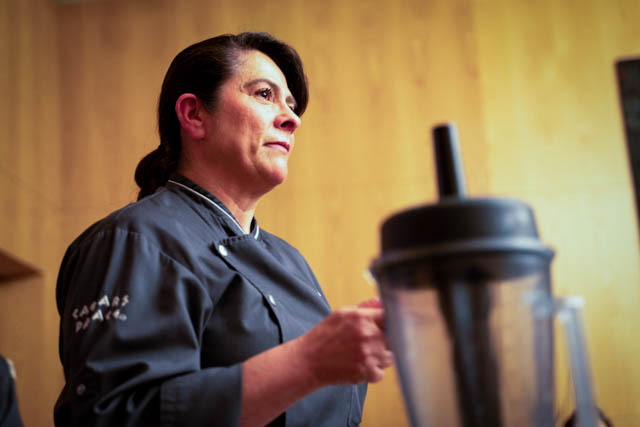 Chef Nunez shared her story of how she fell in love with food at a young age during "Eat, Drink and Be Savvy," an event exclusively for Caesars Entertainment team members involved with the Business Impact Group: Savvy, while they dined on pumpkin soup, hummus and vegetables, burrata cheese, and avocado toast.
"I was five-years-old. My mother sent me to the store to buy eggs," she said. Growing up, she watched as her mother would bargain with food vendors in the market going "back and forth" before they settled on a price. So, when she went to purchase eggs she used what she learned.
"I got there and the guy wanted to sell it to me for a certain price. Then I said, 'no, no, no. It is too expensive. I am going to another store," she explained. "My mother came looking for me because I took too long and the guy said, 'no, she was going to a different store because she said it was too expensive.'"
She eventually returned to her mother with eggs and change in hand. That's when her mother said, "she always knew I would do something with food."
By the age of eight, Chef Nunez made her first molé.
"I am very proud of that," she said.
"There were so many steps to making that very, very sacred recipe from my family."
"I learned how to butcher by the time I was 10…it's not pretty," she said.
Chef Nunez grew up around 18 boys but she never saw herself differently than anyone else, a virtue she carries to this day.
"I learned to just be one of the guys," she said. "As females, we tend to lead by emotions a lot and we let our emotions get in the way of what it is and I think that could be a block or something that gets in your way of getting past it and growing."
Working in a high-demand field, Chef Nunez admitted: "people will make you upset but you have to stop and collect yourself and lead by what it is."
She told the group of women if she had learned that earlier she would have been in her position at a younger age.
"I don't see myself differently than a man," she stressed.
Working in a male-dominated field, she acknowledged "males do not want to take direction from females."
"You will always have a man working alongside you, but if you are the boss, sometimes they'll say 'yes' and turn around and say, 'I am not doing that,'" she said.
Chef Nunez does not let this hinder her leadership rather, she uses this as a learning opportunity.
"I allow them to make their mistakes and then when they are about to go down I say, 'okay, come back up. This is why I was trying to guide you in this direction and this is why now moving forward we are going to do it this way,'" she said to a room filled with laughter.
Brian Murzyn, General Manager of Bacchanal Buffet, said working with Chef Nunez has been one of the most incredible experiences for him.
"I don't see chef as a female. I don't see her as a woman. I see her as a chef and with all the chefs that I've worked with whether they're celebrity chefs or chefs in small little restaurants, she's the best of the best," he said. "Everybody out there because she walks that line every single morning they all know that she knows their job better than they know their job. That's where the respect comes from."
Chef Nunez is an inspirational leader, not only in the culinary field but throughout the company and beyond. She credits her success to staying true to herself.
"It is about knowing who you are in the business or who you are as a person, who you are as a professional," she said as she reached for a beet on the table.
"A beet is a beet," she said as she raised the vegetable toward the women. "It is not going to be anything else, so I am a beet. That is what I am. I am Chef Leticia. Sometimes you just have a passion for what you do. That makes you walk the walk and be a beet – be who you are."