In the last post, I discussed the release of Caesars' fourth CSR and Sustainability Report on December 13th. The headlines surrounding the report's release touted it as the first from any U.S. corporation published in line with G4 Core level guidelines.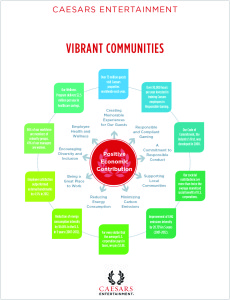 For those of us not fluent in the language of sustainability reporting, terms like "G4 Guidelines", "Core level", and "Materiality Matters check" might as well be Dutch. So what's all this about? Let's take a closer look to decipher the significance of this achievement:
What is GRI?
The Global Reporting Initiative (GRI) is a not-for-profit organization that promotes the use of sustainability reporting as a way for organizations to become more sustainable and contribute to sustainable development. GRI has pioneered and devloped a comprehensive sustainability reporting framework that provides metrics and methods for measuring and reporting sustainability-related impacts and performance. Their mission is to make sustainability reporting standard practice for all companies.
What are the G4 Guidelines?
The G4 Guidelines are GRI's fourth generation of sustainable reporting guidelines, published in May 2013. These updated guidelines place a larger emphasis on material issues- those that matter most to a business, rather than reporting on everything. Defining these issues and determining where their impacts lie is a critical component of the new guidelines.
What is Core level?
In the last generation of reporting guidelines, organizations could receive a graded A, B, or C application level, demonstrating the scope and depth of the report. They could also receive a "+" signifying that the report was externally assured or checked by GRI. The G4 Guidelines have replaced this grading scheme with two "In Accordance" levels: Core and Comprehensive. Organizations must meet a number of criteria to be "In Accordance" with the G4 Guidelines. For example, the organization must report on at least one indicator per material issue to meet the Core level, and include all relevant indicators for all material issues to meet the Comprehensive level.
What is the Materiality Matters check?
GRI began offering a Materiality Matters check in December; this check verifies that at the time of publication of the G4 Guidelines-based report, the General Standard Disclosures were correctly located in both the Content Index and in the text of the final report. This service helps ensure that the sustainability report is navigable, clear and credible.
So after all of this- what does becoming the first U.S. corporation to follow the G4 Guidelines at the Core level and successfully pass the Materiality Matters check really mean? With this report, Caesars is demonstrating that it is seriously committed to transparency, accountability, and leadership on sustainable issues.