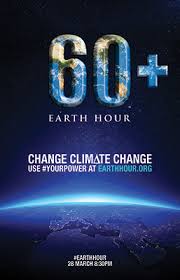 Revelers out on the Las Vegas strip the evening of March 28th may be stunned to see the iconic marquees and twinkling high rises suddenly dim and shut down. It's a powerful sight to encounter, one that will be happening around hundreds of cities around the world to spread the same message: it's time to take action against climate change. This event, known as Earth Hour, has been organized by World Wildlife Fund since 2007, and has been a tradition at Caesars resorts since we first joined the movement in 2009. Each year, our commitment to positively impacting the environment is tangibly demonstrated when we turn off all non-essential exterior lighting from 8:30pm to 9:30pm. Additionally, we encourage employees and our guests to turn off unnecessary lights in their rooms and offices for the hour.
To build excitement for Earth Hour and draw attention to this important event, our CodeGreen teams often plan special events or earth-friendly related activities that get employees, guests and local communities involved. As we gear up for our seventh Earth Hour this Saturday, many of us at Caesars are reflecting on years passed as we look for ways to renew our pledges to reduce our impact on the planet and inspire change. We caught up with three members of the Caesars team and asked them to share how they plan to spend the 2015 lights-out event.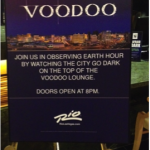 Amanda Lagunas, Wardrobe Manager & CodeGreen Leader from the Rio is preparing for the rooftop viewing party at the VooDoo Night Club. Guests will gather on the 51st floor to witness the darkened Las Vegas strip from the ultimate vantage point and will be able to take advantage of incredible photo opportunities. Amanda hopes this event will engage guests and employees about global conservation, and allow someone who has never participated in Earth Hour to join us in supporting this cause. Amanda is extremely glad to be in a position where she can increase participation and promote Caesars' commitment to the environment. She has spread awareness over the past three years at Earth Hour related events and would like to remind everyone to post pictures from Earth Hour viewing events with the hashtags #CaesarsEarthHour2015 and #YourPower.
Dawn Malone, Systems and Revenue Support Manager, will be experiencing her fifth Earth Hour since she started her career at Caesars Entertainment in 2002. Working out of Caesars Palace corporate headquarters, Dawn is also the Las Vegas Corporate HERO Board Chair and is a key driver of Caesars' sustainability initiatives. She comments on how interesting it is to witness the usually brightly lit Las Vegas strip go completely dark and looks forward to this year's Earth Hour spectacle. Caesars' yearly participation in Earth Hour has inspired Dawn and her family to participate in their own way at home. They power down the house by turning off all the lights and skip watching television for the hour.
"What about throwing an Earth Hour party at one of our venues or even in the LINQ?" Dawn suggests to people in Las Vegas who are looking for a way to honor the event. She thinks it could make for a great fundraising activity from which the proceeds could benefit a green program or non-profit.
Ron Passarella joined the Caesars team in early 2014 as a President's Associate working in marketing throughout our Atlantic City locations. This Saturday will be his second Earth Hour at Caesars. He feels privileged to work for a company that allocates so many resources to sustainability and is proud of the fact that Caesars is committed to raising awareness about climate change, even if turning off external lights for 60 minutes on a Saturday night can affect normal business operations. All employees have been equipped with information to explain Caesars' commitment to guests along with signage in public areas that promote the Earth Hour movement. Ron hopes to one day be able to use the Waterfront Tower's 525-foot LED covered screen at Harrah's Atlantic City to play a video promoting Earth Hour.
"The wall can be seen for miles for everyone that enters Atlantic City. Perhaps it can promote Earth Hour with a message for an hour or so before the lights go off and count down immediately before we hit the switch," he offered. That's an idea worth pursuing!
Earth Hour 2015 is just around the corner and we are looking forward to uniting with Caesars' communities in the movement! Help spread awareness and join the conversation by sharing your Earth Hour activities with the hashtags #YourPower and #CaesarsEH2015 on Facebook and Twitter. Check back next week to see our favorite photos and videos from Caesars locations posted here.