We are excited to announce that Caesars has released its fifth annual Corporate Citizenship report entitled "Serious Play." This year's report tracks our corporate citizenship progress throughout 2013 in the following areas: Responsible Gaming, Employee Development, Environmental Stewardship, and Community Investment.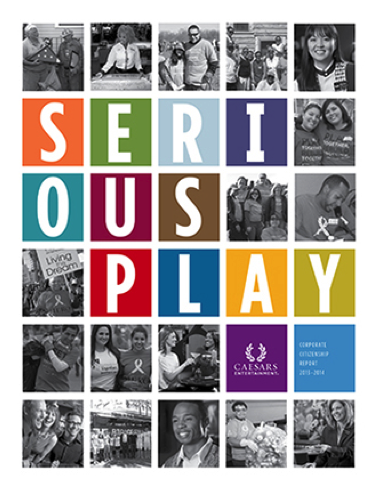 "Serious Play" highlights Caesars' dedication to improving the economic, social, and environmental quality of life wherever we operate. In 2013, we exceeded our aggressive environmental-sustainability goals to reduce energy and carbon emissions as well as surpassing our waste-diversion goal. Significant strides were also made in the reduction of water use and continued community giving. Caesars continued to lead the industry in innovative Responsible Gaming programs, training 43,286 employees in 2013.
Caesars' commitment to corporate citizenship starts at the top. "We are proud to support the advancement of meaningful standards that raise the bar for business accountability, and believe it is important for Caesars to be cutting edge from an engagement and reporting standpoint," said Gwen Migita, Vice President of Sustainability and Corporate Citizenship at Caesars Entertainment.
"Serious Play" is written in accordance with the GRI G4 Sustainability Reporting Guidelines at core level. Highlights from "Serious Play" include:
20% energy intensity reduction since 2007
24% greenhouse gas emissions intensity reduction since 2007
35% of all waste diverted away from landfills in 2013
56% of employees from minority groups
More than 3.5 million hours invested in employee training.
100% perfect score in the Human Rights Campaign Corporate Equality Index for the 7th consecutive year.
More than 160,000 hours volunteered by Caesars employees to support local communities.
We are proud of our achievements and are working to set new goals and continually innovate to expand our positive impact on our guests, employees and the environment. Being in the business of play, we are also serious about how we play.