It's almost that time of year again, when the foodies come out of the woodwork to attend Vegas Uncork'd, the premier culinary and wine event with master sommeliers, mixologists and chefs showing off their stuff from April 28-May 1. Sponsored by Bon Apetit, Caesars plays a role by hosting some of the festivities at Caesars Palace, and, this year, we're also recognizing Earth Month by engaging our guests in cork recycling.
To call attention to our recycling efforts at all the Caesars Entertainment properties in Las Vegas, we have asked team members and local artist, Katherine Brookshire, to create an art installation out of the recycled corks we've been collecting from our pilot cork recycling program.
Brookshire's piece will be a "living chandelier" made entirely of cork and other natural materials, with succulent plants cascading down from the main cork sphere. The chandelier will hang over a table made from natural wood slabs, surrounded by stools also made of recycled wine corks.
"Recycled material in art is becoming more of a trend. When you make art, you have to have consideration for the environment since it's going to end up in the landfill," says Brookshire. That's why she follows a Japanese philosophy of art called wabi sabi, which is about finding beauty in transience and imperfection, with a focus on how all the materials we use will eventually return back to the earth.
Renu Oil is Caesars official recycling partner in Las Vegas, and will handle all recycled material for the Uncork'd event. We launched a pilot project with Renu Oil in on February 12, 2016 to collect, sort and recycle wine corks at three of our Las Vegas locations – Caesars Palace, Rio and Paris. Over seven thousand corks have been collected in just six weeks since launching the program. Rather than using the typical plastic recycling bin, Renu Oil created receptacles that look like refurbished wine barrels, which helps to draw attention to the initiative at the properties.
Caesars plans to roll out cork recycling to all Caesars properties in Las Vegas. Renu Oil has committed to adding cork to the collecting, sorting and recycling programs currently in place at our Las Vegas facilities. RenuOil handles everything from your typical plastic and card board recyclables, down to your more difficult-to-recycle items like textiles and organic waste. "We have teams staffed at each recycling dock with our sorting systems, covering every single shift to sort through the entire waste stream for that site," explains Sophia Salas, Manager of Renu Oil. "It's a very comprehensive program."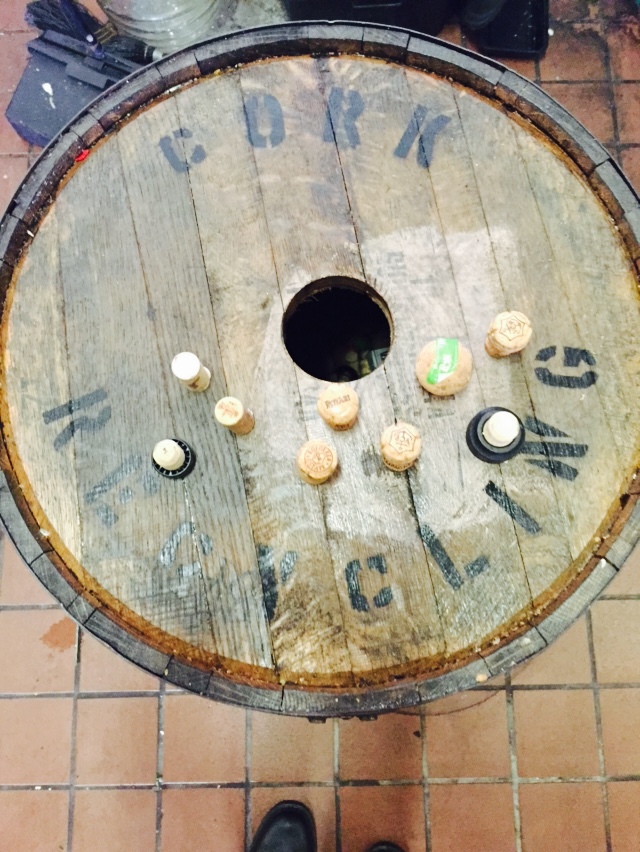 When we asked Salas why Renu Oil got into cork recycling, they told us that they got the idea from Recork America, who approached them about it. Recork collects and recycles post-industrial and post-consumer natural corks, working with both businesses and individuals to recover cork. Cork is considered a sustainable natural resource, because it can be used as a harmless, chemical-free replacement for petroleum based materials in consumer packaged goods. It can also be harvested from Cork Oak trees in a very earth-friendly way, as the tree continues to reproduce cork even after the cork bark is harvested, and, if done properly, the process does not harm the tree.
Typically, when cork is recycled, it's ground up and repurposed into other cork products such as flooring, building insulation, sports equipment, soil conditioner, or in Brookshire's case, art. "Cork has become very popular with crafters and artists and is a great recyclable product," says Brookshire.
We hope you will join us at Uncork'd for the unveiling of Brookshire's cork masterpiece and see our cork recycling program in action!