Think you can't be surprised by the many delights of Las Vegas anymore? Drop by the Flamingo and you'll find something pretty unexpected – a garden with tables and chairs made out of recycled wooden pallets. The garden, which will grow pesticide-free produce , is a pilot project launched by Chef William Becker, Director of Culinary Operations at Caesars Entertainment.
Chef Becker started out at the prestigious Culinary Institute of America in New York. After a traditional tour of well-known restaurants in New York, Southern California and Las Vegas, he took a detour to Southeast Asia, where he became executive chef for Shangri-La Hotel and Resorts. Eventually he returned to Las Vegas and has been in leadership roles at Caesars Entertainment ever since, heading up Food & Beverage before landing in his current role last year.
At the Intersection of Green & Gourmet
It was his time in Surabaya, Indonesia that got Chef Becker interested in sustainability and its relationship to food. There he experienced third world poverty like he had never seen before. "It was wake up call for me. I had huge respect for my local employees because they came in and did an honest day's work for little pay, and you really didn't know what they were dealing with at home." All the employees lived in small villages nearby and each person had a job to support the well-being of their village. "My butcher was the village gardener," for instance, which inspired Chef Becker to think about starting a garden for the hotel restaurant.
It just so happened that there was an empty 4-acre lot adjacent to the hotel that wasn't being used. He got permission to use the lot and made a deal with the dean of agriculture at the local university: the hotel restaurant would buy the extra produce from the university's experimental farm, and the dean would provide Becker with agricultural knowledge of how to support the restaurant garden. "My mom sent me a big box of seeds from the U.S. The soil was so fertile and the weather so great that the stuff grew like weeds! It gave me a whole new respect and made me realize just how much goes into growing one ear of corn or one tomato."
Educating team members on food waste
Returning home after several years abroad, he realized that what was considered standard procedure for food prep was extremely wasteful. "It's because here people don't have skin in the game to not waste the food. There, people have a lot of respect for the food products they are using, and use much less haphazard cutting techniques."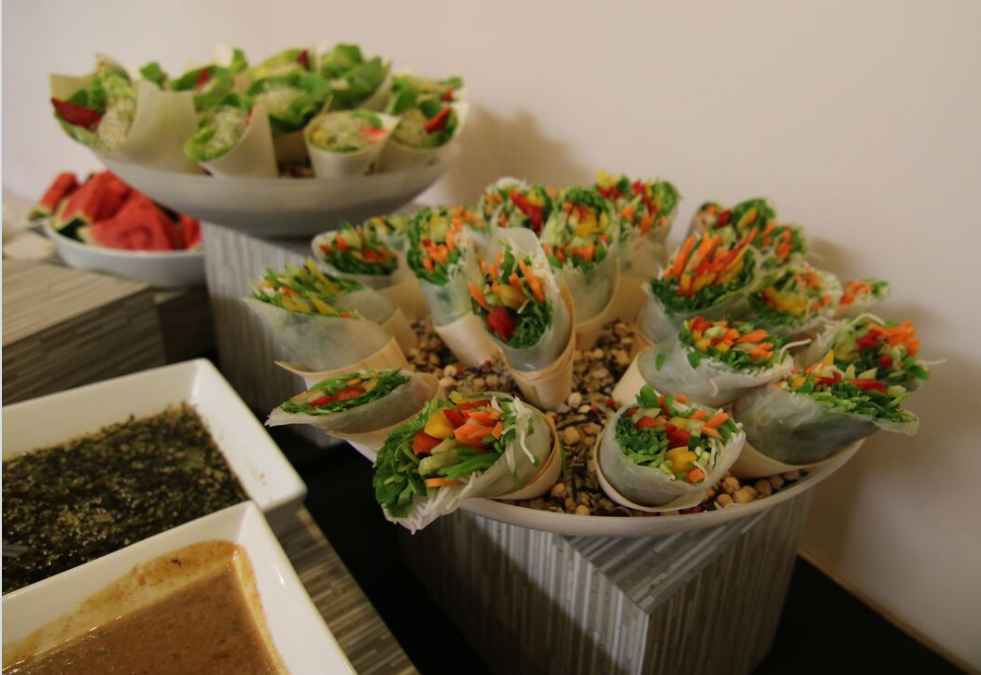 His experience abroad showed him that he needed to help educate his staff on ways to make the most use out of food as possible. Becker is passionate when he talks about wanting them to "understand how much effort it takes to raise a chicken or grow a vegetable. That for every chicken you overcook, burn, waste or take for granted in some fashion, that chicken had no reason to live in the first place. It was raised and slaughtered for energy and consumption and we didn't capitalize on it. The same goes with when someone throws meat trim in the garbage. They aren't looking at it as a valuable commodity. We are trying to get people to think more clearly about the luxury of the products we have to work with."
In addition to bringing food waste awareness to culinary team members, the food waste itself must be dealt with at properties. Caesars uses Renu Oil of America to do recycling at all of our properties, with dedicated containers for all food waste. We track our food waste by weight at each property to better understand and address our waste footprint. Not surprisingly, the biggest food waste comes from our restaurant buffets that can't be reused at the end of the day. "The back of the kitchen has very little waste because we start to dial back at the end of the day and just cook what we need," shared Becker.
The Flamingo Kitchen Garden
And now Chef Becker is trying to recreate that Indonesian garden experience in Las Vegas. He and his team are in the process of building a pilot pesticide-free garden at the Flamingo. His goal is that the produce grown will go to the employee Farmer's Market held throughout the year at different Caesars locations in Las Vegas. He also hopes that this pilot garden will serve as inspiration to other properties for what is possible.
To bring the idea full circle, Chef Becker tapped into his inner mixologist to create a Caesars' Earth Month Specialty Cocktail, dubbed the "Sunday Brunch." The drink will be served at select locations throughout April and features local honey, locally grown sage, grapefruit and sustainably distilled bourbon. You can help us celebrate Earth Month by using #codegreen to tweet a selfie while enjoying a Sunday Brunch. Cheers to Chef Becker, his amazing culinary team, and the many people devoted to building a more sustainable Caesars!