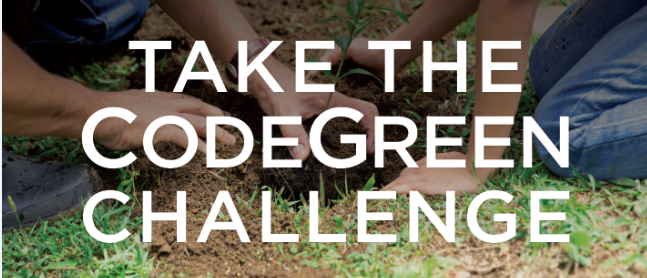 Our annual CodeGreen Challenge is a neck-and-neck competition for the greenest location of all! It gets our teams pumped up about reducing environmental impact and giving back to the communities where we live and work. This year, Caesars Windsor took the eco-friendly cake, with Harrah's Ak-Chin in second place. It was too hard to pick a third place winner, so we awarded a tie to three locations in both Las Vegas and in Atlantic City!
First Place: Caesars Windsor
Clad in CodeGreen hockey jerseys, Caesars Windsor team members built team member and guest participation with CodeGreen activities. From collecting clothing to be donated to Goodwill, to gathering batteries, glasses and e-waste at properties, they made an impact while educating people on just how many household items should be recycled. Thanks to their efforts, more than 2,100 new trees were planted in the Windsor community and 1,500 Clean the World Hygiene kits filled with soap, shampoo and conditioner delivered to local shelters. Caesars Windsor's work was so recognized that the media covered their efforts 20 times in a mere six weeks!
Caesars Windsor sweetened the deal for guests with giveaways, including three hybrid cars and CAD $30,000 (USD $22,300), plus double Total Reward credits for guests who opt in to the location's CodeGreen hotel rooms.
Second Place: Harrah's Ak-Chin
Harrah's Ak-Chin secured its third consecutive CodeGreen Challenge win with another year of stellar participation: Two-thirds of team members took part in some kind of CodeGreen activity during the Challenge! One of the location's big projects was ensuring that a planned demolition of a bingo hall didn't create waste – team members ensured the donation of tables and chairs to the local Ak-Chin tribe, recycling in total more than 51,000 pounds of items.
On Earth Day, Harrah's Ak-Chin had a special celebration in partnership with the Ak-Chin community, sharing a CodeGreen breakfast and educating people on all things green, from wildlife preservation to sustainable artwork. They took first place in the booth contest, drawing attendees in with their bicycle powered slot machine.
Tied for Third: Las Vegas Locations (Flamingo, Cromwell, LINQ)
Flamingo, Cromwell and LINQ worked together to host sustainability activities that touched thousands of guests and team members in the Las Vegas region. They supported two nonprofit partners – National Park Trust and Clean the World – by leading more than 100 elementary school students on an outdoor discovery adventure at the Red Rock Canyon National Conservation Area and setting up soap sorting days at the Clean the World recycling center. These locations also hosted the inaugural "Recycled Fashion Show" at the LINQ promenade, where our team members strutted across the runway in outfits made from upcycled materials.
Tied for Third: Atlantic City Locations (Caesars, Harrah's, Bally's)
Atlantic City leveraged Earth Month excitement to promote Meetings for Good, a menu of volunteer opportunities for our meetings and conventions clients. There were five groups that built in a Meetings for Good volunteer activity, supporting United Way, Humane Society, Clean the World and Salvation Army.
The three locations also hosted clean-ups, an Earth Day festival, participated in National Walking Day and much more. Plus, it was a special treat to see Hamiyd Washington, HR Trainer, dress up as Buddy Bison for local schools as part of the National Park Trust's environmental education program!
Thanks to all Caesars Entertainment locations who participated in the CodeGreen Challenge this year!