We know that healthy competition often brings out the best in our team members. To find out which Caesars Entertainment location is the greenest of CodeGreen, 19 properties competitively reduced, reused and raised awareness around environmentalism during our annual CodeGreen Day challenge.
The competition incorporates raising engagement and enthusiasm around conservation while supporting individual properties' CodeGreen goals for the year. Grand prizes, starting at $3,000, are awarded to the top three performers to put towards their CodeGreen initiatives.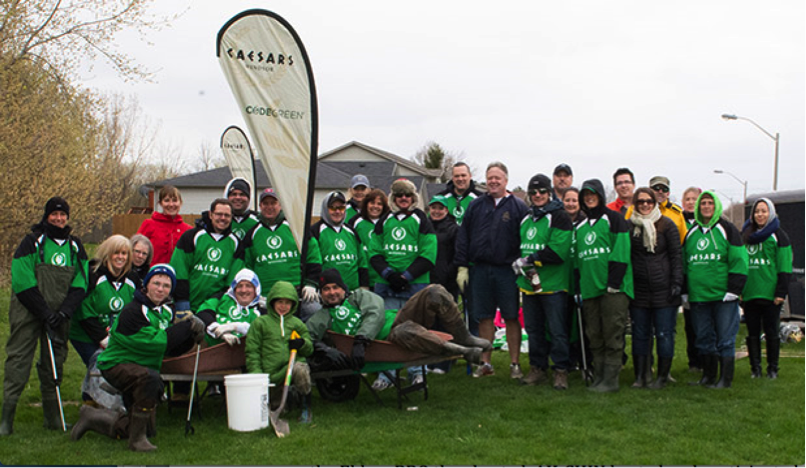 Caesars Windsor's green programs took them from last year's second place to this year's top spot as the grand prize winner of $3,000. Their CodeGreen message was everywhere during their Earth Hour participation, hosting a CodeGreen Education Week and a "light-saver" selfie contest while spreading the world to all the property's computers with a CodeGreen desktop. Caesars Windsor added Canadian flavor to their activities as they wore CodeGreen Hockey jerseys during community activities. These jerseys got plenty of wear as the CodeGreen team flaunted them at over half a dozen events from multiple community cleanups to a hygiene kit making event for Clean the World.
Harrah's Ak-Chin was this year's second place winner of $2,000. Ak-Chin immediately grabbed over 2,000 guests' attention with an enticing electric vehicle give-away that generated over 350,000 entries. Additionally, CodeGreen was tied into Senior Appreciation Month activities by gifting over 50 seniors with CodeGreen gift bags at their Elders BBQ. Employees rallied behind a community trash pick-up day and the Adopt-A Highway cleanup event while also bringing in recyclables for the chance to win daily prizes. Team members also raised money for the Recycling Association of Maricopa by purchasing jean freedom for a day in the office.
Horseshoe Cleveland was the third place winner and awarded $1,000. Through Grind2Energy, an organic waste recycling system, Horseshoe Cleveland has increased their waste diversion rate by 90%. Employee participation in CodeGreen initiatives has grown as team members and buffet servers now separate their food waste from all non-food waste. Achieving their monthly goal of recycling 500lbs of textiles from Planet Aid partners was another big feat for Horseshoe Cleveland.
Our CodeGreen Day challenge and year-round efforts ensure that we are living up to our promise to be responsible stewards of the environment. The spirit of enthusiasm, ownership, and empowerment shown by all the participating teams represents the heart of CodeGreen and continues to serve as a great source of pride for the company.