Each year, our HERO Stars Grand Prize celebrates Caesars Entertainment's top three HERO Star volunteers. Past winners were awarded trips to Baltimore and Atlantic City to lead largescale volunteer activities, but this year we're keeping festivities local so winners can celebrate with their coworkers, family and friends. As a bonus, winners get to lead a local volunteer activity with support from the Caesars Entertainment corporate team.
We're excited to announce 2017's top HERO Stars: Earnestine Richard, Dianna Lerma and Harrah's Resort Southern California's dynamic duo, Bryon Nuttall and Jerrod Phillips!
Ernestine Richards, Casino Services Cashier, HORSESHOE TUNICA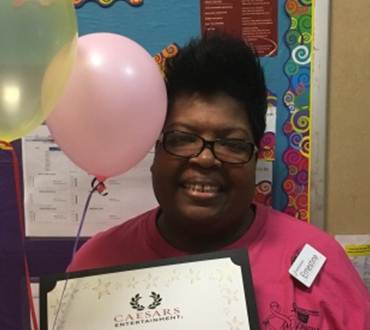 Over the past year, Ernestine has shown incredible dedication to the American Cancer Society Harrah's Hope Lodge in Memphis, which provides free lodging and a warm, home-like atmosphere to cancer patients undergoing treatment.
Ernestine participates in regular Game Nights and Dinner Nights at the Hope Lodge, chatting with residents, serving dinner and playing bingo. The Hope Lodge's manager greatly appreciates Ernestine's kind dedication, saying that residents ask for her by name, hoping she'll be joining them for dinner or bingo. Ernestine certainly is committed, having not missed a Game Night or Dinner Night since last January. In total, she's volunteered a total of 71 hours, serving as a friendly presence to 240 cancer patients at a difficult time in their lives.
Dianna Lerma, Table Games Supervisor, HARRAH'S JOLIET CASINO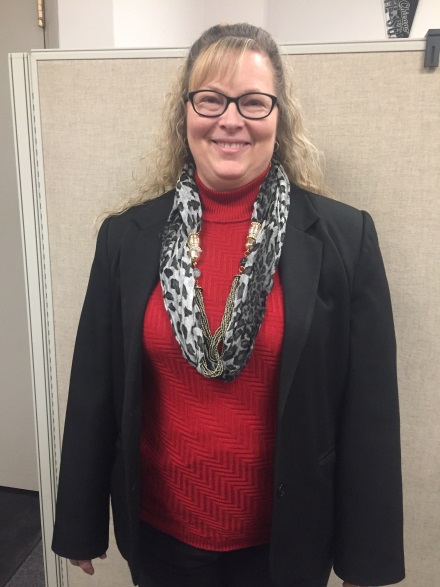 Dianna is known by guests and colleagues alike as the face of the Joliet Relay for Life, for which the community of Joliet rallies to support local agencies that provide care to people facing cancer. Dianna is proud to lead her colleagues in supporting cancer survivors, including financial support for treatment, wigs, rides and assistance for caregivers. Involved with the organization for more than five years, Dianna raised a whopping $12,500 in 2016 alone. Dianna also supports other community needs, including local Vietnam Veterans organizations and leukemia and lymphoma awareness.
Bryon Nuttall, Planning and Analysis Manager & Jerrod Phillips, Business & Process Improvement Manager,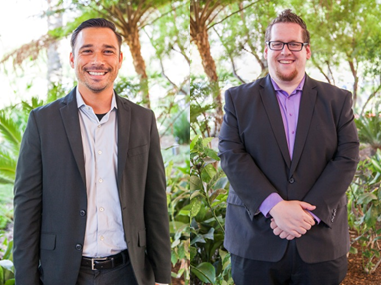 For the second year in a row, Jerrod and Bryon led the charge for a local Soup and Beans Drive, helping Harrah's Resort Southern California regain the top spot in the citywide competition. Between them, they brought in more than 600 cans of soup and beans, doing more than their share to ensure that 900 seniors in San Diego County would not go hungry. Jerrod also helped to pack thousands of cans for distribution.
Both Jerrod and Bryon have taken part in a number of volunteer activities over the past year, including our HERO Blood Drives, the Bowling for Equality event benefiting the Human Rights Campaign and our Giving Tuesday activities, such as the Oceanside Beach Clean-Up.