For some, March 14 is just another day on the calendar but for others, it is a day to recite the infinite digits of Pi, learn about its history and of course, enjoy delicious pie. Whether you are a math enthusiast or simply a pie lover needing an excuse to indulge, Caesars Entertainment chefs from around the world shared their gourmet pie recipes to help you celebrate with decadence.
Melton Mowbray pork pie:
From across the Pond, Head Chef at Alea Casino Nottingham, Mark Astbury shared a recipe for this classic British pie at home:
Ingredients for the Filling:
800 grams pork shoulder, minced or finely chopped
400 grams pork belly, half minced and half chopped
250 grams smoked bacon, cubed
½ teaspoon ground mace
2 large pinches ground nutmeg
1 tablespoon fresh chopped sage
1 teaspoon fresh chopped thyme
½ teaspoon salt
1 teaspoon ground white pepper
For the pastry crust:
575 grams plain flour
200 grams lard
220 millilitres water
1 egg beaten
6 gelatine leaves
300 millilitres chicken stock
Directions:
Heat the oven to 180ºC or approximately 350ºF for fan, or 160ºC or approximately 320ºF for gas ovens.
In a large bowl, mix together all the ingredients for the filling.
To make the pastry, put the flour in a large bowl, then put the lard and water into a small pan and heat gently until the lard melts. Bring to a boil then stir into the flour using a wooden spoon. When the mixture is cool enough to handle, (it should still feel very warm) knead well until smooth.
Cut off 1/4 of the dough, wrap in cling film and reserve for the lid. Roll out the remaining dough into a circle and then place it in the base of a non-stick 20-centimeter springform cake tin. Working quickly while the dough is warm and pliable, press the dough evenly over the base and up the sides of the tin. Make sure there are no holes.
Fill with the meat mixture and pack down well. Roll out the dough for the lid. Place on top of the pie. Pinch all around the edge to seal the pie. Make a hole for steam in the center, using the handle of a wooden spoon.
Cook in the oven for 30 mins then reduce the heat to 160ºC or about 320ºF for fan ovens, or 140ºC or 284ºF for gas ovens and cook for 90 minutes. Brush the top with a beaten egg and return to the oven for a further 20 mins. Leave until cold.Soak the gelatine in cold water for about 5 minutes, then remove and squeeze out the excess water. Heat the stock until almost boiling. Remove from the heat and stir in the gelatine. Leave to cool to room temperature.
Use a small funnel to pour the stock into the pie through the hole in the top. Pour in a little at a time allowing a few seconds before each addition. Place in the fridge to set overnight.
Crab pie:
Craving seafood? Try out this delicious recipe from Harrah's New Orleans Executive Room Chef Jason Routzahn:
Ingredients (makes two pies):
2 - 9″ deep pie crusts
1-pound lump crab meat
4 eggs
2 tablespoons flour
1 cup mayonnaise
1 cup whole milk
8 ounces shredded Swiss cheese
8 ounces shredded Cheddar cheese
2 teaspoons seafood or Creole seasoning
1 tablespoon finely chopped onion
1 tablespoon finely chopped green pepper
Directions:
Preheat oven to 350ºF. Bake your crust for 3 minutes and let it cool.
Combine eggs, flour, mayonnaise, and milk, mix well. Add cheese, 1 teaspoon seafood or Creole seasoning, onion, and pepper, mix well.
Fold in crab meat and try not to separate the lumps of crab meat too much.
Pour into 2 separate pie crusts, sprinkle with additional seafood or Creole seasoning.
Bake at 350ºF for 50 minutes or until knife comes out clean. (Tip: Check pies at about 40 minutes to avoid burning, since ovens vary).
Key Lime pie:
Now that you have a couple of salty pies to try, you will want something sweet to finish off your Pi Day.
If you love Key Lime Pie, then Harrah's Philadelphia Sous Chef Salah Eddine Ben Attou's recipe is perfect for you.
Here is how you can make this pie with a Blueberry Compote: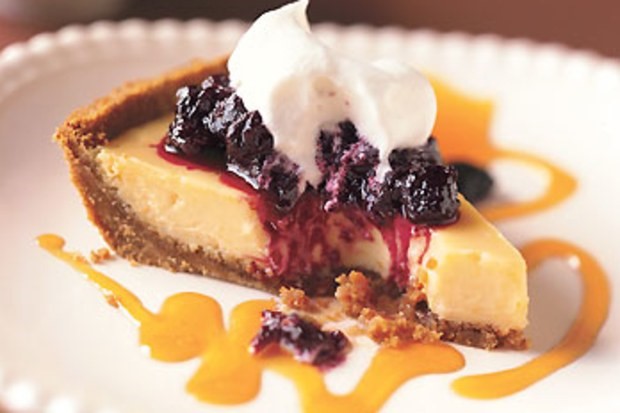 Ingredients for the crust:
1/3 of a 1-pound box of graham crackers
5 tablespoons melted unsalted butter
1/3 cup sugar
Ingredients for the filling:
4 egg yolks
2 teaspoons lime zest
1 (14-ounce) can sweetened condensed milk
2/3 cup freshly squeezed key lime juice or store-bought juice
Ingredients for the topping:
1 cup heavy or whipping cream chilled
3 tablespoons granulated sugar
Ingredients for the compote:
2 cups frozen blueberries
3 tablespoons water
¼ cup sugar
2 teaspoons lemon juice
4 pieces of cloves
2 teaspoons slurry
Directions:
For the graham cracker crust, preheat the oven to 350ºF.
Break up the graham crackers, place in a food processor and process to crumbs. If you don't have a food processor, place the crackers in a large plastic bag; seal and then crush the crackers with a rolling pin. Add the melted butter and sugar and pulse or stir until combined. Press the mixture into the bottom and side of a pie pan, forming a neat border around the edge. Bake the crust until set and golden, about 8 minutes. Set aside on a wire rack and leave the oven on.
For the filling, in an electric mixer with the wire whisk attachment, beat the egg yolks and lime zest at high speed until very fluffy, about 5 minutes. Gradually add the condensed milk and continue to beat until thick, 3 or 4 minutes longer. Lower the mixer speed and slowly add the lime juice, mixing just until combined, no longer.
Pour the mixture into the crust. Bake it for 1 hour and 15 minutes at 300ºF in a bain-marie, or until the filling has just set.
Cool on a wire rack, then refrigerate for 3 hours before serving.
For the compote, combine 1 cup of the blueberries, water, sugar and lemon juice in a small saucepan. Cook over medium heat for about 10 minutes. Add the rest of the blueberries and cook for 8 additional minutes, stirring frequently. Serve the compote warm.
For the topping, whip the cream and the granulated sugar until it is nearly stiff. Cut the pie into wedges and serve very cold, topping each wedge with a large dollop of whipped cream.
Pumpkin pie:
Have a craving for a sweet treat from Lake Tahoe, but you're waiting on your next trip?
Look no further than this recipe from Harrah's/Harvey's Lake Tahoe Pastry Chef Guido Landolt.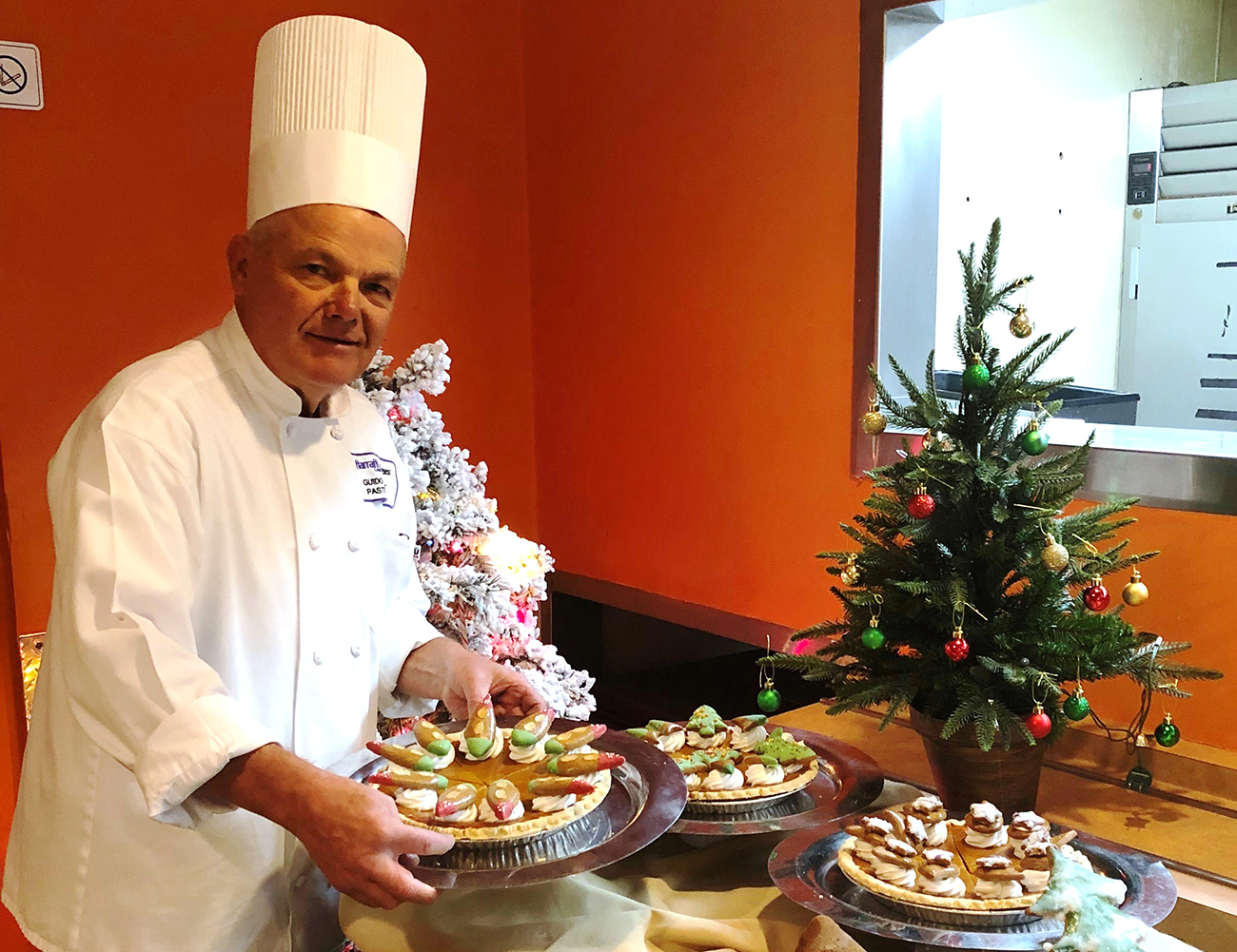 Ingredients:
Pie Shell
3 eggs
3 ounces sugar
3 ounces corn syrup
Pinch of Salt
Pinch of Vanilla
1 ½ cup warm milk
1 ½ ounce bread flour
¾ cup heavy cream
3 cups pumpkin puree
2 pinches of pumpkin spice
Directions:
Preheat oven to 375ºF.
Brush frozen pie shell with egg white to extend shelf life.
Beat eggs sugar salt, vanilla, pumpkin spice.
Mix in warm milk and pumpkin puree and fill into prepped pie shells.
Bake in a deck oven for approximately 1 hour or until done. Make sure the pie surface is dry to the touch
Let the pie cool off.
Pipe whip cream along the edge of the pie.
Dust lightly with pumpkin spice.
Slice and enjoy!
Peruvian meringue pie:
Here is a must-try pie from Caesars Buffet Outlet Chef Sergio Zevallos.
The "Suspiro Limeño" or Peruvian meringue pie is a crust-less treat.
The slow cooking process produces a golden, silky-smooth caramel base.
It is topped with a light and creamy liqueur meringue and is usually accompanied by fresh berries or citrus syrups.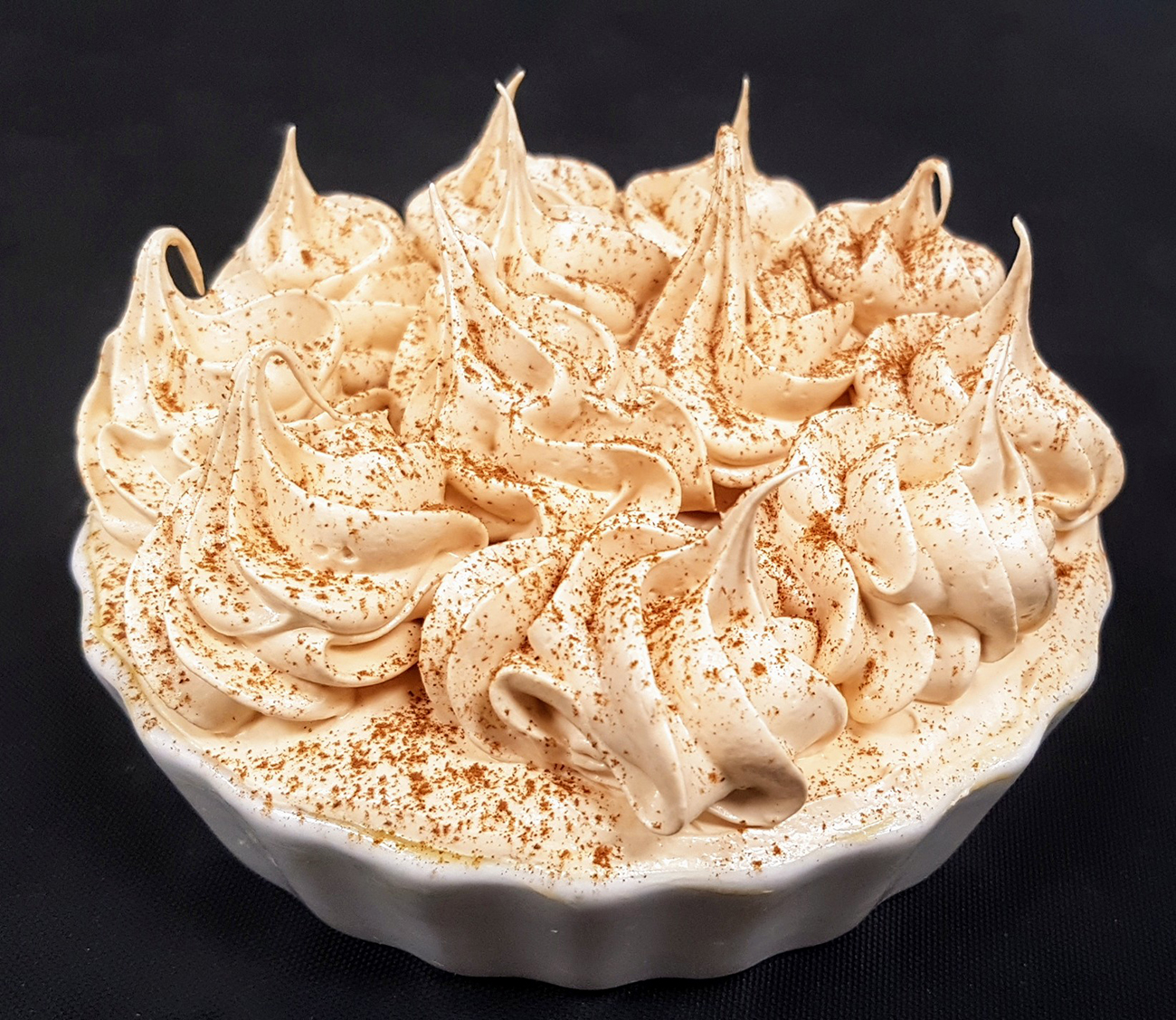 Here is how you can make this at home:
Ingredients:
3 cups evaporated milk
3 ¼ cups sweetened condensed milk
6 eggs (whites and yolks separated)
2 cups sugar
½ cup Port wine
4 tablespoons water
1 tablespoon ground cinnamon
Directions:
With a stainless-steel whisk, beat the egg yolks in a mixing bowl until light and airy, and set aside.
Bring evaporated milk to a boil. Temper yolks by mixing in a couple of tablespoons of hot milk then pour egg-milk mix back into a saucepan and add the sweetened condensed milk.
Cook over low heat, stirring constantly with a wooden spoon until the mixture thickens and turns a light caramel color, roughly 30-40 minutes. Cool completely with the help of an ice bath and set aside.
In another saucepan mix the sugar, Port wine and water. Bring it to a boil over high heat without stirring until it reaches a syrupy texture.
Beat the egg whites at high speed until soft peaks form. Add the hot syrup in a thin and steady stream, beating vigorously until the resulting meringue is cold.
Pour the cooled cooked milk mixture onto a 10" pie plate, spreading evenly.
Place meringue inside a piping bag with a decorative star nozzle and pipe rosettes or peaks to cover the entire surface of the pie. Finish with a dusting of ground cinnamon.
Apple pie:
Who doesn't love apple pie? Try out Caesars Windsor Legends Outlet Chef Joyce Kane's recipe for Sour Cream Apple Pie.
Ingredients for the pie:
1 cup sour cream
1 egg, beaten
¾ cup granulated sugar
¼ cup All-Purpose Flour
1 teaspoon pure vanilla
¼ teaspoon salt
4 cups Empire or Honeycrisp apples (peeled, cored and sliced)
1 unbaked 9" pie shell
Ingredients for the streusel topping:
2/3 cup All-Purpose flour
½ cup ground almonds
½ cup brown sugar
1/3 cup butter
½ teaspoon cinnamon
Directions:
Preheat oven to 375ºF.
Mix sour cream, egg, sugar, flour, vanilla, and salt together in a bowl. Add apples and stir. Turn mixture into the pie shell.
Mix flour, sugar, cinnamon, and butter together until crumbly. Add almonds and scatter evenly over pie.
Bake for approximately 50 minutes on the bottom rack of the oven until the apples are tender and the pie is browned.
Cheesecake:
No Pi Day would be complete without a cheesecake, right? This recipe will be a staple in your kitchen.
Here is how you can make The Steakhouse at Harrah New Orleans Executive Chef Chris Lusk's White Chocolate Cheesecake:
Ingredients:
6 ounces cream cheese softened
4 egg yolks
2 tablespoons plain yogurt
1 tablespoon lime juice
¼ cup sugar
½ cup sweetened condensed milk
6 ounces white chocolate chips
½ tablespoon vanilla extract
1 - 9-ounce graham cracker pie crust
Directions:
Preheat oven to 275ºF.
Combine all ingredients, except crust, thoroughly in a mixer.
Pour mixture in the crust and bake for approximately 45 minutes (or until mixture has set).
Cool, slice and enjoy!