Distributing Hygiene Kits
The Clean the World hygiene kits are ready to be distributed to people at local domestic violence shelters partnered with Caesars' locations Horseshoe Hammond and Harrah's Joliet. The 1,500 youth and adult hygiene kits are to be split evenly among three organizations: St. Joseph's Carmelite Home, Haven House and Guardian Angel Community Services. The kits are made possible by a grant from the Caesars Foundation.
The St. Joseph's Carmelite Home in East Chicago, Indiana is open to children in crisis from birth to age 18. The home currently houses nearly a hundred individuals who receive beds, meals and a motivational structure that ensures schooling is completed. Children filled the auditorium and played along as CTW's Super Soap and Super Water fought off "evil germs," eagerly answering trivia questions about hygiene. The children and their mothers expressed heartfelt appreciation upon receiving their hygiene kits.
Haven House, Inc., located in Hammond, Indiana, is a 24-hour emergency shelter for domestic violence survivors and their dependents. The home continuously operates at full capacity so that women and children have a safe place to live and receive counseling while working towards a happier and healthier life. Horseshoe Hammond has worked with Haven House recently, sending its HERO team to create a playground in Haven House's yard and install new carpet and counter tops.
The Guardian Angel Community Services serves children and families, empowering them to improve the quality of their lives. The President of Guardian Angel, Ines Kutlesa, met the group at Harrah's Joliet to share how the hygiene kits will be put to use and how working together will benefit Guardian Angel's clients. The group learned about Harrah's Joliet's partnership with this worthy organization that benefits women, children and elderly who have suffered from abuse by providing safe housing, necessary counseling and much more.
Team Member Perspectives
"It's easy to just focus on what's in front of you at work," shared Genie from Planet Hollywood. "This experience is changing my outlook. It's shifting focus to the bigger picture of the impact made by collecting soap at our properties."
Jason adds that he's going to take a hygiene kit back to Harrah's Metropolis to show the housekeeping department. "I hope to inspire our team to do more to collect products by showing them the result of the hygiene products they collect."
"It's great to be part of our companywide Clean the World effort in another market," shared Amanda Lagunas, CodeGreen leader from the Rio Las Vegas. "The team from Clean the World really engages everyone with hygiene education and up-cycled products from our hotels."
Sarah from Harrah's North Kansas City adds that everyone should participate in a CTW distribution to really understand the impact of collecting soap. "I'm very happy to be part this trip and share in this experience so I can continue to benefit the partnership once back at Harrah's."
_________________________________________________________________
Wednesday, October 26
Clean the World Hygiene Kit Builds and Celebrations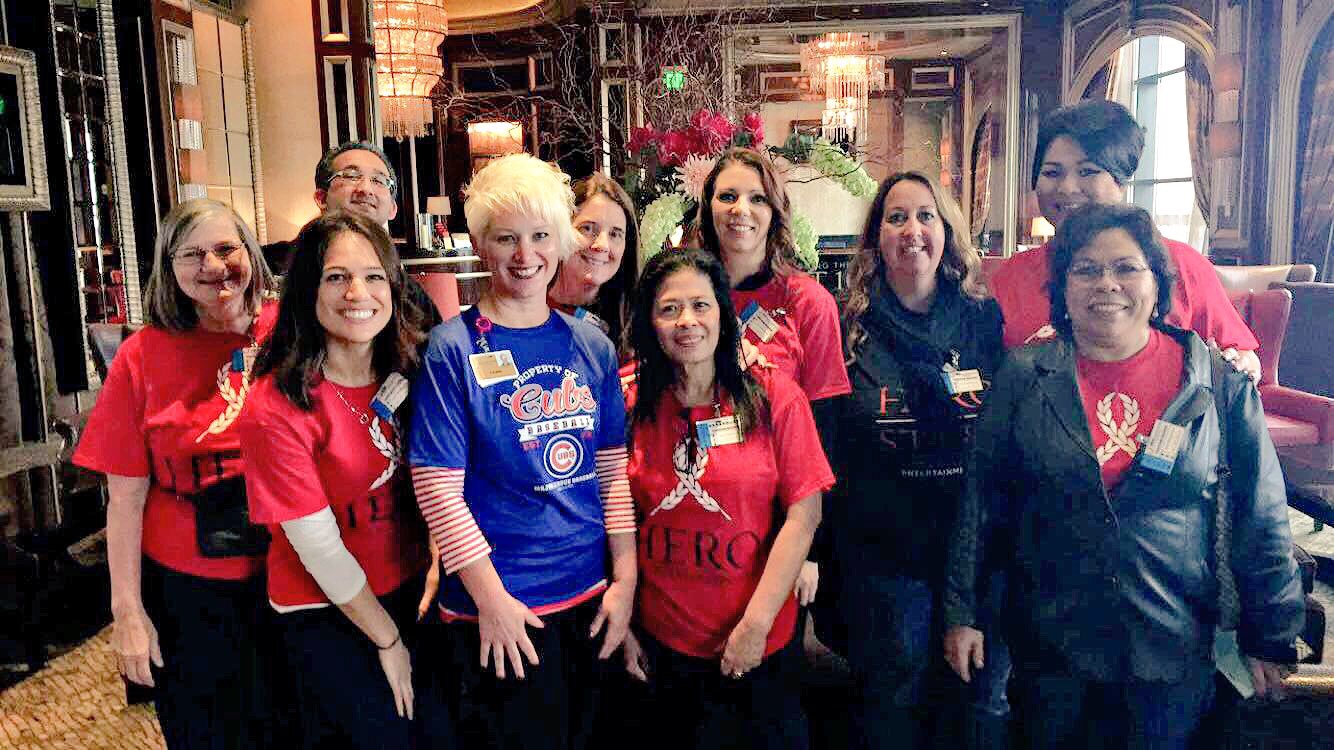 Festivities kicked off with a tour through Horseshoe Hammond's casino floors and back hallways, leading into the hygiene kit assembly area. Here, we joined local Caesars leaders and department representatives to stock the kits with hygiene products like soap and toothpaste. "This is such an important firsthand experience," said Marta de Solorio, Inspector at Bally's Las Vegas, who traveled from Las Vegas to join the team of contest winners in building and distributing kits. Marta continued, "I can now share with my housekeeping team that I've taken the soap they've collected and included it in hygiene kits to benefit others."
The contest winners, local HEROs and CodeGreen team members and leadership lined the table and started stuffing bags with important hygiene products. Regional Vice President and General Manager of Horseshoe Hammond and Caesars Foundation Trustee, Dan Nita, joined the group as we formed assembly lines to stuff adult and youth kits with hygiene products and notes of encouragement, amounting to 1,000 hygiene kits in all. "It's great to have all these team members from around the country coming together to build these hygiene kits to support our local community," shared Dan Nita.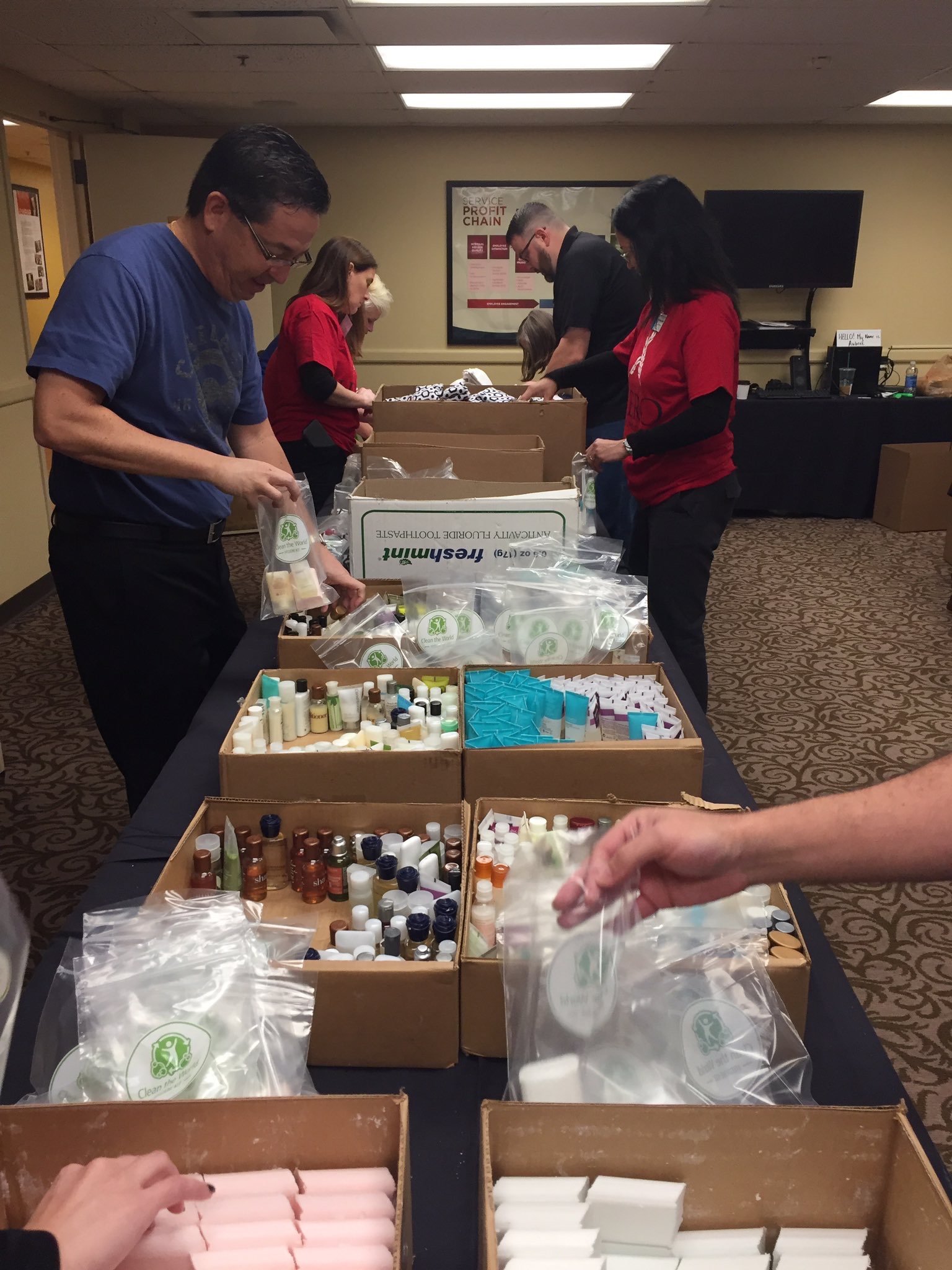 After putting the kits together, in true Caesars Entertainment style we wasted no time before celebrating the partnership and this year's exceptional contest winners. Regional Vice President of Human Resources at Horseshoe Hammond, Dawn Reynolds, welcomed all attending the lunch, "We're each here today because of an individual connection to Caesars Code of Commitment." Dawn continued, "Caesars has made great strides in Citizenship programs like Clean the World that has deepened our resolve to the Code of Commitment." Applause and smiles filled the Lakeview room, which looks over beautiful Lake Michigan, as each of the winners were recognized for their outstanding work and why they were selected for the distribution trip.
The lunch left everyone with a great appreciation of the partnership with CTW and the beneficial impact we're making by collecting and donating soap. Horseshoe Hammond HERO Co-Chair, Stephanie Romano, closed lunch with sharing the importance of connecting and contributing back to the local community. "It is important to build a connection and serve the community where our team members live and work." Stephanie continued, "It's been an honor to host this year's CTW celebration and distribution."
_________________________________________________________________
Monday, October 24
Caesars Launches Clean the World's New Youth Hygiene Kits to Serve Chicago Area
Team Member-Driven Leadership
Our housekeeping team members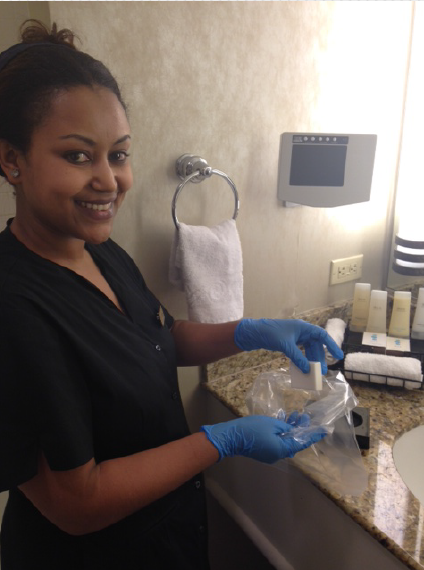 are the driving force behind our Clean the World (CTW) partnership. In fact, it began out of their concern over the growing amount of waste from half-used bars of soap. The housekeepers drive the daily soap collections happening across our locations, motivating their colleagues with their passion (and friendly reminders!).
To reward team members for their hard work and drive greater impact, we throw an annual contest in which they're nominated by colleagues and managers to win a trip to distribute soap to those in need.
Closer to Home: Soap Distribution Where We Live & Work
While employees participating in past distribution trips loved seeing how communities abroad benefited from their hard work, they wanted to help people closer to home, too. Caesars has long supported and served the communities where we live and work, so this year we're trying a different approach to soap distribution.
Through a partnership with CTW's ONE Project, which distributes hygiene kits in North America, guests and team members are assembling hygiene kits that include items like soap, toothpaste and a toothbrush. This year's distribution trip will launch CTW's new youth hygiene kit that has specialty hygiene products for children. It's our hope that they make life a little more comfortable for adults and children in difficult situations.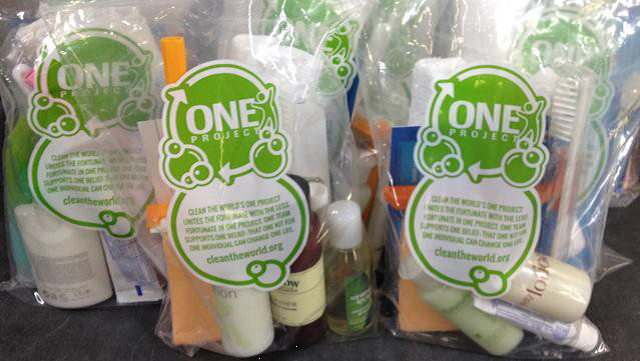 Our contest winners will work with our Horseshoe Hammond and Harrah's Joliet locations to deliver 1,500 hygiene kits (900 for adults and 600 for children) to domestic violence survivors and people facing homelessness. Team members will be around the Chicagoland area: in East Chicago, Indiana at the St. Joseph's Carmelite Home, at Haven House in Hammond, Indiana and supporting Guardian Angel Community Services in Joliet, Illinois.
Contest Winners
Here's a bit more on this year's six winning employees! We chose them from a nomination pool of entries across our North American properties of dedicated Clean the World supporters in housekeeping and facilities, passionate advocates for CodeGreen and employees who show an outstanding dedication to our Citizenship efforts in general.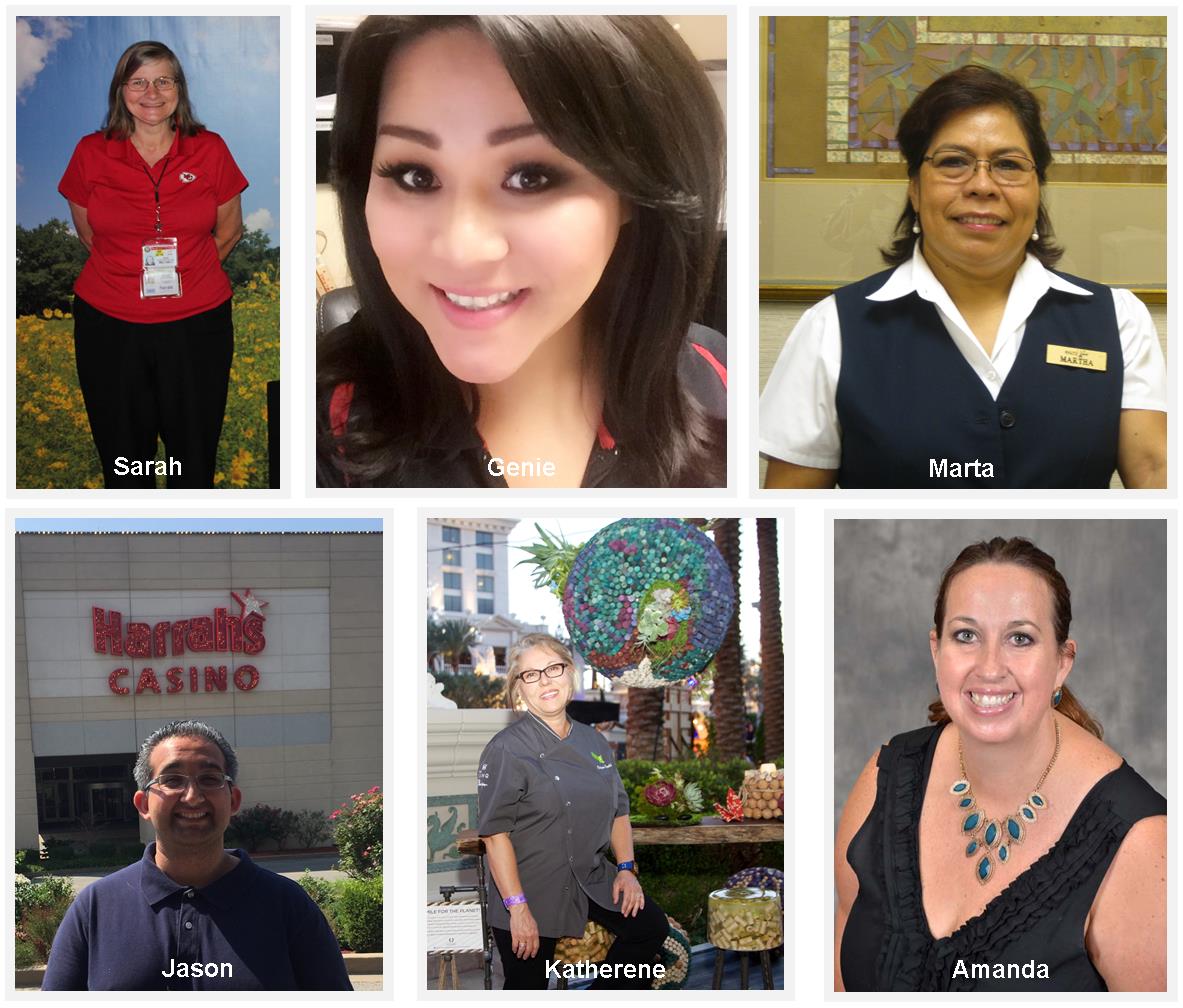 Marta de Solorio, Inspector, Bally's Las Vegas
A housekeeping inspector at Bally's Las Vegas for 19 years, Marta goes above and beyond to make sure that all housekeeping employees are gathering soaps from rooms. When she's not at work, Marta promotes Clean the World's work to her family and friends as a good way to help people facing poverty.
Jason Gonzalez, Housekeeping, Harrah's Metropolis
Jason is also a strong advocate for the Clean the World program among his colleagues – and he takes care of the important step that comes after collection: making sure that soaps are properly packaged and labeled for shipping.
Genie Hattig, Housekeeping Warehouse Manager, Planet Hollywood
Nominated for her overall commitment to CodeGreen, especially managing in-room recycling and facilitating our audits for Green Key, an environmental certification, Genie is also dedicated to Clean the World. She manages housekeeping teams in charge of collecting soap/shampoo from guest rooms.
Katherene Brookshire, Specialty Room Chef, Flamingo
Katherene is the food and beverage leader for her property and has led a number of sustainability projects, including creating an employee garden and making creative use of wine corks by designing a sculpture for the Bon Appétit Uncork'd event at Caesars Palace.
Amanda Lagunas, Wardrobe Manager, Rio
Amanda is the Rio's CodeGreen Leader, driving employee participation in the program to achieve a 300% increase in involvement. As the recipient of the 2016 Caesars Award of Excellence in the integrity category, Amanda is a true advocate for CodeGreen, organizing everything from food drives to helping a local school district reduce its water usage.
Sarah Grinstead, Cleaner, Harrah's North Kansas City
Whether at work in housekeeping or at home, Sarah is dedicated to reducing, reusing and recycling. She's creative, too, partnering with her sister to weave mats for the homeless from plastic grocery bags. Sarah also participates in many HERO activities – and volunteers for Habitat for Humanity on her own time.
Stay Tuned…
…to learn about team member experiences distributing hygiene kits in the Chicagoland area!
_________________________________________________________________
Friday, October 21
Flashback: Caesars Working to Clean the World
The passion that ignites the Clean the World (CTW) program has spread across Caesars since we began working with the nonprofit six years ago. We're proud to support CTW's mission to fight bacterial diseases while diverting hotel soap and hygiene product waste from landfills. Since 2010, Caesars and the Caesars Foundation have gifted $3 million to the organization in financial contributions, pounds of soap and volunteer hours. These gifts have contributed to the building of the Las Vegas CTW soap recycling center, the ability for team members and guests to assemble essential hygiene kits, and multiple international soap distribution trips.
Caesars Foundation's 1 million in grants to CTW helped build CTW's Las Vegas recycling center, the nonprofit's largest yet, helping to divert even more hygiene product waste from landfill. Our support of the recycling center and integration of soap collection practices in all housekeeping departments has resulted in Caesars donating nearly 2 million bars of soap to date. Over time, our support of CTW has expanded to include distribution of hygiene kits at Caesars volunteer events supporting the homeless. We've also created CTW hygiene kit building events as part of our of community service opportunities for our Meetings & Conventions clients and guests.
Excitement for the environmental and community components of the CTW program reaches an all-time high each year during the annual employee distribution trip. Last year, the three winners of the 2015 CTW Distribution Trip traveled to Las Vegas for a celebration of the program and then to Guatemala where they distributed soap to 1,000 families in Guatemala. Yader El-Azar, food server from Paris Las Vegas, shared his takeaway from the trip, saying: "hygiene products and education about how to properly use it can make a big impact in these communities by lowering the number of illness and diseases."
Stay tuned for updates from Caesars' biggest and best distribution trip yet – it's coming up next week!