Karyn Steenkamp's life almost took a different turn, but during her senior year of high school, she discovered her passion.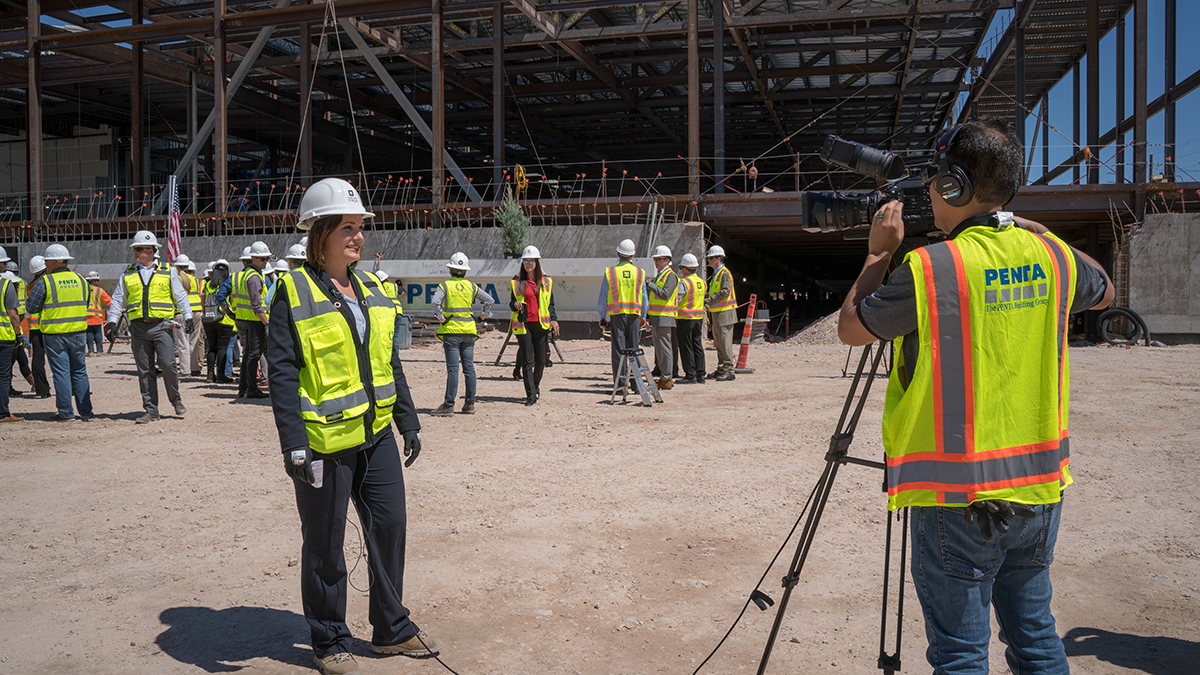 Karyn Steenkamp answers interview question during the topping off ceremony at CAESARS FORUM.
"Growing up my father owned an excavating company, so I was always around some form of construction, but I went through school thinking I was going to go into the medical world," said Steenkamp. "I was taking anatomy & physiology classes and ultimately decided it wasn't for me."
Steenkamp graduated from the University at Buffalo with a Bachelor of Science in Civil Engineering.
Fresh out of college, Steenkamp received a job offer as a construction manager.
"The company wouldn't budge on the pay so that I could be compensated the same as my male counterparts," said Steenkamp. "So, I turned it down."
Steenkamp accepted a position as a structural engineer in Rochester, New York. In 2005, she received the opportunity to interview with Harrah's Entertainment, which is now Caesars Entertainment.
At first, she said she thought she wouldn't accept a position in Las Vegas, but landed her next role as project manager of design and construction. She was eventually promoted to director and launched the rebranding from The Quad to The LINQ Hotel + Experience.
"The opportunity to be vice president presented itself, and I didn't think I was ready, but my boss believed in me," she said.
Steenkamp is now the vice president of design and construction for Caesars Entertainment.
After leading the construction and design of The LINQ Hotel, Steenkamp now oversees the Design & Construction team that manages projects across the country including CAESARS FORUM, Horseshoe Southern Indiana, and coordinating the buildout of the ESPN studio at The LINQ.
[RELATED: WORLD'S LARGEST PILLARLESS BALLROOMS HIT ANOTHER CONSTRUCTION MILESTONE]
Steenkamp maintains a busy schedule but she said she always keeps an open door policy with her team.
"I have a lot of meetings. I typically start my day out looking for any urgent emails or calls, especially from the East Coast. I'll plan the rest of my day around meetings on my schedule," she said. "I tend to live with an open door policy and I am quick to correct any negative conversations. I allow anyone who needs to talk to me throughout the day in my office."
Along with her policy, Steenkamp also puts full trust in her team.
"I trust my team to stay on deadlines and get their work done," she said. This allows her to focus on each project developing throughout the enterprise.
"The design team tends to be involved early on in the process of planning a new project," she explained. "For example, when we started to look at what is now The LINQ, we wanted a brand that catered to millennials. Las Vegas has changed from gaming to experiential."
For a project such as The LINQ, Steenkamp said her team focused on how they can use the existing structure to create something new.
"In design and construction, we focus on getting the best value for our dollar," said Steenkamp. "Every decision we make is a group decision."
From looking at bids to hiring new staff on her team, Steenkamp takes a diverse approach in everything she does.
[RELATED: CASINOS MOVE PAST COMPETITION FOR THE SHADE TREE]
"People have told me I have a style at work. I never looked at my title as something that holds me back. I felt comfortable going to a board room and raising my hand. At the end of the day, we are making a decision together," she said. "Leaders come in all shapes and sizes. Part of being a leader is listening."