As soon as she is off the clock, April Stovall, surveillance and facilities manager at Harrah's Ak-Chin, straps on her skates and hits the rink.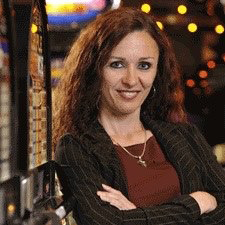 Photo Courtesy: Harrah's Ak-Chin
No, we are not talking about an ice skating rink but a roller derby rink. Stovall who goes by her alter-ego, April May Dismember, spends her free time with the ladies of the Casa Grande Roller Derby's Big House Bombers.
"I was trying to think of a name that incorporated my name, strength and had a play on the month," Stovall explained. "My number is 777 since I work at a casino it was fitting."
Skating has always been on Stovall's bucket list.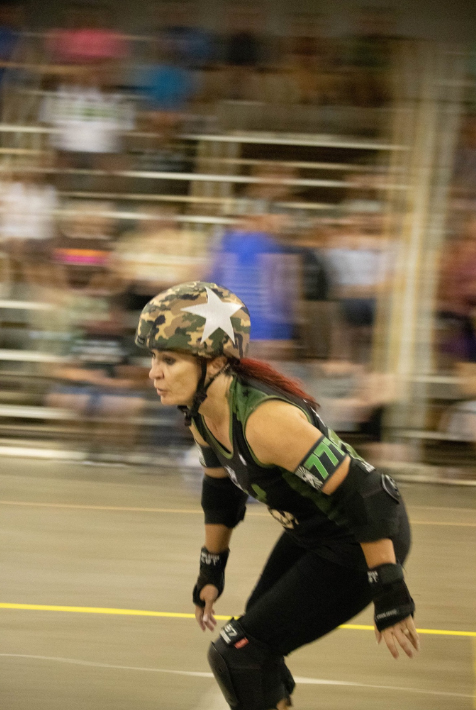 Photo courtesy: CGRD
"I skated in elementary school, and several years later, I sat down one day and Googled 'derby Arizona," she said. "They teach you everything, how to skate properly, the do's and dont's of the league."
Her time with the roller derby league is more than a sport.
"It is a camaraderie with my teammates," said Stovall. "Roller derby has been the hardest, most empowering thing I have done in my entire life."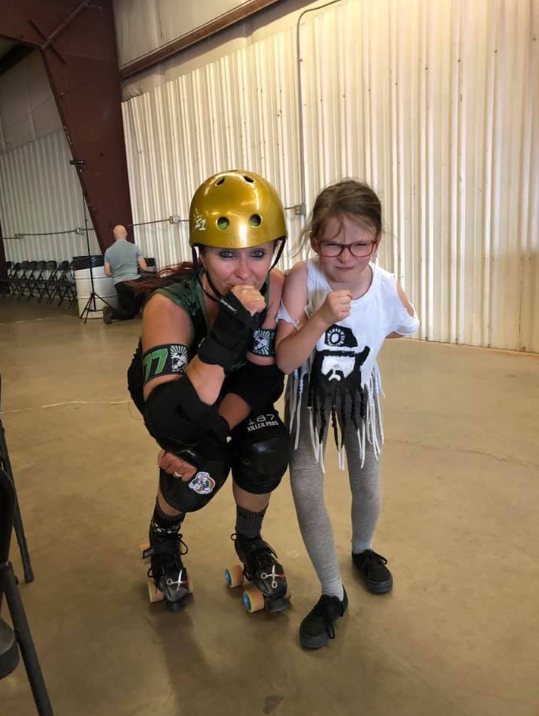 Photo courtesy of Linda Tawney Studios (Photo of April Stovall and Future step daughter and fan Chloe Tawney)
Stovall joins women from all walks of life. "The women are so diverse. You have lawyers, police officers, stay-at-home moms, women who have been homeless, and librarians," she said.
Despite where they came from, the women get together to skate and give back.
Stovall, who is the Code Green chair for her property, takes what she has learned about service to help the women of her league provide community outreach.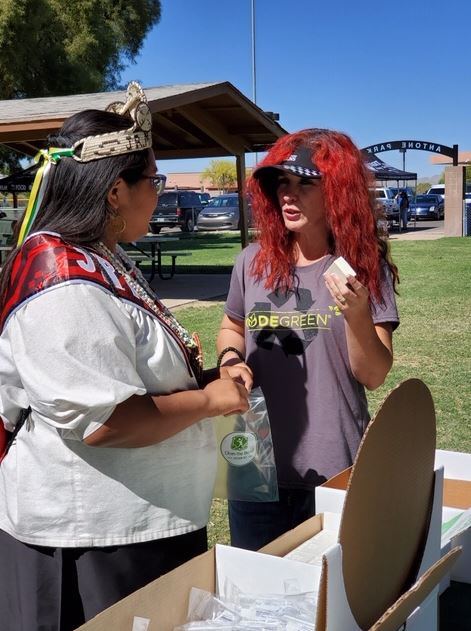 Photo of April Stovall with Junior Miss Ak-Chin making a Clean the World Hygiene kit for veterans in need at Earth Day Event.
"The mission of the Casa Grande Roller Derby is 'empowering local women through roller derby, serving the community as a team,'" she said.
The women have held donation drives to give blankets and serve lunch at a local park to the homeless, and they have spent time with the elderly in the community. The community service doesn't stop at the league for Stovall.
"My coworkers are so supportive of my endeavors. They come to my bouts and have even donated their time," she said. "The lights were out at the roller derby facility, and we needed someone who had electrical experience. So, one of the Harrah's Ak-Chin electricians donated his time to fix it."
Even after suffering a number of injuries on the rink, Stovall said she wouldn't have it any other way.
"Anyone who knows me knows there is not a day that goes by where I don't talk about roller derby," she said. "It is good for my soul."