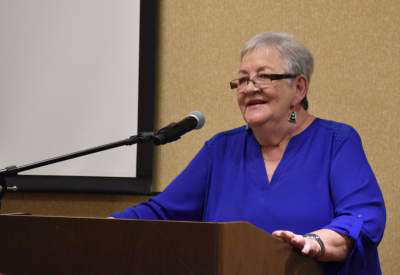 Joyce Dugan speaks at the inaugural Savvy event.
After she was hired at Harrah's Cherokee Casinos in 2001 by Joyce Dugan, the first and only Principal Chief for the Eastern Band of Cherokee Indians, Leeann Bridges was pleased to have her as the first speaker for the inaugural Savvy event for the properties.
Savvy is a Business Impact Group represented at Caesars Entertainment properties. Savvy is a resource for the professional development of women within the workplace, as well as male 'allies.' The goal for Savvy at Harrah's Cherokee Casinos is to have a 50/50 representation of gender equity across management at the properties.
Bridges, who serves as the Vice President of Human Resources at both Harrah's Cherokee properties, was hired by Dugan 18 years ago.
"She is a strong lady and great role model," said Bridges.
While speaking at the event, Bridges said Dugan shared her journey from becoming a teacher's aide to Principal Chief to the Director of Community and Government Relations at Harrah's Cherokee.
"She has had a diverse career path, had challenges along the way, yet persevered," said Bridges. "I didn't realize that Joyce had never run for the tribal government until she ran for Principal Chief. Having a better understanding of tribal politics today totally puts this in a new perspective for me. This was a significant achievement and certainly moved our tribe ahead. Joyce's integrity, experience, and work ethic paved the way for her being elected and successfully holding that office."
Dugan's speech encouraged women to step up and showed there is no barrier they can't knock down. Bridges said Dugan told the women attending the event to raise their hand, be vocal, and remain respectful of everyone.
"She talked about the challenges she faced during her journey, individuals who didn't value her contributions, how she felt inadequate at times and how she rose above the opposition," said Bridges. "It was impactful to hear that she faced and overcame significant barriers."
Even though there were people who tried to discourage her, Dugan shared there were people who pushed her forward.
Bridges said she highlighted people who encouraged her to get a degree, apply for leadership roles in the school system and run for chief.
"She had people who lifted her up and had confidence in her abilities," said Bridges. "All of us have those types of advocates and we need to be open to listening to them."
As an executive sponsor for Savvy, Bridges hopes she can help spread this message.
As a personal goal, Bridges shared she hoped Savvy will become a resource for others in the community - outside of the casino walls.
"I would love for people throughout our region to attend our speaking events, come to our networking receptions and allow us to expand Savvy into other organizations. I want to see our Savvy board have a presence in local schools to talk to young women and help pave the way for their success," said Bridges.
While praising Savvy's presence within the company, Bridges acknowledged professional development of Harrah's Cherokee team members is a top priority.
"Savvy gives a face to real issues women contend within the workplace and is focused on changing mindsets as well as providing solutions," said Bridges. "At the end of the day, our goal is simplistic - to provide a supportive environment where women can be their best."