This past month, Harrah's Laughlin launched its latest waste-diversion initiative, "Reusing Resources," in partnership with the Mohave Accelerated Learning Center (MALC), a local, underserved charter school in Arizona. Through this new program, Harrah's will donate old and no longer needed furniture, supplies and scrap materials to the school, improving the learning experience for many low-income students.
Instead of ending up in a landfill, these materials will be used for art projects, theater sets, wood shop, metal shop, various learning activities and other needs on campus. Furniture will find new life inside waiting rooms, offices, and student and teacher lounges.
According to Harrah's CodeGreen Leader, Nichole Radcliff, Reusing Resources will benefit 600 MALC students from kindergarten to the 12th grade. By participating in this program, Harrah's also hopes to impart the values of recycling, reducing and reusing to the community.
"Why send something through the waste stream if it can be repurposed for a new life?" noted Nichole. "This is what living green is all about!"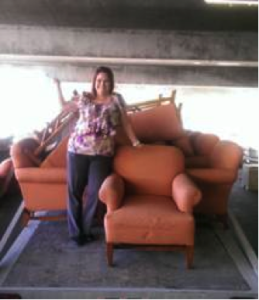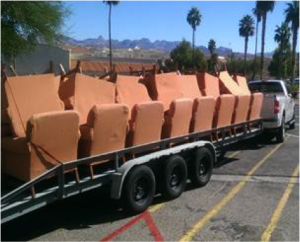 It is through creative recycling programs like Reusing Resources that puts Caesars on track to achieve its property-wide goal to divert 50% of its waste from landfills by 2020. In 2013, Caesars succeeded in diverting 35% of waste, surpassing the short term target for 2014 by 10%!
Harrah's Laughlin was recently recognized for its commitment to corporate citizenship and the strength of its CodeGreen efforts. On October 25th, the casino-resort received a Community Achievement Award for "Green Business of the Year" from the Laughlin Chamber of Commerce—for the third time! We are very proud of the employees of Harrah's Laughlin; their dedication to positively impacting their surrounding communities is inspiring to Caesars' employees across the country.