The bright lights of Las Vegas and metropolitan cities across the country illuminate the night sky 365 days a year demanding more than 4 billion megawatts. As a part of Caesars Entertainment Corporation's CodeGreen sustainability strategy, employees are getting involved and reducing energy consumption at work and at home.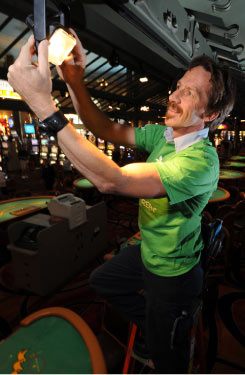 At Caesars, energy-saving measures are being taken to new levels as hundreds of thousands of conventional light bulbs are replaced with LED and other energy efficient bulbs. The replaced LED lights not only use less energy, but also last ten to twenty times longer than traditional bulbs. In addition to changing light bulbs, company-wide "Power Down" campaigns have encouraged employees to turn off lights, computers and small appliances and to set thermostats to 'neutral' temperatures. Conservative estimates have shown energy savings of more than five million kilowatt-hours (kwh) valued at nearly $500,000. Caesars takes efficiency and conservation seriously and has deployed a variety of initiatives and technologies to save energy, including control system upgrades, heat recovery, smart-thermostats, lighting sensors, and on-site co-generation. Results of these efforts are evident with average monthly energy usage at Caesars' properties approximately nine million kwh lower per month than in 2007 – a savings equivalent to the average electric use of over 25,000 employees!
Employees at Caesars are encouraged to implement sustainability practices at home and are eligible to receive support from the company through the "CodeGreen At Home" grant program. Pam Boshear, a housekeeping supervisor at Harrah's Ak Chin Phoenix built her own Solar Heat Transfer unit from used materials to capture and use the sun's power to heat her water. This project resulted in a $20 to $30 reduction in her monthly energy bill. At the completion of the project, she was recognized by the company and awarded 40,000 TR credits. Pam's story is one of many. With more employees working to obtain the same success in their homes, the future is looking a little brighter for all of us as we learn to reduce our energy use.