Our team members volunteer their time, creativity and passion to improve the communities where we live and work. Their efforts support strategic priorities for team member involvement in the community: two-thirds of all programs support seniors, education, environment and health and wellness, while one-third supports causes important to their specific location.
Each quarter, we celebrate HERO Stars: three employees who go the extra mile to truly make a difference! Read on to learn about our HERO Stars for the third quarter of 2016. They'll each receive a $500 check to share with the nonprofit of their choice.
Crystal Fulton, Marketing Capabilities Manager, CORPORATE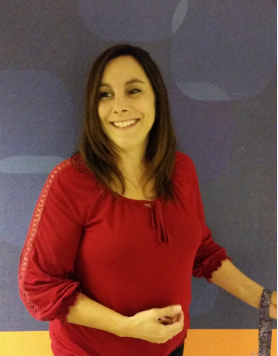 In the beginning of 2016, Crystal set a goal to volunteer 100 hours this year. Thanks to her dedication, including spending time volunteering almost every weekend, Crystal beat her goal in August!
Crystal lends her time to support a variety of local needs, including education, health and wellness, and seniors. She shares her passion for sports by serving as a youth bowling coach and assisting at USA Swimming and USA Gymnastics meets. She leads fellow HEROs in initiatives such as fundraising for breast cancer services at the Nevada Dragon Boat Festival and collecting pet food to help seniors care for their cats and dogs. Finally, Crystal is trained as a Smart HERO, helping our guests complete online brain health check-ups at HealthyBrains.org, which is funded by Caesars in partnership with the Cleveland Clinic Lou Ruvo Center for Brain Health. Crystal's colleagues say she is inspiring and encouraging to her community and fellow team members alike.
Crystal put the $500 donation towards her Making Strides fundraising account to benefit American Cancer Society during Breast Cancer Awareness month.
Ernestine Richards, Casino Services Cashier, HORSESHOE TUNICA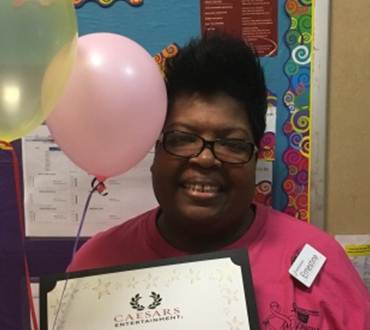 Over the past year, Ernestine has shown incredible dedication to the American Cancer Society Harrah's Hope Lodge, which provides free lodging and a warm, home-like atmosphere to cancer patients undergoing treatment.
Ernestine participates in regular Game Nights and Dinner Nights at the Hope Lodge, chatting with residents, serving dinner and playing bingo. The Hope Lodge's manager greatly appreciates Ernestine's kind dedication, saying that residents ask for her by name, hoping she'll be joining for dinner or bingo. Ernestine certainly is committed, having not missed a Game Night or Dinner Night since last January. In total, she's volunteered a total of 71 hours, serving as a friendly presence to 240 cancer patients at a difficult time in their lives.
Andrea Corn-Rhodes, Corner Cafe Attendant, HORSESHOE SOUTHERN INDIANA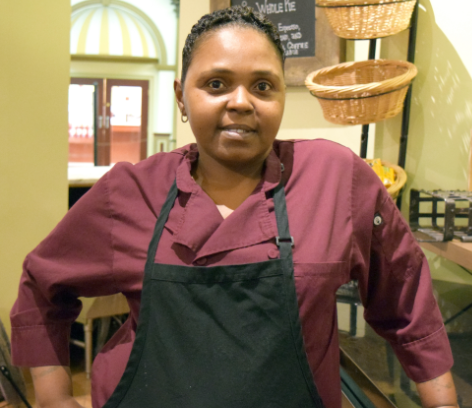 Andrea and three friends decided to make a difference to help the homeless in their community. They launched an effort called Paper Bag Angels, with a mission of easing the needs of the homeless. Once a month, Andrea and her friends hand out 400 bagged lunches to people struggling with homelessness, serving up sandwiches, snacks and beverages.
Paper Bag Angels also collections socks, blankets and pillows, and Andrea has rallied other team members to help. For example, the housekeeping department donated 20 blankets, while team members in the security department held a sock drive. Still other team members donate paper bags, food and money to support Andrea's ambitious project.
Andrea volunteered 120 hours so far this year, distributing more than 3,200 bag lunches. Her next goal is to increase distribution to 500 lunches each month. To meet this goal and continue supporting local homeless people, Andrea is growing her team of volunteers and plans to register Paper Bag Angels as a nonprofit.
Andrea put her $500 towards purchasing 100 Clean the World hygiene kits, which contain important hygienic products, for the homeless she serves in the community.
Caesars salutes our HERO Stars for their passion and dedication to supporting our local communities – they're an inspiration to all!