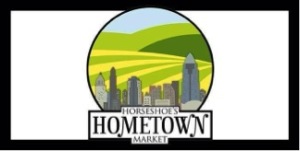 On a beautiful afternoon last September 10th, community members and small businesses gathered in front of the Horseshoe Casino Cincinnati for the first Hometown Market. This fun, free event was held to expose residents to local vendors and educate them on sustainable living habits. The Hometown Market was hosted on the Shoe, a one-acre outdoor green space located in front of the Horseshoe Casino Cincinnati.
We were honored to have State Representative Alicia Reece kick off the event and recognize the Horseshoe Cincinnati's investment in downtown Cincinnati,
"When I got the call from my office to be here today, I really knew the [Horseshoe's] commitment was bigger than just the grand opening and that you all are continuing to work and keep up what you talked to, which is being a community partner," said Reece.
Since opening its doors in August 2014, The Horseshoe Casino Cincinnati and its associates have continually engaged the local community through community job fairs, presence at local events, and giving back.
The casino's CodeGreen team, spearheaded by CodeGreen leader Myra Kashner and associates Wally Welch, Jamie Amis, Gayane Makaryan, and Dan Faulkner, organized the event, basing it on the traditional farmers' market model. Not only did the Hometown Market provide residents with an opportunity to support local businesses, it also gave them a chance to learn how to decrease their carbon footprint to live a more sustainable. In addition to the various vendors, locals enjoyed live cooking demos from the Horseshoe's food and beverage team and a waste management and recycling presentation by Rumpke Waste. The first 500 attendees received a free, reusable shopping bag.
Horseshoe Casino Cincinnati General Manager, Kevin Kline, enthusiastically noted, "This [Hometown Market] is innovative, this is fantastic, and this is something we can build on moving forward."
By leveraging their space and resources, the Horseshoe Cincinnati turned a blank green canvas into a vibrant, active centerpiece of the community. Day in and day out, Horseshoe Cincinnati associates are truly living their "Promises made and promises kept" mantra. Their continual commitment to corporate citizenship is helping to revitalize downtown Cincinnati, drive tourism, and boost the local economy.