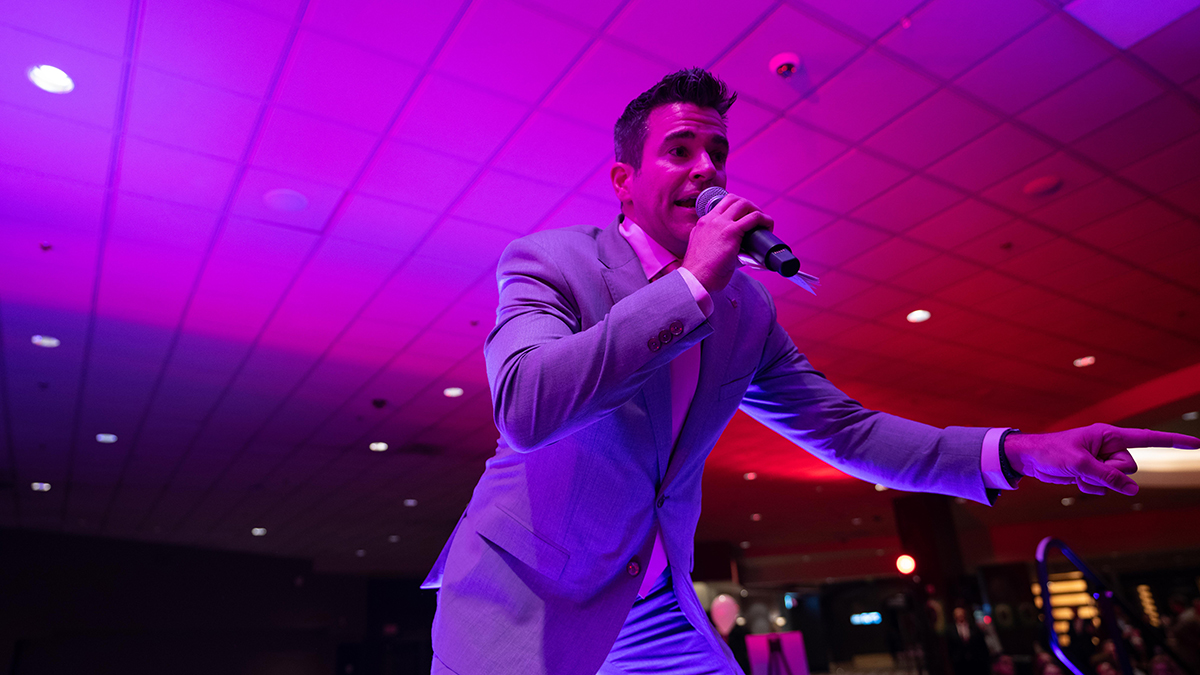 Over the last decade, Jeff Civillico has spent a lot of time throwing things on the Las Vegas Strip.
Bowling balls, apples, bean bags and knives all appear regularly in his act. Sometimes, he juggles a hilariously terrifying combination all at once. But lately, the entertainer's greatest juggling feat has been producing and headlining his own show inside Paris Hotel & Casino, while running his decade-old nonprofit Win-Win Entertainment.
But one man can only juggle so much. So, Jeff is gently laying down his headlining act to focus on Win-Win, which operates in seven U.S. cities. The nonprofit connects professional entertainers with opportunities to perform for youth in need. And that means more to Jeff than any act.
"We focus on children's hospitals primarily," Jeff explains. "But we also work with the likes of St. Jude's Ranch, Ronald McDonald's House, Miracle League and Special Olympics."
He hopes to expand Win-Win to 13 additional cities within the next few years.
"And that gets me more excited, to be honest, than doing another 10 years of shows," he says. "The impact and reach we have with that is more fulfilling than the applause and laughs."
To those who know him, this priority shift is no surprise. Jeff's entertainment career started when he was a freshman in high school, with a charity event for developmentally disabled boys a few blocks from his home near Philadelphia.
Charity work has always been a large part of Jeff's identity, and it led him to places he never imagined.
A lifelong Disney fanatic, Jeff performed at some of the happiest places on earth after college. "I did a lot of shows at their properties, and that is when I started doing corporate events as well," he says. "Clean entertainment translates well into the corporate audience. And 'clean' doesn't have to mean 'for kids.' It means all ages."
His all-ages shows have landed him at a White House Christmas Party and the Kennedy Center. He's also performed in Malaysia, Australia, New Zealand, the Maldives and India.
"I've done corporate events where I get to fly on these corporate jets with all these executives, and it's kind of surreal," Jeff says. "I'm a juggler. How did this happen?"
But Jeff's favorite moments don't involve the rich and famous.
"A lot of the special moments that happened were in hospital rooms or during one-on-ones. They're not as sexy and I don't talk about them as much, but that's when you know that you really had an impact on someone."
Beth Dandy, president of Win-Win Entertainment and legal services manager for Caesars, says the Jeff you see on stage is the exact same Jeff these kids meet one-on-one, and the same Jeff she's come to love.
"He's kind, he's funny, he's giving. I know it's cliché, but it's true," Beth says. "And he doesn't do anything at a 50 – he's always at a 120."
One of Beth's favorite Jeff memories was when Win-Win Entertainment brought a minion costume to a day volunteering with The Miracle League, which helps children with special needs experience baseball.
"People take turns in the costume for photo ops," Beth says. "But not Jeff – he wanted to BE a minion. So, he was running bases in the costume, playfully teasing the players. He came out of that costume absolutely dripping in sweat."
Jeff lives for these experiences. But he'll miss his time in Caesars showrooms, he admits. The company will miss him too.
"We have been proud to have Jeff perform with us at Flamingo and, later at Paris, for several years," says Jason Gastwirth, Caesars president of entertainment. "While we are sad to see Jeff's residency come to a close so he can focus on other endeavors, including the important work of Win-Win Entertainment, he will forever be an important part of the Caesars Entertainment family."
Jeff's Caesars crew was a family, sharing many post-show dinners at Martorano's Italian Restaurant. As a performer, he credits Caesars for providing a level of comfort that allowed him to be at his best.
"It's been a mutually beneficial partnership," Jeff says. "I could home base at a Caesars property, with the Caesars network, and leverage that… And Caesars could have someone in their camp who is down for whatever and happy to help out with charity work and employee events. It's been an easy relationship."
Happily, that relationship will continue. Caesars sponsors his nonprofit and Jeff plans to continue supporting company charity and employee events.
"Our partnership has just begun!" Jeff says. "I'm shifting focus. But there's a very good chance that at some point it will make sense for both parties to get the show going again."
And so, his new juggling act begins. Hilarity will ensue, but it'll completely benefit those who need it the most.