June in Las Vegas. The sun is heating up the desert, pushing most people to cool off in the pool. Meanwhile, the Rio Hotel and Casino has drawn thousands of poker players for the World Series of Poker (WSOP).
With sunglasses covering their eyes and headphones blocking out the busy sound of the convention halls, the players sit for hours concentrating on their next move. Occasionally, looking up to a cocktail waitress offering a refreshment or a massage therapist to ease the tension.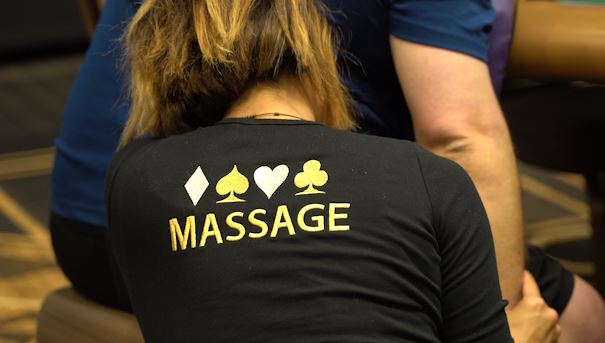 During the WSOP, hundreds of massage therapists are contracted to help the players as they sit at the tables for hours.
That's where you will find Regie Layog, operations manager for Professional Massage, Inc.
"I started in the mall at Planet Hollywood Resort & Casino, which at the time was known as The Aladdin. Harrah's Entertainment (now, Caesars Entertainment), invited us to be a part of the WSOP team in 2006," said Layog.
When he first started, there were 50 massage therapists with the growing demand of players came a greater demand for massage therapists.
"We grew to about 450 massage therapists," said Layog.
Every year as the WSOP attracts professional and amateur poker players alike - he brings together a team of therapists for the weekslong event.
"We operate 24/7 for the WSOP," said Layog. "When a player requests a massage, we find a therapist for them."
The players can request a massage as they are playing in the tournament or when the day has come to a close.
"During the off-hours of the spa at the Rio, so 5 p.m. until 7 a.m., players can come to the spa to get a massage from one of our therapists or request one to their room," said Layog.
Although Layog wouldn't trade his role for anything, he admitted he never thought his career would take him inside the world's most prestigious poker event.
"The best part about my job is the main event and seeing all of the hard work and all of the effort that the players have done. It makes me happy that the therapists themselves have worked alongside these players up until that point."