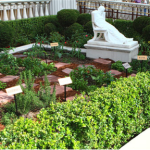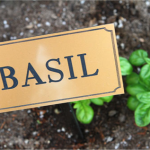 Composting is a great way to reuse waste and give back rich, organic nutrients to the environment. The concept of composting is simple — let food rot, then plant it!
Caesars Palace has a property-wide composting program. Every restaurant and kitchen at Caesars is composting, from Starbucks and Bacchanal Buffet to Caesars Palace Bakery and banquet facility!
In fact, the entire Food & Beverage department is pitching in help make the composting effort a success. All of the food waste is sorted and then picked up by A1 Organics andtaken off site for composting.
Not only does this composting initiative reduce our ecological footprint and gas emissions at Caesars Palace Las Vegas, it also saves on costly waste removal.
One of the exciting parts of the composting program is seeing the finished result of the composted food turned to soil and integrated back into the property. Last year, Serendipity 3 Restaurant planted a first-of-its-kind seasonal herb garden on the Las Vegas Strip. Now the restaurant is able to fertilize the herb garden with compost generated by food waste. The horticulture department also plans to use the soil around the facility for other landscaping.
In just the past two months, Caesars Palace composted nearly 400 TONS of food. Way to go CodeGreen!