Caesars Entertainment team members who volunteer in our communities are called HEROs because they inspire us all with their generosity. Four times each year, we recognize HEROs who have gone above and beyond to serve their communities.
Join us in celebrating Jenny Haas, Cynthia Smith and Shelli Briery for their hard work. Read on to learn how they help their neighbors – and find out which one of these dedicated women moonlights as Elvis.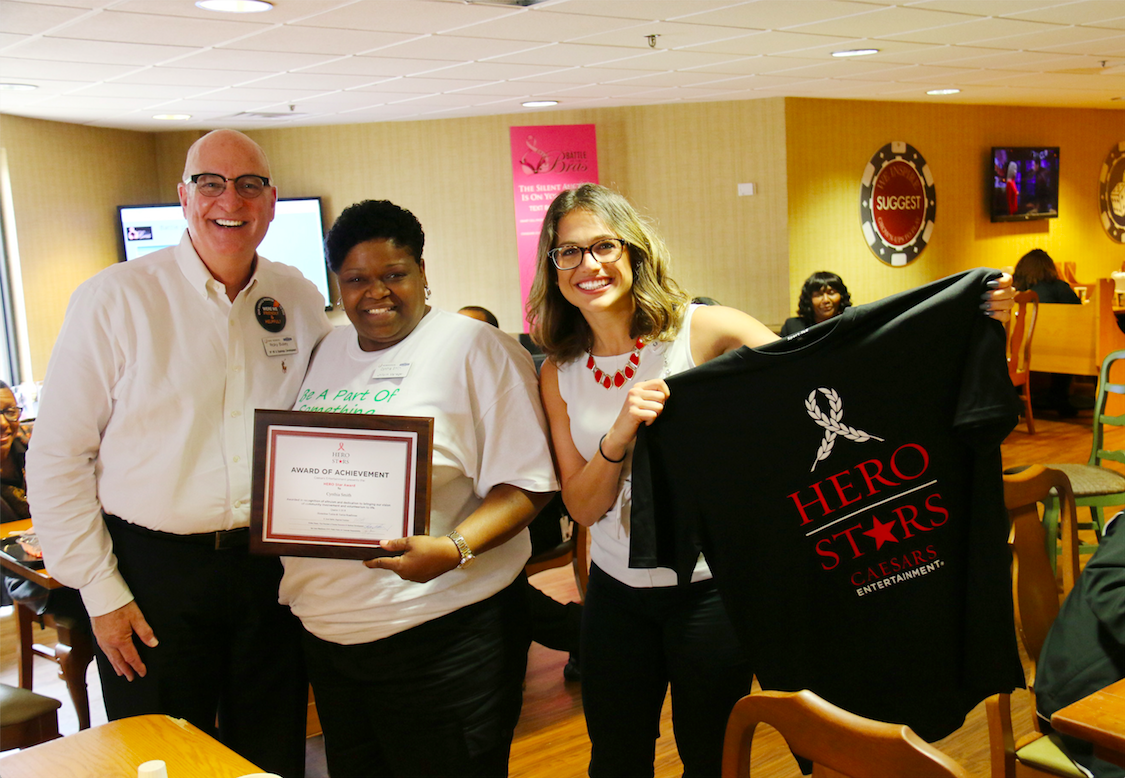 Cynthia Smith, Wardrobe Manager HORSESHOE TUNICA
Cynthia's Causes: Everything – Cynthia is Tunica's HERO Chair and CodeGreen Leader and gets team members involved with more than 20 organizations in her region
Cynthia is donating her $500 prize to American Cancer Society to support the Campaign for the Cause.
As HERO Chair for our Tunica properties, Cynthia spreads her passion for volunteering. Last year alone, she led more than 650 colleagues in volunteering more than 23,000 hours and raising more than $165,000.
Volunteering is part of everyday life as Cynthia has created monthly volunteer opportunities with more than nine local nonprofits. HEROs like Cynthia do it all, from sharing the story of civil rights at the National Civil Rights Museum to brightening the days of seriously ill children and adults at the American Cancer Society Harrah's Hope Lodge.
In addition to her leadership of a robust HERO program, Cynthia leads CodeGreen efforts by coordinating with teams to reuse, reduce and recycle waste. Under Cynthia's guidance, the Tunica property was the very first Caesars property to earn a 5 Key rating from Green Key, a third-party industry organization supporting sustainable hotel practices.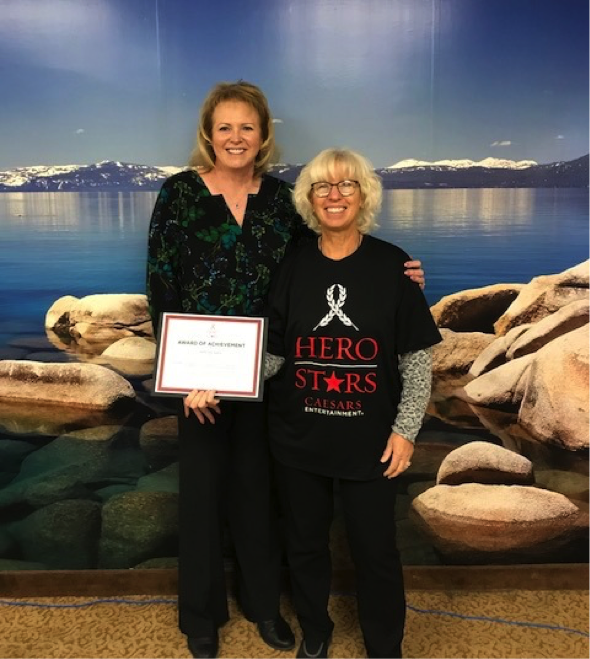 Jenny Haas, Human Resources Analyst, HARRAH'S LAKE TAHOE
Jenny's Causes: Helping seniors, Alzheimer's disease
Jenny is donating her $500 prize to Carson City Senior Citizen Center
As a HERO Chair at Lake Tahoe, Jenny is known for her stellar organizational skills and passion for helping people, with a special focus on helping seniors.
She has led her Lake Take locations to Senior Appreciation Quarter victories for the past 2 years with her incredible work to bring memory and comfort to the lives of the aging. Following a family experience with Alzheimer's, Jenny has gotten involved with sharing more information about the disease, including speaking at an annual Alzheimer's Walk and raising funds. Another way Jenny supports wellness for older adults is through Friends to All, an organization that sends Santa and elves to homebound seniors during the holiday season. Jenny has been an elf for at least a decade, bringing joy and gifts to seniors who may not receive many visitors.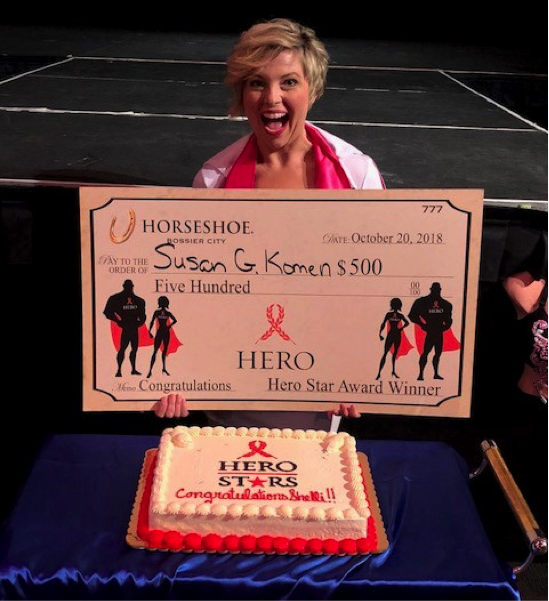 Shelli Briery, Sponsorship, Advertising & PR Manager, HORSESHOE BOSSIER CITY
Shelli's Causes: Supporting veterans, health and wellness, helping seniors
Shelli is donating her $500 prize to Susan G. Komen in honor of their Campaign for the Cause work.
Having served as Northwest Louisiana's HERO Chair since 2010, Shelli isn't new to leading team members in volunteering. What's impressive is her enthusiasm for creative ways to raise funds for causes. Here are just a few examples:
Wrangling wiener dogs: K9 Karma, a Bossier City nonprofit that trains service dogs for veterans suffering from post-traumatic stress disorder (PTSD), hosts an annual Weiner Dog Race, with Shelli's dog-loving support.
Tearing up the dance floor: Shreveport Bossier Dancing for the Cure is a dance troop that raises funds for breast cancer. Shelli raised $3,000 with her "Shelvis" impersonation, complete with splits!
Scooping sundaes: Shelli helped organize the Sundaes for Seniors event at a local community center to provide seniors an opportunity to socialize over ice cream.
In the words of the coworker, "Shelli has a heart for service and is genuinely one of the nicest, most sincere, caring people I know." Bossier City properties, and the whole community, are lucky to have Shelli.
Kudos to these special HERO Stars and to HEROs everywhere for showing communities how much you care!