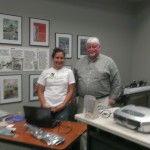 Harrah's New Orleans Casino and Rebuilding Together New Orleans have worked together for many years in an effort to help New Orleans homeowners with housing and home repairs. The two companies joined forces once again in early June to offer a CodeGreen Handyman Workshop offering helpful tips and information about making homes more sustainable.
Pat Maher and Sarah Burger welcomed a class of approximately 10 people at the Preservation Resource Center Building. Sarah demonstrated a number of weatherization products to the class that can help with insulation and waterproofing, while Pat discussed retrofits including energy efficient lighting.
The class will be offered again in the fall.