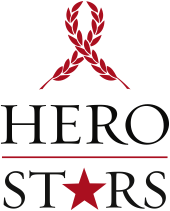 The Caesars Entertainment Code of Commitment states that we have a commitment to our communities to help make them more vibrant places to live and work. We encourage all of our employees to volunteer in civic and charitable causes. A Caesars Entertainment HERO Star is a service-driven team member who goes above and beyond in giving back to their community. This quarter we recognized Brenda Heiselt, Mesa Grill Team and Adam Web for their dedication to bringing Caesars' Code of Commitment to life and awarded them with $500 to donate to a charity of their choice.
Brenda Heiselt , Employment/Training Manager at Harrah's Laughlin
This HERO Star is shining so brightly because of the selfless concern for the well-being of others she brings to her Laughlin, Nevada community. Helping a young single mother finish her education and begin a new life for herself sparked "Been There", a mentoring program for single mothers spearheaded by Brenda. She is also actively involved in Women Helping Women, an organization that assists women recovering from domestic violence. Brenda sits on the Board of Directors for CASA Council of Mohave County, which serves more than 800 foster care children, and Caring Hearts Food Distribution, which provides approximately 150 families a month from their food pantry. Brenda has built the relationship between Harrah's Laughlin and the local Veterans Resource Center. She recently led a charity drive and received a donation from the Harrah's Laughlin HERO committee for the "Stand Down" event where homeless veterans and their families receive free items and services. Brenda finds the most exciting part of her work is witnessing the growth and love given back by those who go through these programs. "I may never see the long term impact," says Brenda, "but our communities will and that's the most important part to me." Brenda is splitting the $500 donation made in her name between the Caring Hearts Food Distribution and the local Veterans Resource Center.
Mesa Grill HEROs, Caesars Palace Las Vegas
Mesa Grill HEROs : Jean Pierre Francois, Juanita Mendoza, Ivan Romero, Megan Keeney, Christopher Collins, Don Sia, Juan Salazar, Arnel Espiritu, Kyle Kennedy, James Kim and Jury Gonzalez
The Mesa Grill group shows us how teamwork can be built through service. The group of eleven meets each month at Mesa Grill's nonprofit partner, Three Square Food Bank. They each volunteer four hours a month packaging between 6,000 and 8,000 meals for school children in the Southern Nevada community and have already completed nearly 500 HERO hours in 2015. Jean Pierre Francois, General Manager at Mesa Grill, said, "We are always extremely proud to serve our community through our trips to the Three Square Food Bank". He feels his team's service has made a big impact for the local school children that receive the thousands of meals they've prepared. And no surprise here that the Mesa Grill dedicates the $500 donation made in their name to the local Three Square Food Bank!
Adam Web , Housekeeping Manager at Planet Hollywood Las Vegas
This HERO Star isn't afraid to use his time off to give back to his community and has become a driving force behind the success of various HERO causes in the Las Vegas region. Adam inspires and educates children in eight Junior Achievement classes where he has also pulled in other housekeeping managers to get involved. Adam participates in many group charity activities held by Caesars, such as the Breast Cancer Awareness Fashion Show, AIDS Walk, Green Fair, American Cancer Society events and a fellow HERO Star's non-profit, Caps for Cancer, for which he collected 150 caps from his department. Adam also uses his position in housekeeping to benefit his community by donating bedding to the local ASPCA and churches for homeless outreach groups. Adam feels his service has made the biggest impact in those around him by inspiring them to volunteer. He says, "My department really stepped up and now volunteer for everything, I have a hard time scheduling people to help due to everyone wanting to help." Adam's positive influence goes to show how kindness can be infectious. His $500 dollar donation will be made to fellow HERO Star's non-profit, Caps for Cancer.
Thank you to our HEROs for all that you do!