Each year, our CodeGreen Cocktail Challenge gets our mixologists, bartenders and chefs involved with making a new and innovative drink that reflect Caesars Entertainment's commitment to the planet.
We know our guests are always looking for products that are kinder to the environment and locally sourced. That's why we are inspired to offer our CodeGreen cocktails – 50% of the ingredients in them are sourced what's considered a "local" radius: 500 miles or less.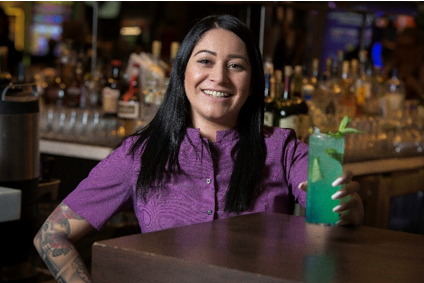 This year, we're teaming up with Tito's Handmade Vodka, a sustainability-minded distiller using corn that is 100% grown-in-the-USA. The brand also owns one of the largest privately owned set of solar panels in the state of Texas.
Want to join in the fun? Join our mixologist, JC Estrada, at Alto Cocktail Lounge for a Facebook Live event in partnership with our friends at 3BLMedia/TriplePundit at 4:30 Pacific Time on April 18. JC will mix up Alto's exclusive CodeGreen Cocktail, plus drinks submitted by local bartenders from the Rio and Paris Las Vegas. Check out the recipes below and gather your ingredients so you can mix along. To be kind to the earth, be sure to raise your glass (not plastic) and skip the straw.
Rio's CodeGreen Cocktail: Pavilion Punch
5 oz. Tito's Vodka
2 oz. Fresh Squeezed Lemonade
1 oz. Pomegranate Juice
Ice cubes
Garnish: Lemon Wheel, Pomegranate Seeds and Sprig of Fresh Mint
Served in a Rock Glass
Paris Las Vegas' CodeGreen Cocktail: Meyer Lemon Drop Martini
2 oz. Tito's Vodka
1 oz. House made Meyer Limon cello
5 oz. Perricone Farms Lemon Juice
Sugar the rim
Garnish: Lemon Twist
Caesars Palace's CodeGreen Cocktail: Basil Me Lightly
5 oz. Tito's Vodka
.5 oz. Disarrano Amaretto
4 Basil Leaves
.5 oz. Agave Nectar
.5 oz. Lemon Juice
2 oz. Fresh Squeezed Orange Juice
Muddle 4 basil leaves with agave nectar. Then add remaining ingredients and shake for 20 seconds. Double strain over ice in a Collins glass.
Garnish: Basil Leaf