The holidays came a little early this year for five Veterans as hundreds of volunteers helped to rebuild the homes in Hammond, Ind., Las Vegas and New Orleans. These November rebuild projects marked the beginning of a yearlong collaboration between Rebuilding Together, a Safe and Healthy Housing organization that believes community starts at home. Caesars Foundation and Caesars Entertainment Corporation HERO employees volunteer to make individuals' homes safe and energy efficient.
"The cold winter months can be harsh for homeowners both physically and financially," said Gwen Migita, vice president of sustainability and community affairs at Caesars Entertainment. "By providing much needed repairs and sustainable upgrades during these rebuilds, these older individuals will stay warm in the winter and cool in the summer without breaking the bank."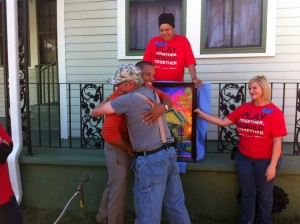 As part of the company's commitment, skilled craftsmen from Caesars Entertainment's properties across the U.S. will host regional eco-friendly home training sessions designed to directly benefit low-income families, the elderly, veterans, and persons with disabilities. By providing residents, Rebuilding Together affiliates and supporters with both the knowledge and tools to adopt environmentally friendly practices at home, the company is helping to improve the health and wellness of communities in which they operate all year.