Note: We're beginning a new series in which we'll regularly spotlight a different property, including its CodeGreen initiatives.
Opened in 2014, our LINQ Hotel and Casino is located at the center of the strip and on the Linq Promenade, an open-air retail, dining, and entertainment district. According to director of hotel operations Melissa Fielding, "The LINQ is a full-sensory hospitality and entertainment experience. The environment here is very approachable and welcoming, encouraging guests to be themselves and join the LINQ in creating their own unique Las Vegas experience."
And as with all Caesars properties, part of achieving our mission to inspire grown-ups to play includes prioritizing environmental sustainability in everything we do. And since the majority of The LINQ's guests are Millennials – a group that often has high expectations about environmental responsibility – environmental initiatives are even more relevant to The LINQ.
Water & Energy Conservation
To use water wisely, our staff are trained to ensure busy bartenders don't let faucets leak. In addition,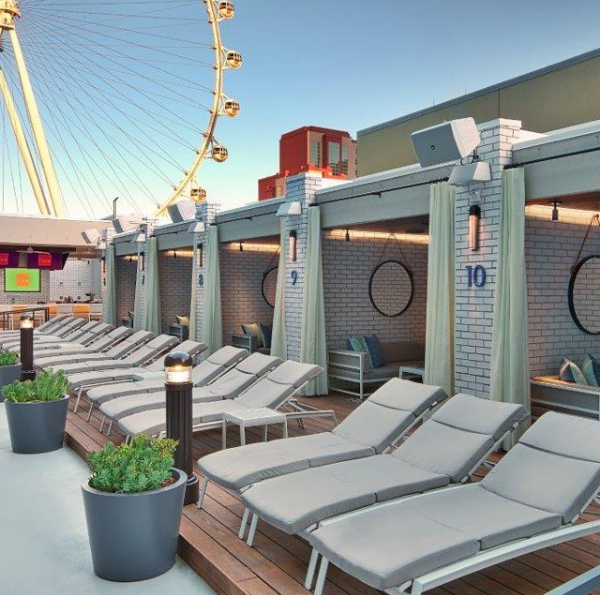 employees responsible for washing dishes are trained to run full loads once each evening, instead of running partially full loads as needed throughout the day, and housekeeping staff has mindful water use integrated into their cleaning practices – more on that below. Standard practices such as towel and linen reuse are important to water savings, reducing our water use by 17 million gallons each year, equivalent to about 460 standard loads of laundry.
The POOL at the LINQ is a "Vegas day club pool party experience without the pretentiousness," according to pool general manager Ryan Kelly. Hosting a pool party every day does take energy – for example, the cabanas have their own televisions and fans for guests who want to take a break from swimming. The POOL's nightly energy conservation checklist ensures that employees turn off anything that could be using energy, from the cabanas to lights and refrigerators behind the bar.
In addition, we keep the refrigerators in guest rooms turned off and unplugged; guests plug them in for use upon checking into the room.
Waste & Recycling
Because it's a safety hazard, we don't serve poolside drinks in glasses; we must use recyclable plastic and aluminum. We take the guesswork out of separating recyclables from trash for our guests by using single bins and sorting recyclables from trash by hand before placing it in our dumpsters.
Food waste has been in the news recently for its overwhelming contributions to greenhouse gas emissions when it decomposes in landfills. To help reduce The LINQ's food waste, the property directs food leftovers that cannot be donated to a local pig farm and composting facility.
For hotels, a tough recycling challenge can be mattresses that are no longer usable. The LINQ partners with the nearby Caesars property Flamingo, sharing dumpsters dedicated to mattresses, which are then recycled by a local waste company.
The LINQ also provides recycling options for employees in the back of the house. In addition to the standard recyclable materials like glass and aluminum, the property also provides recycling for batteries as well as used clothing, which are then distributed to local nonprofits for resale or downcycling into rags. According to The LINQ's chief engineer, Kalani Young, "these bins are special to the LINQ, created by our carpentry shop. We share ideas like this at the corporate-level CodeGreen meetings so that they can be replicated by other properties – and we are always looking to hear about what other properties are doing in hopes of introducing new ideas here."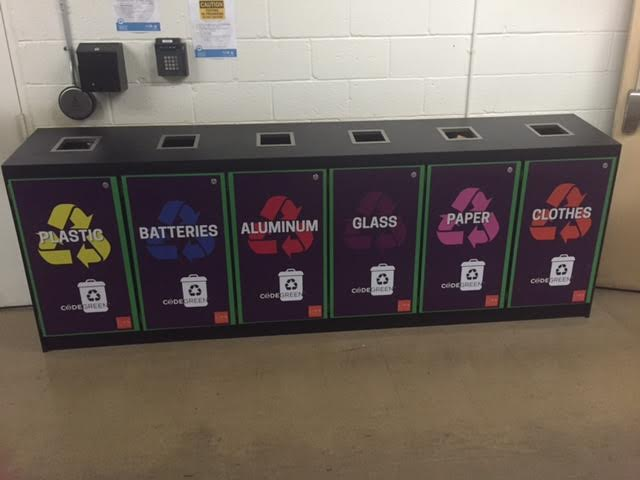 Sourcing Sustainable Products
Our spa uses recycled paper for its services menus and pampers guests with products made from 97% organic ingredients. In our guest rooms, we use dispensers for shampoo, conditioner, soap and lotion instead of individual bottles, saving two tons of plastic annually.
Employee Training & Engagement
Our staff is really the heart of our conservation efforts, and we begin their CodeGreen training on the first day of work – and keep it up every day thereafter. Ana Rodriguez, director of housekeeping, says "CodeGreen isn't an additional task, it's the way we do it from the get-go." The LINQ's housekeeping staff have CodeGreen practices built into the inspection sheets that supervisors use to ensure rooms are cleaned effectively. For example, CodeGreen requirements like keeping the room at a standard 72 degrees and not letting faucets run while cleaning is alongside standard expectations like making mirrors shine. As Ana summarizes, "the housekeeping staff not only cleans the rooms, but cleans them right, contributing to CodeGreen."
Our property manager is part of The LINQ's CodeGreen team and joins the monthly meeting for sharing best practices in reducing environmental impact. Each employee is comfortable – and eager! – discussing CodeGreen initiatives with guests and answering questions about things like water use or recycling procedures. Providing top-notch guest service is what our employees do best, and we find that when CodeGreen is involved, the passion really shines through at The LINQ.
These eco-conscious practices are just the tip of the iceberg of what we do at The LINQ and across all our properties. To learn more, check out our brand-new corporate citizenship report, Connecting for #Citizenship.