Pamela Tyler's tool bag is hot pink. Think Barbie™ pink.
"Everyone needs a pink tool bag!" she says with a grin.
It's hard to not giggle at the sight of the bag, its soft color juxtaposed against the hard metal inside. But it cradles tools most of us would be hard-pressed to (correctly) name – let alone properly use.
"Don't judge a book by its cover," the saying goes.
Pam's tool bag may be pink, but the former model knows exactly which pliers will loosen that pesky nut in 2 seconds flat, and which pair will only leave you with busted knuckles.
Just as adeptly, Pam leads a team of more than 70 men and women in the Rio All-suite Hotel and Casino facilities department. She's a journeyman electrician and plumber, as well as a certified energy and sustainability technician.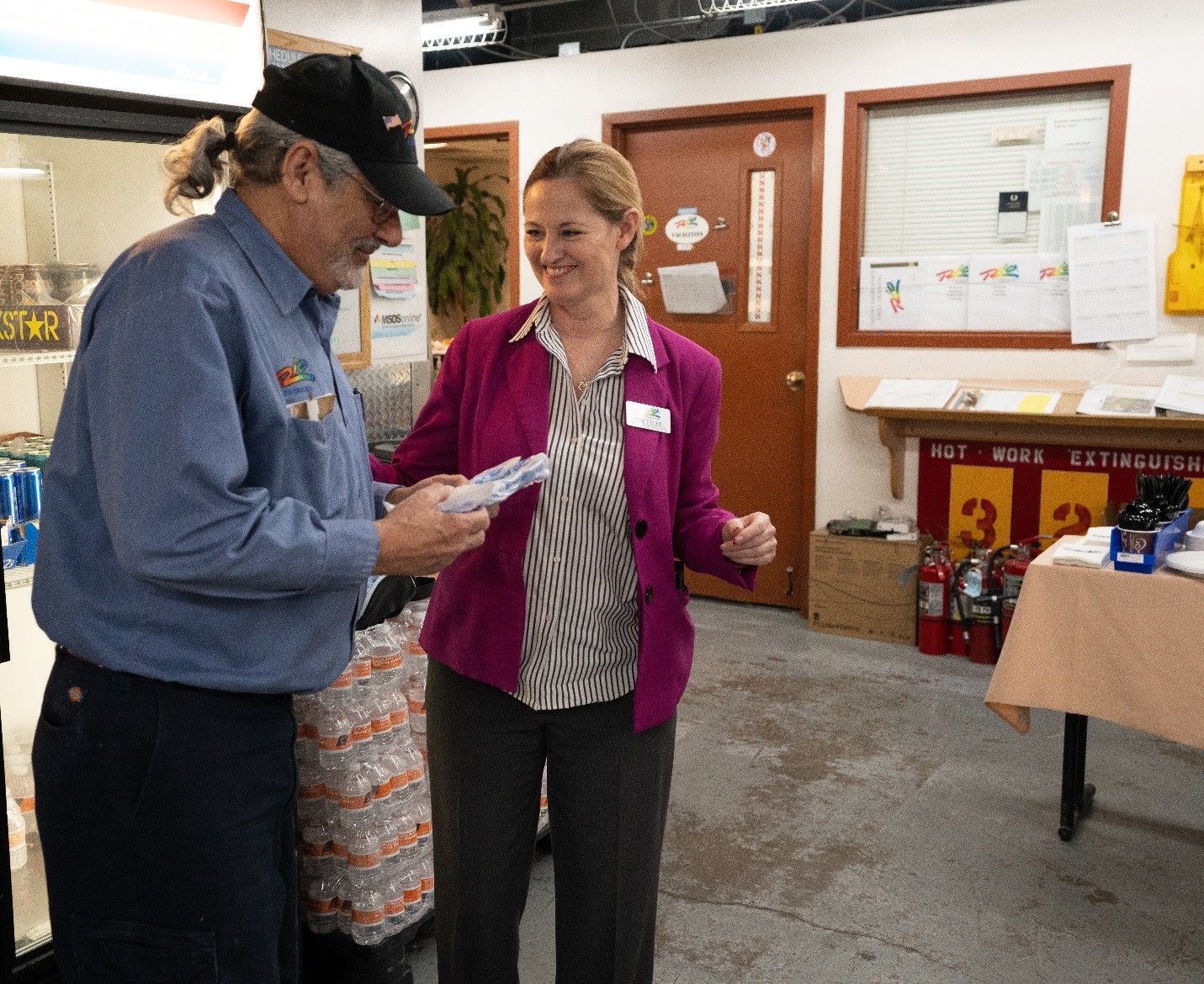 Pamela Tyler hands out door prizes during a chili cookoff event she organized. (Photo by Kristina Medina)
It's not the career she dreamed of, but one she's come to love.
"My father was an ironworker. We were always working on projects that he had… so I was always around a lot of that stuff and wasn't intimidated," Pam says. "But for a long time, I never saw myself in one of those roles."
It wasn't until Pam's ex-husband took a job as an apprentice that she began to explore the possibilities.
"I was a secretary and saw how much money he was making as an apprentice and where he was going to end up by going to school full-time for that," Pam recalls. "I thought, 'That's a pretty good deal. I can go get that same training and they're going to pay me to do it. I'm going to take the test.'"
The rest is history. Pam, still working as a secretary, attended classes in her dress and heels while her male colleagues wore uniforms.
"I knew going into it that it wasn't going to be easy, but that it would be worthwhile," Pam says. "Yeah, there were times where I got a little embarrassed, but you get over that. I knew I could do the job. I had a lot of guys that I worked with who thought I really couldn't do this. But what I found was that the technicians that really knew their stuff and were secure in what they did always taught me and never had anything but encouragement for me. I didn't want any kind of special treatment, I just wanted to learn."
Pam scored as one of the top five applicants to test – becoming one of only two women scoring high enough to obtain an apprenticeship that year.
Today, Pam is the first female president of the Nevada Professional Facility Managers Association and a member of the Pahrump regional planning commission. She also manages a vineyard, leads a group of Cub Scouts and volunteers at a local food bank.
Pam carries a lot in her life skills toolbox. And her poise and determination are impressive.
"Pam is a strong, knowledgeable leader who has made an immediate impact on the Facilities team," says Steve Ellis, Rio general manager. "She has utilized available tracking tools to significantly improve both work order response time and the number of open work orders – two critically important metrics for employee and guest satisfaction."
Since starting in August, Pam has become a beloved member of the property's family. Whether walking the casino floor to inspect her crew's work or celebrating success with potlucks, her strong presence leaves teams better.
"She has simultaneously focused on empowerment and accountability for her team members," Steve says. "However, these great strides shouldn't overshadow her focus on building relationships and improving morale. The chili cook-off event she coordinated was my favorite!"