Every day there is an inspirational moment at work for Brenda Barré, director of mobile and digital innovation at Caesars Entertainment.
Barré oversees the online reputation for Caesars Entertainment which includes the relationship with TripAdvisor - an online and mobile platform allowing travelers to review hotels, restaurants, experiences and more.
A record number of Caesars Entertainment properties across the enterprise received the 2019 TripAdvisor® Certificate of Excellence and Hall of Fame designation.
"The number of recipients of the 2019 Certificate of Excellence and Hall of Fame designation is a record for the company! 14 Hall of Fame recipients and 31 Certificate of Excellence recipients which is a testament to the amazing service and experience that we consistently provide to our guests," said Barré.
The properties and attractions that achieved the Hall of Fame designation include:
The properties and attractions that achieved the domestic certificate of excellence include:
Internationally, these properties achieved the certificate of excellence:
Barré assumed the role of corporate reputation manager about three years ago. Since then, she has successfully implemented strategic initiatives with TripAdvisor to optimize performance on the site including the execution of the Review Collection and Content Licensing Agreement as well as continued implementation of the TripAdvisor review collection widget at the end of the Total Service survey, survey presented to guests at the end of their stay at a Caesars Entertainment property. She traveled to TripAdvisor headquarters last year with Sean McBurney, general manager of Caesars Palace, and Adam Miller, senior director hotel operations at Caesars Palace, to strengthen the relationship and identify new ways Caesars Entertainment can partner with the travel site.
Although Barré has been an influential part of the growth with TripAdvisor, she is the first to say she is extremely proud of the team members who provide world-class service to guests because without them the great reviews would not exist.
"A few of my favorite reviews reflect the merging of high touch human service as well as high touch virtual service to deliver a first-class guest experience. Ivy, our artificial intelligence-powered chatbot, regularly shows up by name in TripAdvisor reviews for delivering fast, efficient and quality service through SMS text messaging," explained Barré. "Guests think Ivy is a real person and encourage other guests to make sure that Ivy is their personal concierge."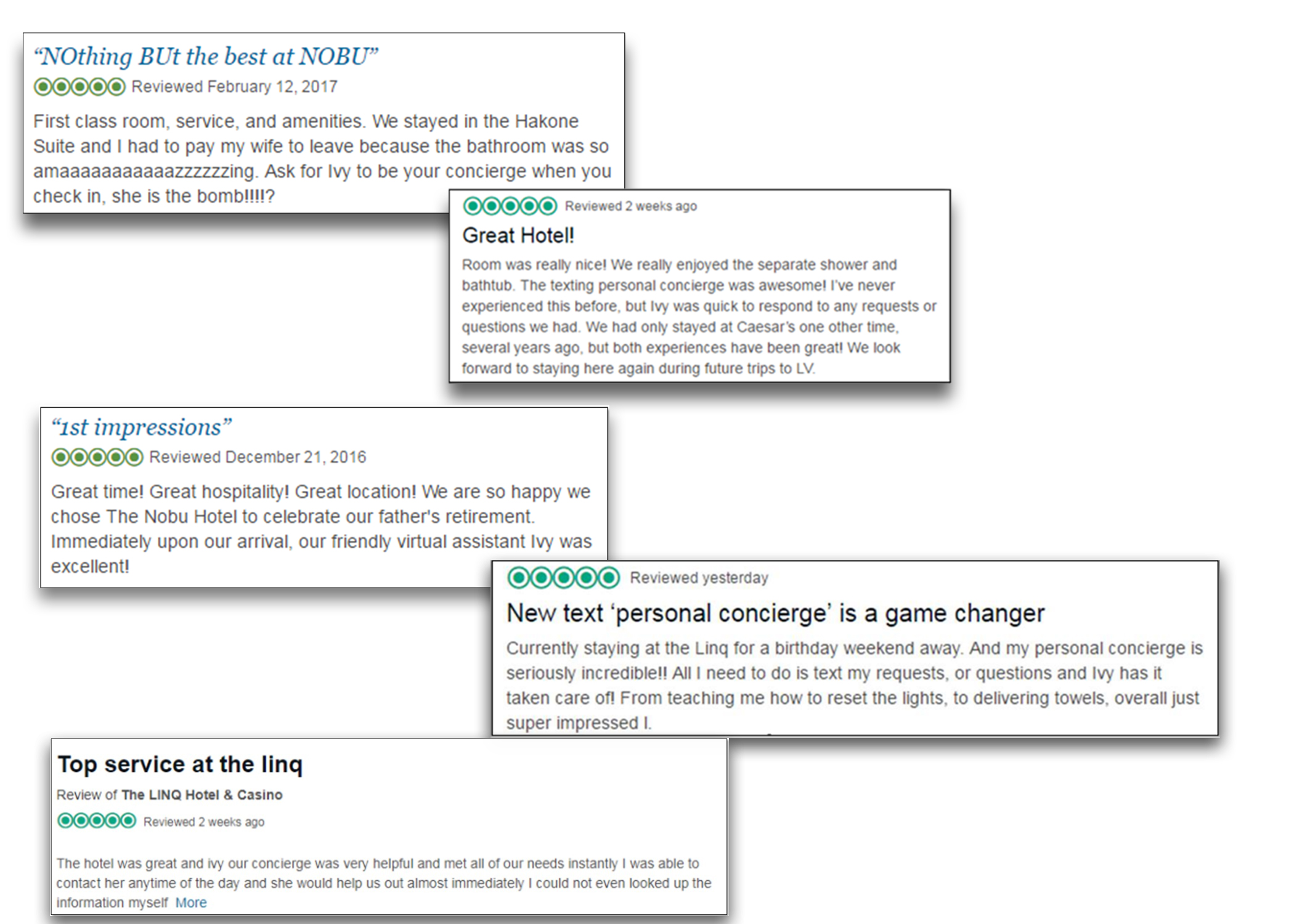 Whether the guest experiences a Caesars Entertainment property through artificial intelligence or through one of the team members, Barré is always looking for new ways to ensure guests walk away with the best experience at the property.