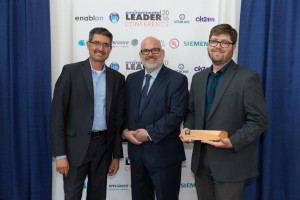 Here at Caesars Entertainment, we like to dumpster dive. Seriously, we're so good at it that we won an award! The dives were part of our Enterprise Waste Diversion Project which won a Top Project of the Year Award from a leading trade publication, Environmental Leader, in June.
For Caesars dumpster diving is a way to collect data on the waste streams from our 40 properties, which then allows us to evaluate the contents and determine new ways to divert items away from landfills.
The journey to reduce waste began in 2008 when we set a goal to divert 25 percent of waste from landfills by 2014. We beat our own goal and diverted not 25, but 44 percent of waste. Our new goal is to achieve 50 percent waste diversion by 2020, and 60 percent by 2025.
"Sustainability programs and metrics are becoming leading indicators for successful companies," said Eric Dominguez, Caesars Vice President of Facilities, Engineering and Sustainability. "Companies that do this well are outperforming their peers. Sustainability is becoming less of a cost savings initiative and more of a strategic imperative."
The progress we're making does more than prevent trash from going to landfills. It also reduces carbon emissions and lowers costs. In 2014, our waste diversion efforts delivered an impressive $4,000,000 of bottom-line value.
Each type of waste presents an opportunity for a unique vertical solution. For example, when we recognized the amount of glass that was being discarded, we joined forces with BluMarble, a glass repurposing company. BluMarble recycles wine, liquor and beer bottles and uses the glass to create products such as tumblers, jewelry, cheese trays and vases. Caesars then sells the recycled glass products in our retail stores.
Another great example is soap: significant qualities of barely used bars of soap were being discarded every day, so we created a partnership with the nonprofit Clean the World and have since donated over 1.7 million bars of soap to developing countries to help fight disease.
When it comes to food waste, we reduce waste by composting food scraps. "At the Rio, we operate several large production kitchens that result in food scrap. We have catch-bins in all of our kitchens in the hotel and at several stations in restaurants that bussers and servers use in their jobs," said Joseph Hamel, Executive Chef at Rio Suite Hotel and Casino. "I am a big fan of composting and the staff has embraced the new practice and all have played a role in getting the food scrap where it needs to go."
Waste reduction is an ongoing opportunity at Caesars; we are constantly evolving our programs to be smarter and increasingly efficient. Receiving recognition from industry leading publications also helps encourage Caesars to continue to innovate.
"We feel proud and honored to receive our second Environmental Leader award for programs that are core to our CodeGreen sustainability effort," said Jeff Ruskowitz, Manager Sustainable Operations. "EL reviews hundreds of applicants, so being selected as winner and recognized for our efforts legitimizes our programs even more and provides reassurance that we're moving in the right direction."