CodeGreen is an inspiration for Next Level Global Events, one of our amazing vendors. The company did something un-eggspected and were awarded the "2013 Buffet Contest Second Place" from Catersource – Event Solutions.
"Las Vegas hotels serve thousands of guests each day and as such accumulate reusable materials. Going with the green initiative, we set out to track one item in particular – egg crates. We collected egg crates during a 24-hour period from Las Vegas-based Caesars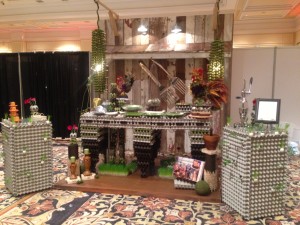 Entertainment properties.
This functional, entertaining, biodegradable table was made completely out of egg crates that were originally meant for the trash. We not only recycled the crates, we took it to the NEXT LEVEL and completely infused it with various seeds to help break down other components that can destroy our beautiful planet.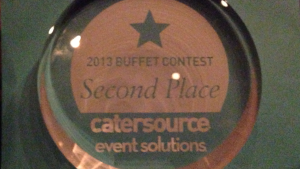 To transform this "simple egg crate" into something sustainable, and a reusable table can give creative insight about how interesting recycling can be and the benefits it has in our lives and on mother Earth.
Our hope is that this display will encourage everyone to think out of the "crate" when it comes to the word "recycle" and inspire you into making your own masterpiece."